Mobile Shredding
Mobile document shredding is a service option that involves the on-site destruction of sensitive material. PROSHRED®  Tampa Bay brings truck-mounted industrial size shred equipment directly to your home or business location. With this portable paper shredding service, our clients have the advantage to observe the destruction take place first-hand, giving you the peace of mind in knowing that your company's confidentiality won't be jeopardized.
Mobile Document Shredding Process
PROSHRED® Tampa Bay follows a strict and detailed security process to maintain safety over your sensitive data. If you partner with our team for on-going scheduled shredding, we'll bring our mobile paper shredding trucks to your location at an agreed upon date and time, and carefully shred your confidential documents. From beginning to end, our representatives follow a precise security protocol that includes lockable collection bins for the protection of your information.
You can also arrange on-site shredding services as required for greater flexibility. Alternatively, feel free to reach out to us for quarterly and year-end purge services. Our state-of-the-art shred trucks are equipped to successfully destroy thousands of pounds of documents per hour, ensuring first and foremost that your company's information is safe throughout the entire process. Our team is certified and bonded. We use a thorough screening process when hiring our staff.
Benefits of On-Site Shredding
On-site shredding provides clients with a great deal of convenience and protection. Since you have the ability to watch our entire shredding process through a closed circuit monitor, you can feel confident in knowing your personal or company's privacy is in secure hands. Following the completion of each shred task, we provide a Certificate of Destruction to every client. Not only that, our professionals can shred a significant amount of paperwork in just minutes without leaving leftover dust and debris. With our  on-site shredding service, you never have to worry about the hassle of transporting your sensitive information to a different location; our mobile shredding trucks take care of that for you, and once we complete a shredding job, our team will recycle all leftover particles in an environmentally conscious manner.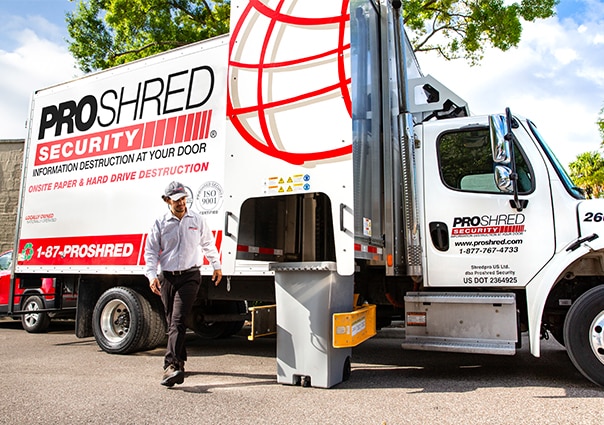 Mobile Shredding Trucks
We've discovered that the most efficient and secure method of document destruction, is through shredding sensitive documents on-site. Our mobile shredding trucks assist in meeting specific requirements for the shredding industry, as set out by state and federal regulations. Our truck-mounted shredders are  extremely powerful, and they are designed to perform a pierce-and-tear destroying method. These elaborate shredders are built with multiple revolving blades that tear paper into tiny, unrecoverable pieces. Rather than simply cutting the paper apart, our mobile shredding trucks tear documents at the fiber for thorough destruction. This process leads to sporadic distribution into the garbage bin as well as a more secure final size, which contributes to greater security. If you need your documents shred to a specific size, visit one of our several locations as we provide level one, two or three shredding. Level one is the most secure solutions, and it is close to three times smaller than the size created by an average office shredder.
Schedule a Mobile Shredding Service with PROSHRED® Tampa Bay
When you schedule a mobile paper shredding service with PROSHRED® Tampa Bay, we'll send a mobile shredding truck right to your door for no-hassle, secure on-site shredding. Our scheduled shredding service is highly-rated with businesses and organizations that are tired of old office shredders, which are often too noisy, too messy, and take up too much time and money. There's no set amount of papers you need to have in order for us to send a paper shredding truck to your location; we'll work with you to determine the best schedule for your exact shredding needs, whether that's daily, weekly, or monthly. Give us a call today for a free estimate and get a mobile paper shredding truck sent right to your door! 1-813-864-6433