July 31, 2023
Why Is Shredding Medical Records So Important
Identity thieves and hackers will do anything to steal your personal information. With a few simple keystrokes, determined criminals can create an entirely new identity, whether it's your social security number, birth date, or home address.
Another easily stolen bit of information is medical information. If your email is hacked, someone steals your mail, or gains access to your voicemails, your private medical information could be at risk. Here, we'll look at guidelines for shredding medical records and why protecting them from falling into the wrong hands is so important.
The Importance of Proper Medical Record Destruction
If someone unauthorized gets access to medical records, they can damage the lives of medical patients, their families, and their medical providers. As a medical provider, you're required by law to protect your patients' private information. As a patient, you owe it to yourself and your family to keep your sensitive information out of the hands of hackers and scammers.
As a patient, one of the easiest ways to protect your medical information is by only allowing access to your medical files to trusted individuals, like immediate family. As a medical provider, following established protocols for proper medical records shredding will keep you in compliance with established laws and procedures in your area.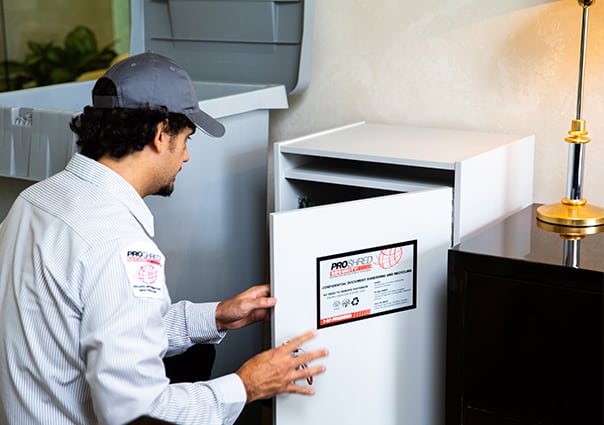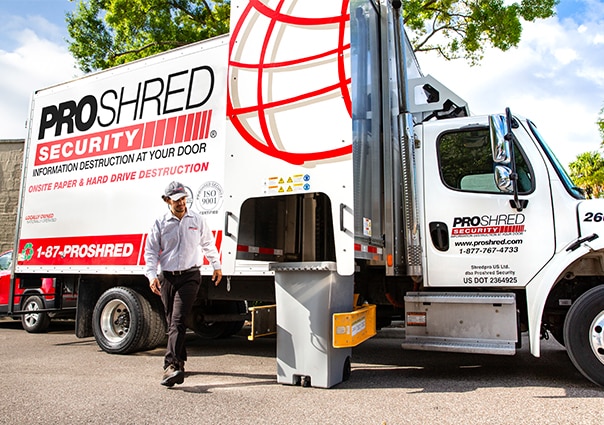 Why Secure Shredding Matters
While many medical facilities and providers have switched to electronic records to track patients and procedures, paper documents can still be found. For patients wanting test and lab results, or copies of instructions for new medications, paper documents are still the easiest and fastest way to release such information. A good habit for patients and medical professionals is keeping as little identifying information on such documents.
Secure medical records shredding is not only the law in many states but can also put your medical facility's reputation at risk if done improperly. When a professional shredding service shreds documents, business owners can be sure they are compliant with current regulations and are doing their best to safeguard sensitive data from identity thieves and hackers.
How to Properly Dispose of Medical Records
Businesses in the medical field are required by law to use best practices when securing patient information. An easy way to know your business is in compliance with established laws in your area is by having regularly scheduled shredding services performed on-site at your office by trained technicians.
When you partner with a team like PROSHREDⓇ Tampa, your office will be provided with lockable containers that will hold sensitive documents until our team comes to your location. By providing these containers as part of our ongoing shredding services, business owners won't have to worry about hauling paperwork to our location or keeping it in storage when containers are full and need emptying.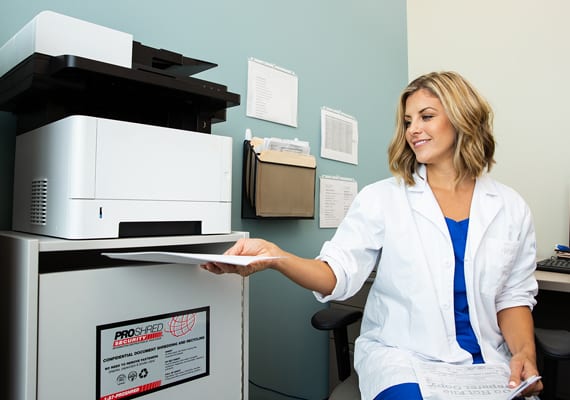 The Consequences of Stolen Medical Records
While you may not think having your medical information stolen is that big of a deal, it can lead to problems for business owners and patients. A patient who has their medical information stolen can be subject to identity theft, have credit card information compromised, and even be blackmailed by malicious offenders trying to expose medical conditions that some may not want to disclose to others.
HIPAA privacy rules state that individuals are allowed to see and receive copies of the information in their medical and mental health records, and healthcare providers must securely maintain these records. If your business security system is breached by scammers or malware, and investigators find that you weren't correctly maintaining personal records and other sensitive data, your business could face fines and penalties, which could take years to overcome. Ensuring your company establishes and follows strict guidelines for shredding medical records is the best way to stay compliant and protect your business's and patients' health.
Do You Need Medical Document Shredding? Contact PROSHREDⓇ Tampa Today to Get Started!
Now more than ever, protecting sensitive data from theft and other criminal elements is critical. Not only is it difficult to clear your name after thieves have stolen your identity, but it's also expensive and can take years before your record is cleared.
PROSHREDⓇ Tampa is the only Tampa shredding service that holds ISO 9001 and NAID AAA certifications, meaning that you be assured your medical records will be destroyed securely. Contact us in the greater Tampa area for all of your paper shredding needs. We can come to you, where our trained technicians will destroy your documents on-site in one of our mobile shredding trucks. Call today for a free consultation and see why we've been Tampa's top shredding service for many years.