December 2, 2021
Is Mobile Document Shredding Right for You?
Tackling that ever-growing pile of documents in your office can seem like a daunting task at first. Not only is a teetering stack of papers a bit intimidating in and of itself, figuring out where to start the process of clearing them out can be difficult. Having to sort through all those files to decide what needs to go and what can stay, and then determining the proper way to dispose of them, is a big undertaking.
The last thing any organization wants is improper document disposal of important documents. When these papers get in front of the wrong person, it can result in data breaches and other security risks. Fortunately, mobile document shredding may provide the solution for you. But how do you decide if you should begin outsourcing your shredding? This is where PROSHRED® Tampa can help! Continue reading below to learn more about what a mobile shredding service can do for you.
What is Mobile Paper Shredding?
Mobile paper shredding can best be described as a service that brings professional document shredding to a location of your choosing. Once you choose a date, time, and location, a mobile shredding truck will be sent out to dispose of your documents on site. These shredding trucks come equipped with a built-in industrial-grade shredder that has the ability to reduce all materials to particles so fine that it is impossible for them to be reconstructed.
In addition, these machines are also capable of shredding staples, folders, and envelopes without any difficulties, eliminating the need to sort through everything and remove those items before shredding. With PROSHRED® Tampa, you will be able to watch the entire shredding process from start to finish from a monitor mounted to the side of the truck.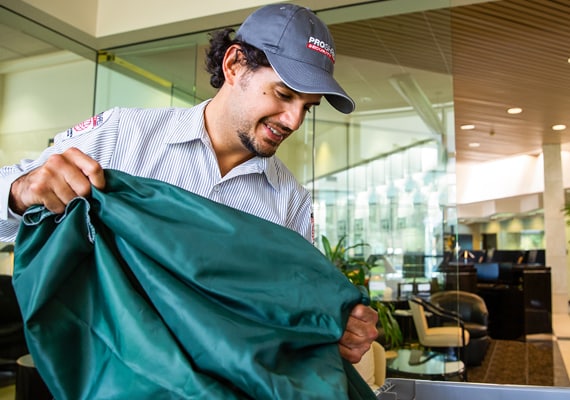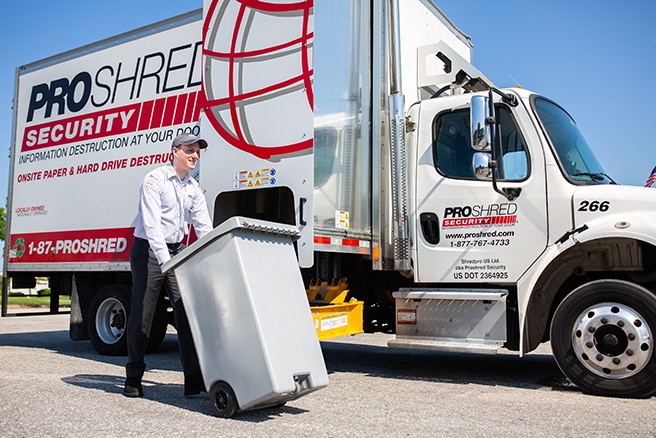 Secure Mobile Shredding is Available for All Industries
To ensure the protection of the private information of the client and the business, strict local, state, and federal guidelines have been put in place for nearly all industries. Some of the most notable guidelines out there are the Health Insurance Portability and Accountability Act (HIPAA) and the Fair and Accurate Credit Transaction Act (FACTA). Both of these laws and others like them require organizations to properly destroy documents that contain protected information. No matter the size of the operation, this can be a serious task to handle in-house.
Training employees on best practices for handling and disposing of documents is a good start, but as you are most likely aware, rules and regulations change or are updated fairly often, adding to the workload of your employees. PROSHRED® Tampa can help reduce the stress of ensuring legal compliance by providing you with an ongoing shredding service specifically designed to follow the legislative requirements of your industry.
Mobile Services are More Convenient than Traditional Shredders
Traditionally, shredding your documents means that you have to either purchase a small office shredding machine, or find a way to transport all of your sensitive materials to a shredding facility whenever you need to dispose of them.
On the other hand, a secure mobile paper shredding service does all of the hard work for you. With PROSHRED®, you can shred all of your materials on-site without worrying about traveling with your document or dealing with a fussy office shredder. To top it off, you will receive a Certificate of Destruction at the end of each service. This document serves as proof that all of your items were securely destroyed.
To accomplish this, the team at PROSHRED® Tampa will send out one of our state-of-the-art mobile shredding trucks equipped with an industrial shredding machine. Each of our trucks will arrive at the location of your choosing driven by a data security expert that has been specifically trained to perform secure, no-contact shredding services. A member of your team is able to witness the complete process, from collection to destruction, so that your private data never has to be left unattended with someone outside of your organization.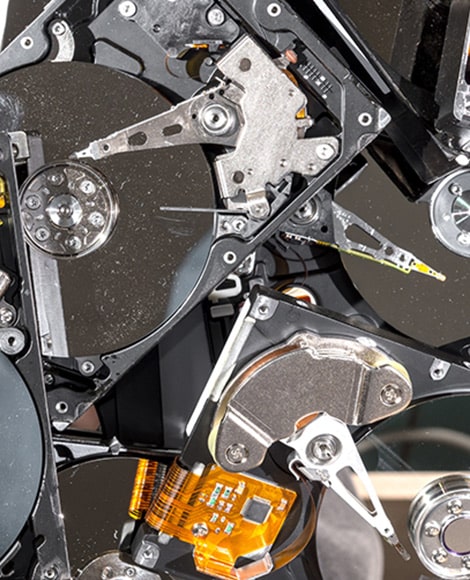 Mobile Shredding Companies Provide On-Site Hard Drive Destruction
The amount of data produced and stored on the hard drives of electronic devices is growing exponentially. Though digital documents provide many benefits to employees and clients alike, there are also some serious security risks that are involved. It is only a matter of time before these devices reach the end of their lifespan, causing you to think about how to best dispose of them. However, simply tossing these items into the trash is not safe.
The same technology that makes your device so useful for viewing and working with documents also makes information on the device difficult to dispose of properly. While many believe that moving documents to the virtual trash can erases them entirely, in reality even practices such as formatting the device still leave data behind. This means that information can be retrieved by those who wish to do you harm.
As many cyber security experts will tell you, complete hard drive destruction is the only way to confidently protect your data. To fully ensure that all of your files are gone, you must employ the expertise of a Tampa hard drive destruction company. Not only can PROSHRED® Tampa provide this service to your company, we will also provide you a Certificate of Destruction for your records after every service.
You'll Never Have to Worry About Data Breaches Again
The security of your sensitive data is of the utmost importance, regardless of industry. When you do not actively engage in secure document disposal practices, the confidential information of your company and that of your clients is at risk of falling into the wrong hands. This can lead to such crimes as data breaches and identity theft, exposing your organization to a damaged reputation or potential litigation.
The best way to ensure the protection of the critical information in the care of your company is to have the files professionally shredded. PROSHRED® Tampa provides a secure chain of custody for all of your items for total protection against potential fraud and theft with our best-in-class on-site document destruction services. The mobile document shredding equipment housed within our shredding trucks takes your paper documents and hard drives and securely shreds them into hundreds of pieces, guaranteeing that they are unrecoverable, before leaving your location.
Invest in Secure Shredding with PROSHRED® Tampa
Whether you require regularly scheduled mobile shredding, drop-off shredding, or even product destruction, you can rely on PROSHRED® as your first choice for local paper shredding services. Our mobile shredding experts can help you determine the right plan for your company and provide you with an affordable quote for your shredding needs. Call us today to get started!