Fayetteville Shredding
Located in the heart of Cumberland County and just outside of Fort Bragg, Fayetteville is a community of proud North Carolinians. The city's population has skyrocketed in the past twenty years, growing by more than 80,000 people since 2000. From public school systems to the Department of Defense, hundreds of Fayetteville residents understand the importance of responsible document keeping and count on PROSHRED® for their information security needs. Destroying confidential paperwork and correspondence ensures the privacy of your financial records and personal/client information. Storing this information in a secure location up until that date is even easier with PROSHRED® – now carrying a variety of lockboxes and secure disposal bins for your office.
Our team operates the state's largest fleet of on-site mobile shredding vehicles to provide on-site shredding services. We arrive directly at your Fayetteville address and take care of the entire destruction process in just a few minutes. At the end of your service appointment, we'll even give you a Certificate of Destruction, guaranteeing that 100% of your designated documents are irreversibly shredded.
Hands-Free Document Security
PROSHRED® is recognized nationwide for using the industry's most secure shredding process. Our technicians arrive at your home or business and transport all documents to the shredding truck in secure containers. At no point in the process do PROSHRED® employees actually touch your paperwork. The materials are lifted into the industrial-grade shredder, processed, and then verified as completely destroyed. Our team then brings the shredded materials to a North Carolina recycling center to be reused in other products.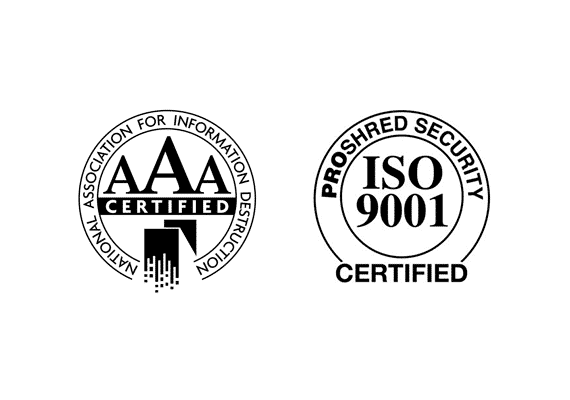 Document and Digital Security
More clients trust PROSHRED® than any other locally owned shredding company in North Carolina. We offer not only paper document shredding, but also Hard Drive (HDD) destruction. A device filled with years' worth of old files, spreadsheets, and financial records should never be tossed in the trash because hackers and skilled computer technicians can still retrieve your old data. The best solution is to destroy the storage units of old, unneeded computers with a team like PROSHRED®. Call us today for more information about our varied shredding services at 1-919-741-5023.
We proudly cover all offices, employees, and service members of the United States Army currently stationed at Fort Bragg. We also extend our coverage to homeowners and businesses throughout Fayetteville, Hope Mills, Spring Lake, Stedman, Eastover, Rockfish, and Raeford.
Fayetteville Shredding Services
Scheduled Shredding Service in Fayetteville, NC
One-Time Shredding in Fayetteville, NC
Drop-Off Shredding in Fayetteville, NC
Legislative Compliance
HIPAA Compliant
HITECH Compliant
GLBA Compliant
FACTA Compliant