Rocky Mount Paper Shredding
Roughly a one hour drive east of Raleigh, Rocky Mount, North Carolina is a beautiful city with a bustling community of friendly residents. Known for its southern charm, this city of comfort and sophistication enjoys an expanding economy based on manufacturing, commercial, and service businesses. These workplaces are essential to making Rocky Mount great, and they produce thousands of confidential and proprietary documents every day. PROSHRED® Raleigh is proud to be the top regional provider for Rocky Mount paper shredding and hard drive destruction services! With our commitment to protecting your information, residents and businesses can rely on us to prevent identity theft and maintain legal compliance with privacy laws.
Rocky Mount Product Destruction
In addition to secure document shredding, PROSHRED® Raleigh offers product destruction service to prevent the illegal use of proprietary items, including uniforms, identification badges, computer hard drives, recalled equipment, and more. There's no need to put your company or your intellectual property at risk by tossing items in the trash or wasting space leaving things in storage. With PROSHRED®, you can protect important assets, and protect your business, by securely destroying branded materials and proprietary products. You'll rest easy knowing that your items are not being sold or used illegally.
Residential Shredding in Rocky Mount
If you're cleaning out a home office, or if you've just stumbled on that old box of documents from a decade ago, the last thing you want to do is toss important papers in the trash. Identity theft is a serious threat these days, and account numbers, tax forms, and even old bills can contain personally identifiable information that you don't want in the wrong hands. Whether you prefer walk-in or mobile shred service, PROSHRED® Raleigh conveniently provides Rocky Mount document destruction that's guaranteed to protect your information.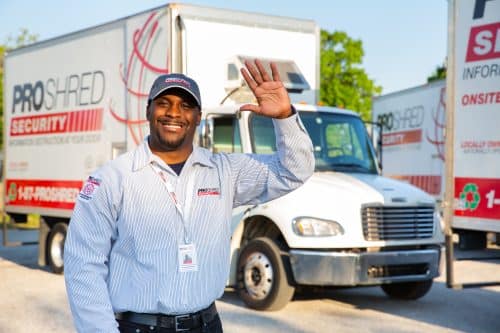 Rocky Mount Hard Drive Shredding
As computers become more and more advanced and become obsolete faster, protecting data on old hard drives becomes imperative. even though a PC may be decommissioned there is a chance that some sensitive data might remain on the drive, that a skilled person could recover. Shredding a hard drive is the only guaranteed way to ensure that all data left on the hard drive is completely sanitized. 
Schedule a Service with PROSHRED® Raleigh!
As a locally owned and operated franchise, PROSHRED® Raleigh provides trusted document destruction and paper shredding in Rocky Mount to keep you and your business protected against security threats and identity theft. Call 1-919-296-3244 to schedule a shredding service in Rocky Mount!
Rocky Mount

Shredding Services
On-Site Shredding in

Rocky Mount, NC

Scheduled Shredding Service in

Rocky Mount, NC

One-Time Shredding

Rocky Mount, NC

Drop-Off Shredding Locations in Raleigh, NC
Legislative Compliance
HIPAA Compliant
HITECH Compliant
GLBA Compliant
FACTA Compliant