Mobile Paper Shredding Services
Many businesses must comply with state and federal regulations that require the destruction of documents containing sensitive information. These types of files can range from data on past employees to outdated company records. When seeking business shredding services that will help you comply with these regulations, mobile shredding is the most convenient and cost-effective solution.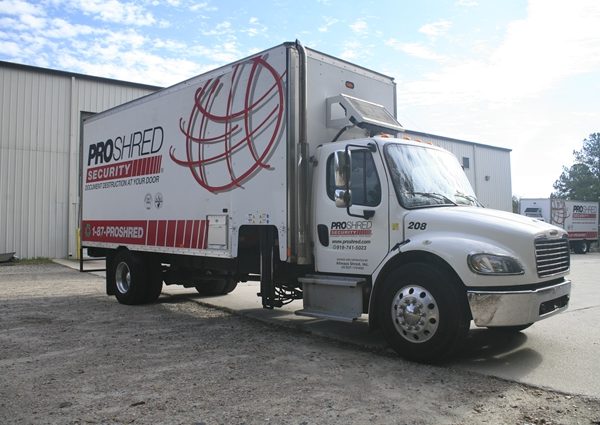 What is Mobile Paper Shredding?
Mobile paper shredding is a convenient way for businesses to rid themselves of old documents without having to take the time and effort of transporting these outdated files to a shredding facility. This service involves a mobile shred truck coming to your location and shredding your documents right outside of your door. PROSHRED® Raleigh offers two types of mobile shredding services for our customers:
This type of purge shredding is useful to businesses that need just one shredding service to handle the proper disposal of their outdated files. With our state-of-the-art mobile shred trucks, PROSHRED® Raleigh can handle the amount of paperwork that has piled up at your office, no matter the size.
Depending on your business's needs, we can set up a customized shred plan that works with your budget and busy schedule. During an on-going shredding service, our technicians will come to your location on a regular basis and rid your office of files that you go through on a daily basis.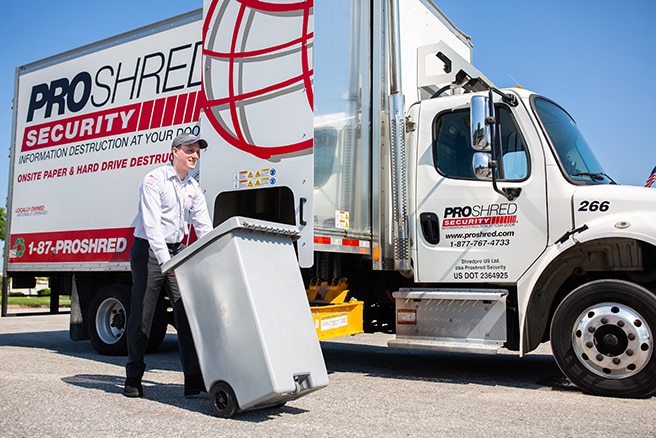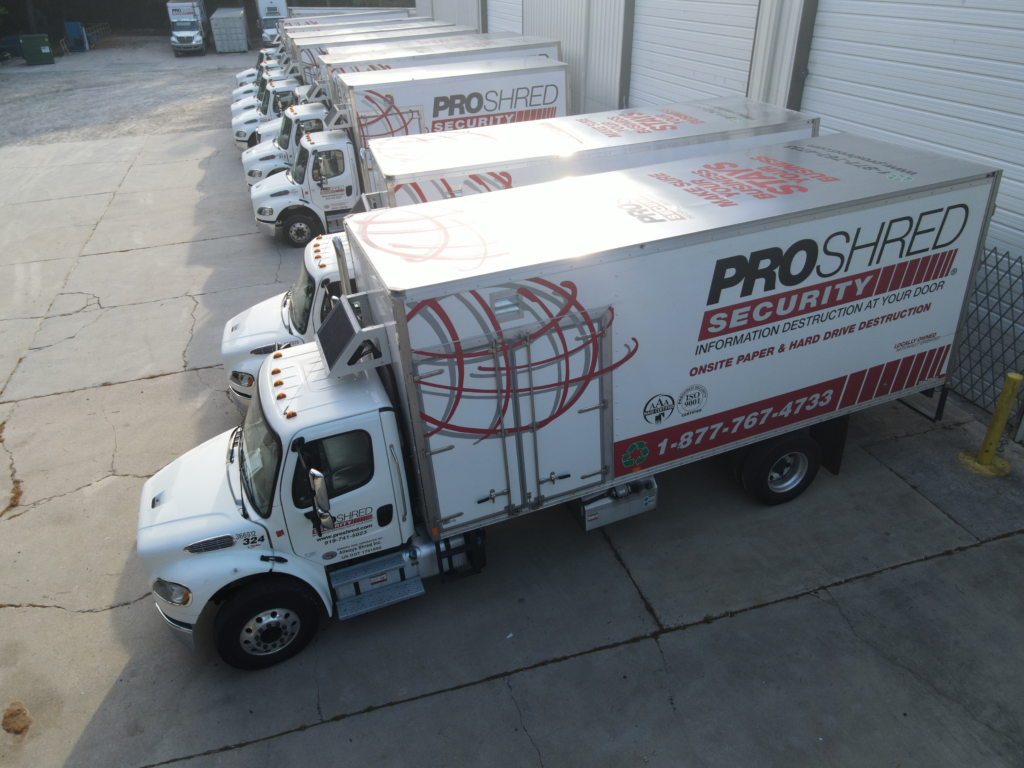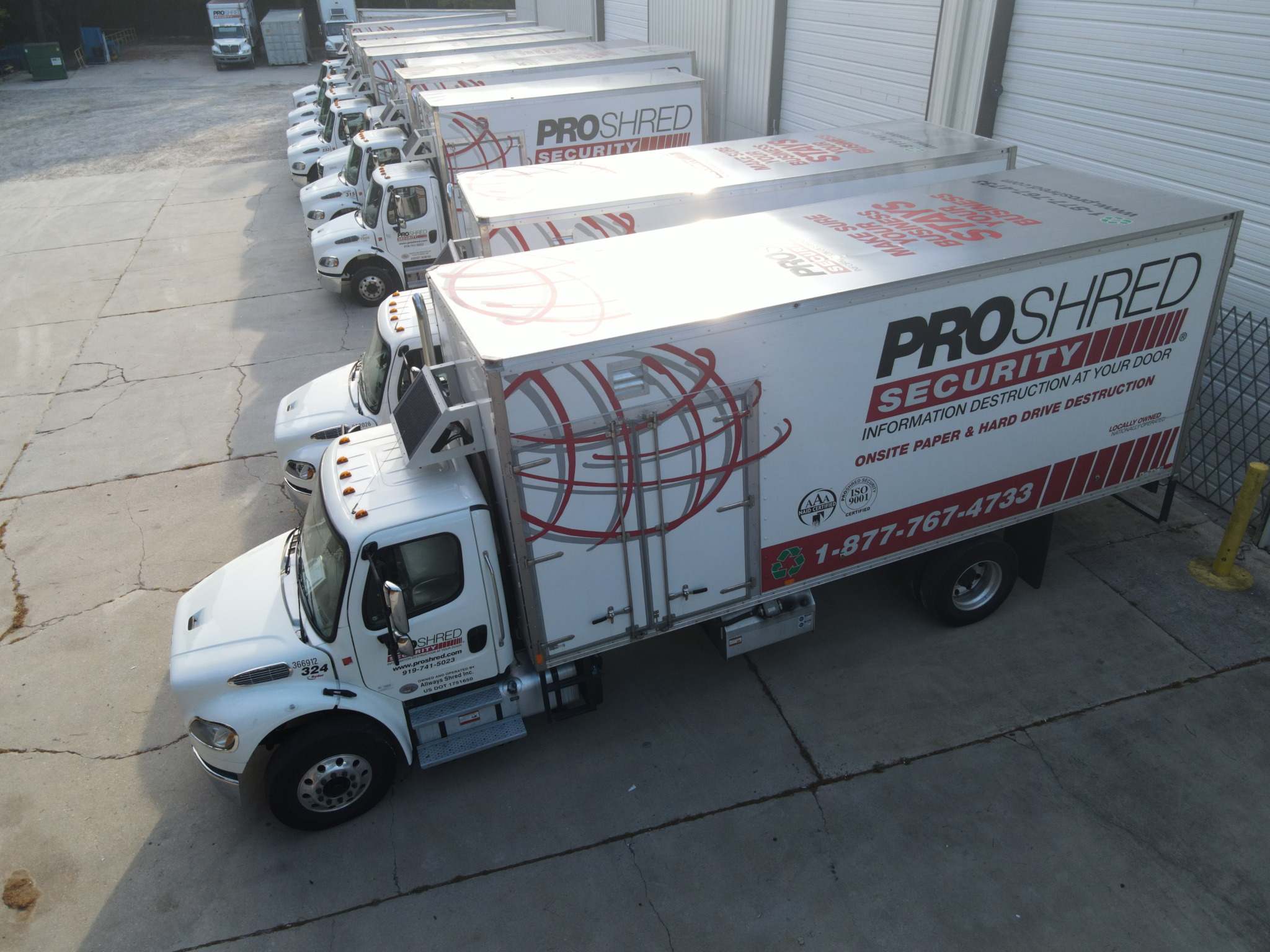 Why Mobile Paper Shredding Trucks?
Using mobile shred trucks are a great way to comply with state and federal regulations that require the proper disposal of your business's sensitive information.  PROSHRED® Raleigh's certified technicians handle these documents with care, and our mobile shredding trucks can handle any shred job, no matter the size. Whether it's a document purge or an on-going shred, our equipment makes the job a fast and easy process that can be done at your location. This affordable process won't interfere with your regular workday. Our representatives will schedule a service date that works around your busy schedule.
Choosing The Right Mobile Shred Service for Your Business
When you need to dispose of your old files, you want to choose a company that you can trust. Data theft and security breaches are just a few of the concerns you must be vigilant about as a business owner. At PROSHRED® Raleigh, our technicians are certified to handle your information with care. Our company is ISO 9001 and NAID certified as well, so you can trust us as a reputable shred service provider.
Contact Your Mobile Shredding Provider Today
PROSHRED® Raleigh is here to help you get started with a mobile shred plan that suits your needs and your budget. Get started with us today! 1-919-741-5023
Frequently Asked Questions About Mobile Shredding
To hire a reliable mobile paper shredding service, call PROSHRED® Raleigh: 919-741-5023.
At PROSHRED® Raleigh, we keep a consistent schedule and a full staff of shredding truck drivers who are committed to providing information security resources to customers in North Carolina. Because of this, they never miss a scheduled shredding service stop.
The cost of our shredding services are based on frequency and how much is being shred.