Greensboro Paper Shredding
When it's time to shred your old documents and paper records, trust PROSHRED® top-rated Greensboro paper shredding service. Our team routinely drives to residential and business clients throughout the Piedmont Triad.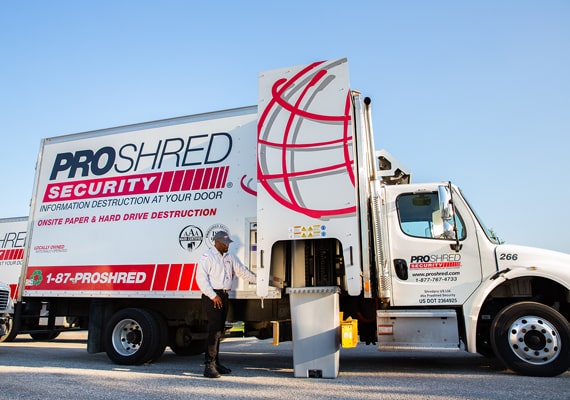 We understand the importance of securely shredding your documents and hard drives. That's why we use the latest industrial shredding equipment to quickly and efficiently destroy your materials onsite. We can even recycle whatever is leftover!
Plus, we're a locally owned Greensboro paper shredding company, so you can trust us to properly and securely destroy your sensitive information.
After you make an on-site shredding appointment with PROSHRED®, expect prompt and courteous service on your prearranged service date. Our technicians will drive directly to your Greensboro address to take care of the destruction of all unneeded paperwork and old documents, even shredding hard drives (HDD) and solid-state drives (SSD).
Greensboro Document Destruction
Fast, Friendly and Affordable - NO Hidden Fees
PROSHRED® is a top-rated Greensboro paper shredding company, which is a Triad based service, that is proud to share we have received an AAA rating from the National Association for Information Destruction (NAID). More importantly though, we have customers that keep coming back. Not only do we guarantee 100% document destruction, but we also do it at a better price – cheaper than buying your own personal shredder or using any other competing service. Call today to see why businesses choose PROSHRED®  as their Greensboro document destruction service.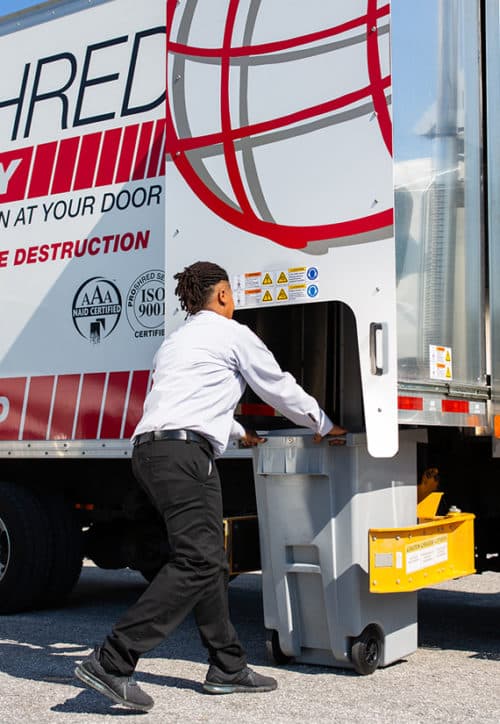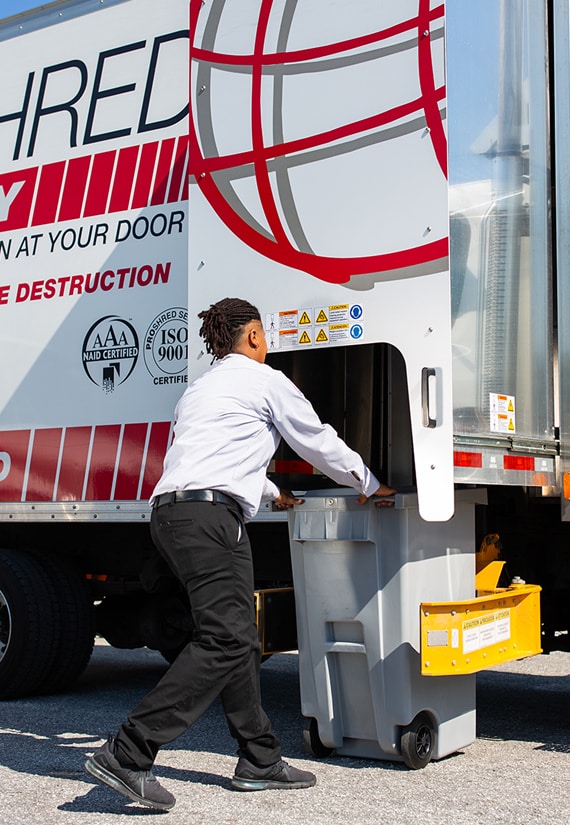 Greensboro Mobile Shredding
We believe that our mission is about more than just paper shredding. PROSHRED® is protecting the financial records and private information of families, small businesses, and all types of organizations, ensuring that their future plans aren't foiled by document theft or identity fraud. Our industry-best practices and highly trained staff mean customer satisfaction with every call. We encourage you and your business to practice safe document keeping and trust PROSHRED® when it comes to dispose unneeded paperwork.
Our coverage area extends throughout the Greensboro area, including High Point, Archdale, Burlington, Elon, and Summerfield. Contact us today for more information about our Greensboro document shredding services.
Greensboro Document Destruction
When you schedule an on-going shredding service in Greensboro with PROSHRED®, you're taking a huge step toward compliance with state and federal document destruction laws.  We work with a variety of organizations and businesses to create custom shredding plans for their budgets and needs. Our on-going shredding services are available for industries including finance, law, medicine, and government as well as businesses and work-from-home offices.
Our team of certified technicians are trained to handle all of your Greensboro paper shredding needs with attention to safety and security. You can rest assured that your documents are being monitored every step of the way, and a certificate of destruction will be supplied to you following our services, which shows what documents were destroyed and when. If you're looking to help your business stay organized and compliant with secure shredding and document destruction in Greensboro, look no further than PROSHRED®.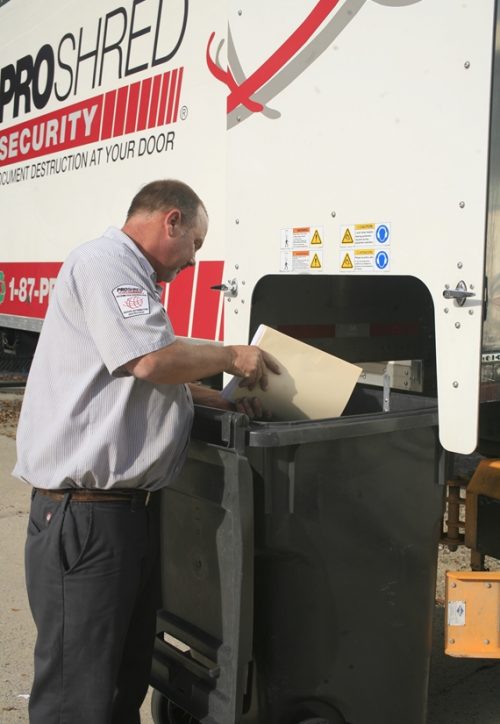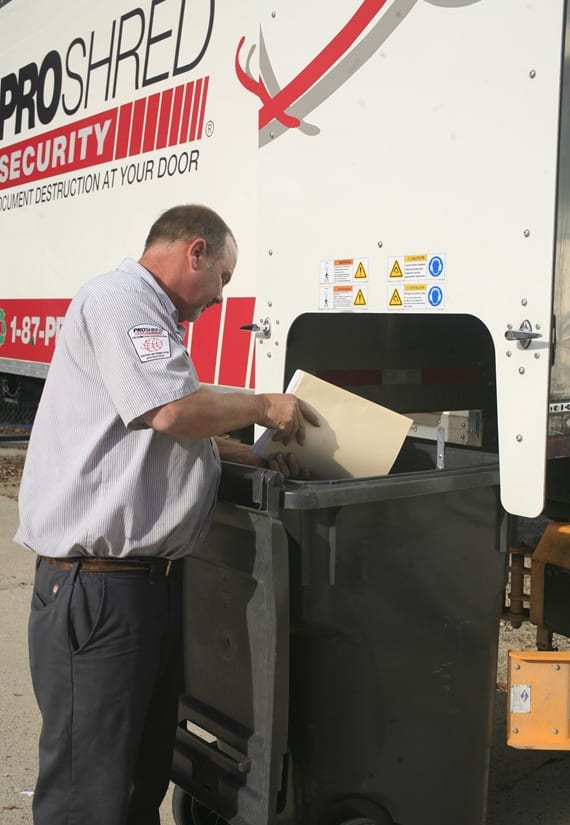 Why Use Greensboro Paper Shredding Services?
- To protect your privacy: Old documents can often contain sensitive information that you don't want to fall into the wrong hands. By shredding them, you can rest assured that your private information will stay confidential.
- To comply with state and federal laws: Many states have laws in place mandating the destruction of certain types of confidential information. Our Greensboro paper shredding services can help you stay compliant with all applicable regulations.
- To protect your image: If you're a business, it's important to keep your confidential data safe to protect your image and reputation. Clients and customers will be more likely to trust a company that takes data security seriously.
How Greensboro Paper Shredding Services Work
Our Greensboro paper shredding services are designed to be as convenient as possible for our clients. We will come to your location and destroy your documents and hard drives onsite. We can even recycle whatever is leftover!
Frequently Asked Questions About Greensboro Shredding Services
It is important that highly sensitive, personal documents are properly shredded and disposed of to prevent unauthorized use. PROSHRED® is both ISO 9001 and NAID AAA Certified ensuring efficiency and compliance.  
Shredding cost vary depending on what product you are shedding and how much.  Call our office today for a quick quote!
Paper / Notepads
Hanging File Folders
Playing Cards / Trading Cards
Uniforms / Apparel
Computer Hard Drives
Recalled / Damaged / Out-of-date Products
...and Much More.
Get a quote today!
Greensboro, NC Shredding Services
On-Site Shredding Greensboro, NC
Scheduled Shredding Service Greensboro, NC
One-Time Shredding Greensboro, NC
Hard Drive Destruction Greensboro, NC
Legislative Compliance
HIPAA Compliant
HITECH Compliant
GLBA Compliant
FACTA Compliant