Kinston Shredding
Since 1988, Kinston has won the All-America City Award twice, speaking volumes about the rich and historical community that is rooted in this humble North Carolina town. Peppered throughout Lenoir County are more than 25 buildings and sites that are listed in the National Register of Historic Places. Homeowners and businesses throughout Kinston trust PROSHRED® when it comes time to clean out old file cabinets full of tax returns, financial information, and private correspondence. Our team guarantees 100% document destruction with every call, using our signature PROSHRED® paper shredding system to give you total document security.
We believe that information security is an obligation that all North Carolina residents should face. Unneeded paperwork that sits in your office is loaded with personally identifiable information that can be used again for fraud or identity theft. Securing your old documents and shredding them when no longer needed is just part of that responsibility. When you trust PROSHRED®, you can rest assured that your document shredding is being handled by the best in the business.
Our Shredding System
Armed with the state's largest fleet of mobile shredding vehicles, our team brings quality service directly to your doorstep. A PROSHRED® technician will carefully load all documents into a secure, lockable container that is immediately transported to the shredding truck. Our signature hands-free technology lifts the container into the onboard shredder for an industrial-grade destruction process. And because we care about our environmental footprint, all shredded materials are brought to a local recycling center for reuse.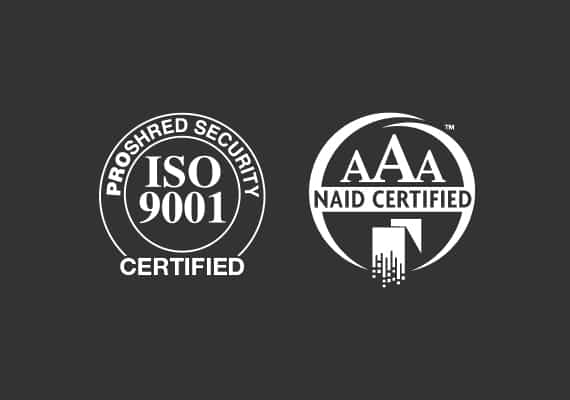 Certified Document Security
Thousands of residents throughout Kinston and North Carolina rely on PROSHRED® because we offer the best shredding services at the lowest prices. As we continue to exceed customer expectations, we are also receiving the highest industry standards, like an AAA rating from the National Association for Information Destruction (NAID). Our commitment to professional training in safety, document transportation, and security practices means that you are always protected by the best team in the business. Choose PROSHRED® for your residential and commercial shredding needs!
Contact us today at 1-919-741-5023 for more information about Kinston shredding services. We also extend our coverage area to communities like New Bern, Goldsboro, and Mt. Olive
Kinston Shredding Services
On-Site Shredding in Kinston, NC
Scheduled Shredding Service in Kinston, NC
One-Time Shredding in Kinston, NC
Drop-Off Shredding Locations in Raleigh, NC
Legislative Compliance
HIPAA Compliant
HITECH Compliant
GLBA Compliant
FACTA Compliant