September 29, 2023
The Advantages of Working With an Established Shredding Company
As businesses handle vast amounts of sensitive information, partnering with a reputable and established high security shredding company has become a crucial step toward maintaining confidentiality, complying with regulations, and protecting valuable data. In this blog post, we'll delve into the advantages of working with an established shredding company and how it can benefit your organization.
Security and Reliability
Established paper shredding companies have honed their expertise, utilizing state-of-the-art technologies and rigorous protocols to ensure the complete destruction of sensitive documents. The commitment to security extends from the moment documents are collected to the final disposal stages. PROSHRED® Raleigh takes security seriously, which is why we are proudly ISO 9001 Certified by NSF-ISR and NAID AAA certified.
By virtue of the installed baling equipment, Proshred Raleigh is fully compliant with VA Directive 6371 as well as IRS requirements for the handling of shredded paper. The baling facility is maintained within a gated property and locked at all times. As required by NAID AAA standards the facility has a video surveillance system and alarms that are remotely monitored.
The reliability of a reputable company is evident in how its document destruction services are run, from consistent service delivery, punctuality, and commitment to exceeding client expectations. PROSHRED® Raleigh's unwavering attention to detail, combined with our compliance with data protection regulations, guarantees that your confidential information remains secure throughout its lifecycle.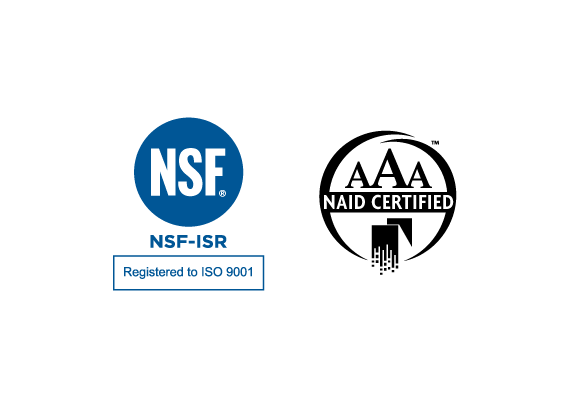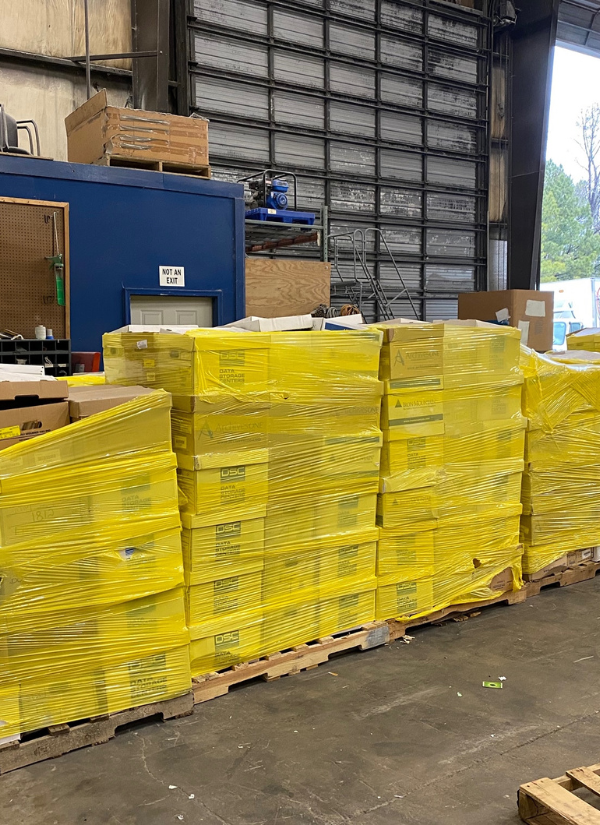 Chain of Custody
Maintaining a clear chain of custody is crucial when it comes to sensitive information. Established shredding companies implement strict procedures to track the handling and destruction of documents. At PROSHRED® Raleigh, we conveniently bring our mobile shredding trucks to you so you can remain with your confidential documents the entire time. Afterward, we will provide you with a Certificate of Destruction, which is a verifiable record of document disposal that proves your documents were securely disposed of.
Compliance with Data Protection Laws
Data protection regulations, such as the Fair and Accurate Credit Transaction Act (FACTA) and the Health Insurance Portability and Accountability Act (HIPAA), impose strict requirements on how sensitive information is handled and disposed of. Established shredding companies stay up-to-date with these regulations, ensuring that your business remains compliant. Partnering with a company like PROSHRED® Raleigh can shield you from hefty fines and legal troubles that can arise from improper document disposal.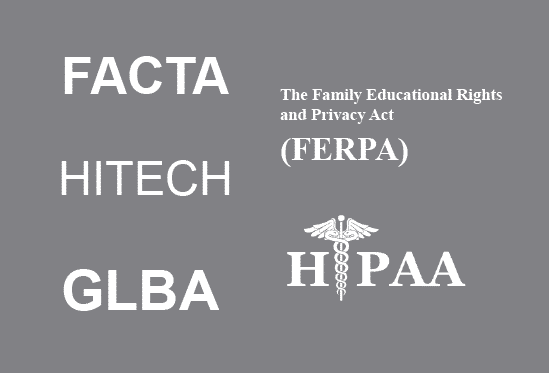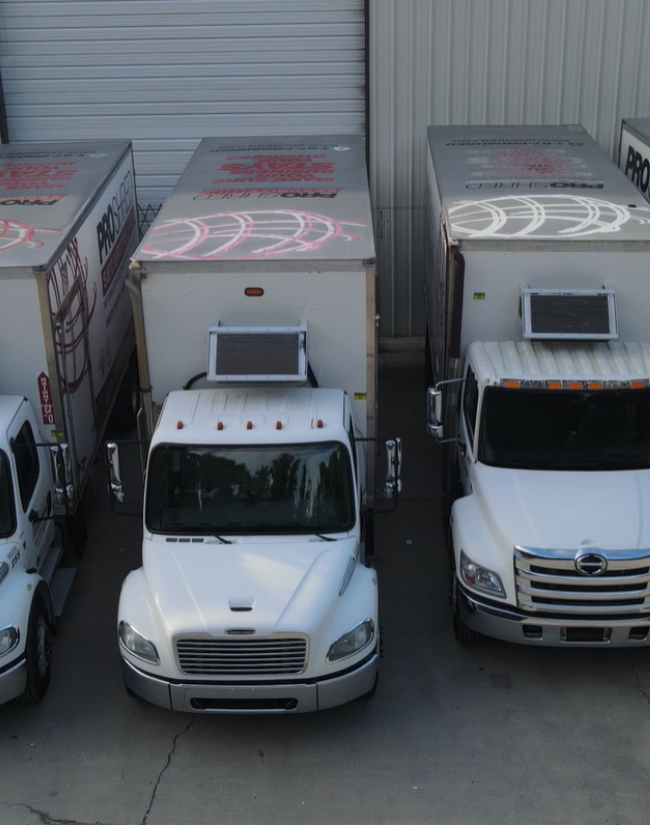 Convenient Solutions
Reputable shredding companies provide convenient and comprehensive solutions for those who need document destruction services, including both on-site and plant-based shredding options. On-site shredding allows you to watch the process in person, while plant-based shredding takes large bulks of documents to a secure location to be shredded. We offer flexible options for scheduling, whether you need us to come to you daily, weekly, or monthly, so you can find a solution that fits your needs.
With our state-of-the-art mobile shredding trucks, PROSHRED® will come to you, shredding everything on-site where you can watch. Currently, the Raleigh location operates fourteen high-speed, high-volume paper shredding trucks, ensuring enough contingencies for any equipment downtime. Three of those trucks are equipped with a specialized shred system that is regarded as a "high-security shredder" with a shred size of ½-inch by ½-inch. Additional services include the destruction of hard drives, manufactured products, as well as electronic equipment.
Cost-Effective Solutions
Another advantage of working with an acclaimed shredding company is that you can often find cost-effective solutions for large shredding projects. Professional shredding companies have the resources and expertise to handle shredding jobs of any size, making them an ideal partner for businesses that require a lot of shredding, but don't want to waste valuable time and resources to keep their confidential documents secure.
Experience and Expertise
Established shredding companies have years of experience in the industry, so you can trust that they have the knowledge and expertise to handle any shredding job. Reputable ones employ trained staff who understand the importance of document security and use state-of-the-art equipment that meets current industry standards. This ensures your confidential documents will be destroyed quickly and securely.
Dedicated Customer Support
A professional paper shredding company should have a well-trained team, who are experts in all forms of document destruction services. Whether you're seeking advice on the best shredding solutions for your organization or need assistance with scheduling pickups, their knowledgeable and responsive staff should ensure a stress-free experience.
At PROSHRED® Raleigh, our team goes beyond standard customer support, and we build relationships with each of our clients. Our technicians take pride in getting to know each customer's unique needs and preferences. With our company, you're not just a client; you're a valued partner who benefits from unwavering support every step of the way.
Builds Reputation and Trust
Partnering with a respected shredding company like PROSHRED® Raleigh enhances your own organization's reputation. Clients, partners, and stakeholders are more likely to trust a company that prioritizes information security. Demonstrating your commitment to safeguarding sensitive information can differentiate your business from competitors and foster goodwill.
Always Shred, Inc. dba Proshred is affiliated with Proshred franchising. Currently, there are 32 national locations. The Raleigh location, Allways Shred, Inc., dba Proshred is owned and operated by James Klemes. The company has been operating in North Carolina since July 2007. If Proshred is awarded the contract James Klemes will be the point of contact for the contract. Always Shred, Inc., dba Proshred has over two thousand customers.
Reach Out To PROSHRED® Today to Learn More
When it comes to keeping confidential documents secure and disposing of them in accordance with industry standards, there is no better option than working with an established shredding company. Reputable companies provide reliable security solutions, abide by data protection laws, and offer cost-effective solutions for large shredding projects. They also provide convenient options for scheduling pick-ups of materials.
By choosing a reputable shredding partner like PROSHRED® Raleigh, you demonstrate a commitment to data privacy and security that can have lasting positive effects on your business's reputation and success. Contact us today to find out more about our plant based shredding and other document destruction services, and why we're the trusted choice for businesses seeking secure document disposal.