Paper Shredding Mount Airy
Situated north of the city of Winston-Salem in central North Carolina, the town of Mount Airy has a population of more than 10,000. It is perhaps most famous for being the home of actor Andy Griffith and was also the inspiration for the town of Mayberry, where The Andy Griffith Show was set. Mount Airy is also home to various types of businesses and organizations. Although different from each other in type, all those organizations produce both digital and paper documents. Residences in the area also deal with those types of documents.
Mount Airy Document Shredding Service
There are many organizations, businesses, and residences in Mount Airy, and they are creating various documents in the local area every day. At some point, many of them are no longer needed but cannot be simply discarded in trash cans. Because they contain confidential information, they need to be disposed of very carefully. That's where PROSHRED®  comes into the picture.  We offer Mount Airy paper shredding, and we handle documents with close attention to confidentiality. Our technicians come to your location with mobile shredding trucks and provide bulk shredding of your confidential documentation while ensuring that sensitive information is fully destroyed. You can watch the process from our viewing camera that is on the truck. Once our Mount Airy shredding company has successfully destroyed your confidential documents using our high-quality bulk plant base shredding techniques, we give you a document to certify that your papers have been permanently destroyed.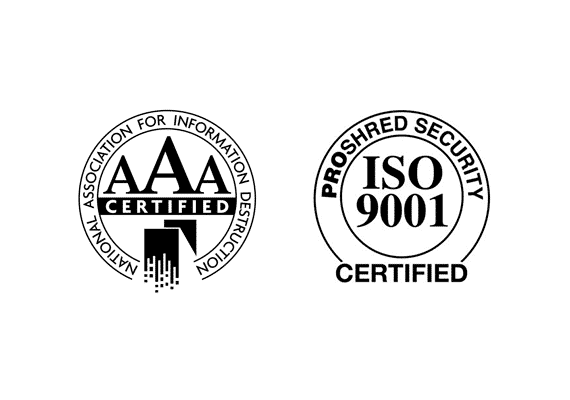 Hard Drive Destruction Service
When you think of shredding and data destruction, you might just think of papers. But the reality is that papers are only the beginning to what is considered information that should be destroyed at some point. You also need to pay careful attention to shredding or destroying digital data, and that is where hard drive destruction comes into play. To meet that need, we provide hard drive destruction services. A hard drive needs to be destroyed when you are upgrading a computer, changing computer users or recycling computer equipment.
A Leader in Document Destruction
PROSHRED®  is a recognized leader in the document destruction industry. As a franchise, PROSHRED® Raleigh serves many locations in North Carolina, including Mount Airy, and is locally owned and managed while also having the resources of a national company. Serving as a leader in the secure destruction of documents, hard drives, and other proprietary materials, we assist all sizes of businesses and government organizations as well as local residents to securely protect their confidential information.  We offer both onsite and offsite shredding services for our customers in the area.
Do you need Mount Airy document destruction services for your hard drives or papers? Contact us today, and we will explain how the process works.