May 12, 2023
The Importance of Proper Shredding Equipment in the Office
Are you concerned about the security of sensitive documents in your workplace? Do you worry that confidential information could end up in the wrong hands or be used maliciously to harm your business, patients, or clients? One crucial but often overlooked step in maintaining that privacy is investing in secure equipment, such as a high-quality security console for the office. Having a comprehensive plan for disposing of sensitive data not only keeps your confidential information safe but also promises more reliable document security and compliance with federal laws.
Increased Security
When a document is no longer needed, does it tend to sit on your desk for a couple of days? Or do you throw it away immediately in a typical open-faced garbage bin? Both have the same effect and it is very easy for things to go wrong. Anyone in your workspace, whether it is a coworker, a janitor, or any other visitor could easily swipe it.
At PROSHRED® Raleigh, it's our top priority to keep the chain of custody as short as possible. That's why our state-of-the-art trucks are equipped with mobile document shredders that come directly to you. But there is still a window between when the confidential document is no longer needed and our trucks coming to you. By keeping these documents in one of our locked security bins and consoles, you'll have complete peace of mind that no one intercepted the documents.
This can help create a "culture of confidentiality" in the workplace, which is especially important in places such as hospitals or law offices. When your employees know the policy for keeping documents secure, there will be less confusion and less room for human error. You'll also want to make sure your employees know what should and shouldn't be shredded and what kind of information puts your company at risk.
No matter which type of security bin or console you choose, it's guaranteed to be safe. Designed to resist tampering, each bin is made with durable materials and has a secure locking system that prevents any unauthorized person from gaining access. The contents will remain safe until the mobile document shredders can come to destroy them securely.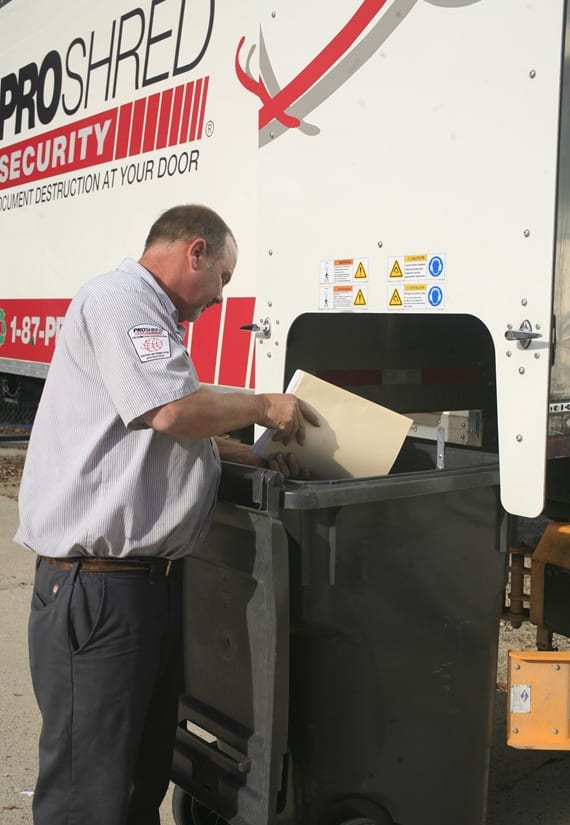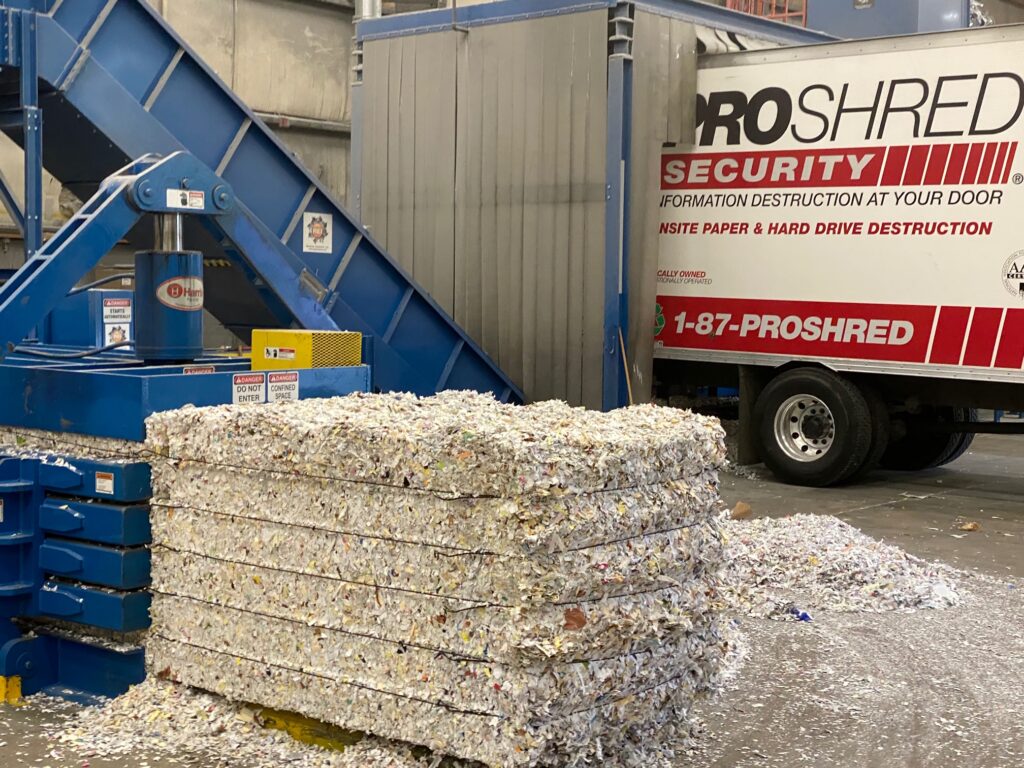 Professional Presentation
Security has always been PROSHRED® Raleigh's top priority, but that doesn't mean we don't recognize other important values of your company. Presentation is a big one—you want your office to be neat, organized, and simply look good. Not only are our shredding bins and consoles sleek and professional, but they will also help keep your office from feeling cluttered. All of your unwanted documents will have a place to go that will keep them organized and secure.
Types of Shredding Equipment
There are several different types of security consoles and shredders to fit every office's needs. Security consoles are great for those who need to regularly document shred and want a place to securely store their documents until a paper company, such as PROSHRED® Raleigh can come with their mobile document shredders.
High-volume security bins are for those who have a lot to shred, usually on a daily basis. These big bins come in either 64-gallon or 96-gallon sizes and in a range of colors. If you don't want to schedule weekly mobile document shredding and would rather wait until you have a big collection for shredding, these bins offer a safe way to store your documents until you are ready to schedule with your paper shredding company.
On the other hand, if you have individuals who work with a lot of sensitive information on a regular basis then the desk-side shred containers might be a better fit. These smaller containers can hold up to 2,000 pieces of paper, and they are convenient, fitting right beside your desk.
Ultimately, having a security console in your office is a great asset to any business looking to protect its confidential documents. Your level of security would be enhanced, creating a professional environment in the office and shortening the chain of custody for more effective document management. It also helps to foster a culture of confidentiality in your office environment. Companies who are serious about information and document safety should consider installing one in their workspace. If you have decided that a security console is right for you, reach out to PROSHRED® Raleigh for advice on use and proper care.