March 29, 2023
Plant-Based Shredding vs. Mobile Shredding: Which Should You Choose
Whether it's digital or on paper, sensitive information demands protection. When it comes time to dispose of those documents, a secure shredding service eliminates the potential for those documents to be exposed to identity thieves, corporate espionage and others with malicious intent. You'll have plenty of options to choose from, but the most popular are plant-based and mobile shredding services.
To understand which solution works best for your business, it's important to know what each option offers and how they compare to each other. Both offer their own unique advantages and disadvantages depending on your document destruction needs.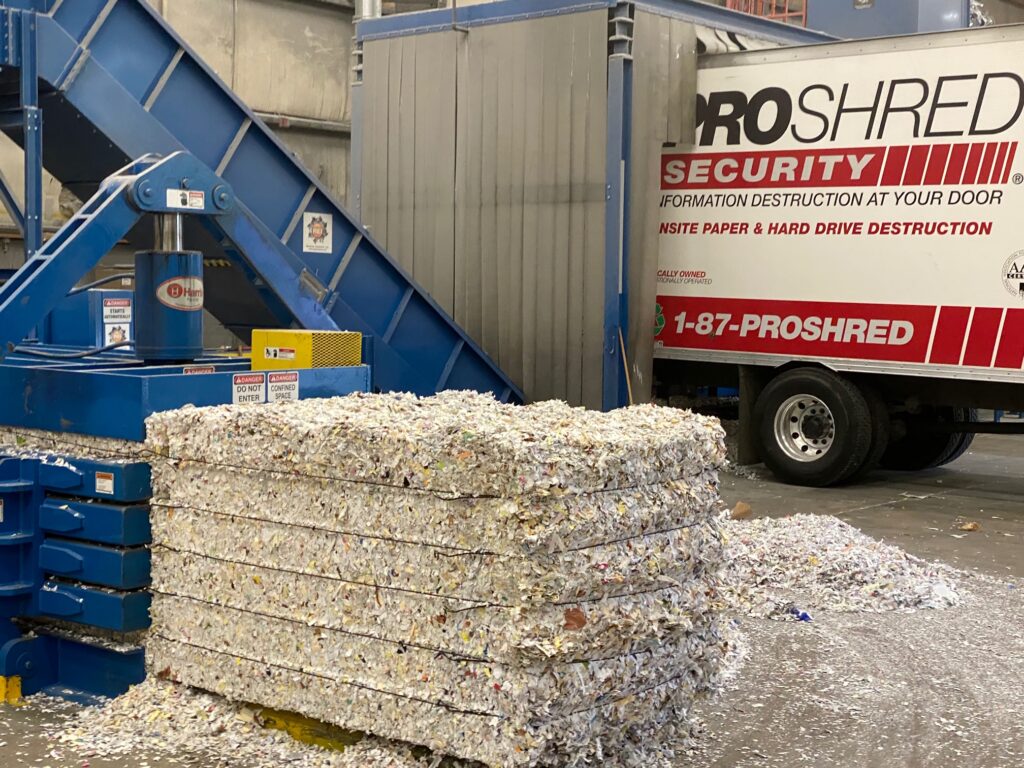 How Plant-Based Shredding Works
PROSHRED® Raleigh offers plant-based shredding, in their gated facility. The facility is compliant and periodically audited by NAID and Veterans Administration personnel in-order to ensure compliance to NAID AAA standards, as well as VA Directive 6371.The destruction of all materials, paper documents, uniforms, hard drives and print media is entirely confined at this secure, dedicated off-site facility. Proshred personnel, or dedicated transportation, collects your sensitive documents and transports them via truck to the vendor's location. Once they arrive, your documents are processed through industrial shredders designed to thoroughly destroy materials.
When the shredding process is complete, you'll receive a certificate of destruction for auditing purposes.
Pros and Cons
Simplified and secure disposal. With locked containers placed at designated points and convenient scheduling based on your needs, document disposal becomes quick and effortless.
Convenience. Customers with large amounts of materials designated for destruction, or past useful life, prefer having all materials loaded on a single truck and disposed of efficiently.
Zero distractions. Having your documents destroyed off-site means fewer distractions for your staff. Workers can remain productive without the activity or noise that mobile shredding brings.
Secure environment. All plant-based shredding operations take place in a secure and certified facility with limited access, carefully vetted staff, and 24/7 surveillance. Vendors record the entire shredding process with video footage made available for proof and later review.
Zero weather worries. Since the shredding takes place indoors, you don't have to worry about inclement weather affecting the destruction process or sensitive documents being exposed outdoors.
Peace of mind. The PROSHRED® facility is monitored by CCTV with video capable for "visual proof" of destruction.
Keep in mind that there are a few downsides to plant-based shredding:
Hand-sorting risks. Depending on the type of media being processed, the material may be sorted prior to being shredded.
Longer chain of custody. With more points of contact come more opportunities for security breaches.NAID AAA standards require material destruction to be completed within 3-days of delivery versus the "immediate" destruction of a mobile shred truck.
Limited visibility. With plant-based shredding, customers are encouraged to come to the facility and audit the facility or witness the destruction process.
Certificate of Destruction. The certificate of destruction will be emailed at completion of the destruction versus the "immediate" certificate given during mobile shredding.
How Mobile Shredding Works
When PROSHRED® of Raleigh arrives in the mobile shred truck with all of the shredding equipment onboard, all destruction will occur in the designated parking area. Once your document containers arrive curbside, the PROSHRED® Customer Service Professional loads each container into the shredder through a bin lifter and the shredding process starts. Like plant-based shredding, the customer is encouraged to witness the shredding through a video monitor, allowing the customer to watch the documents being destroyed in accordance with NAID AAA standards as well as ISO procedures which are unique to PROSHRED®.
After the last container is shredded, the customer will receive a certificate of destruction as proof of the shredding process. The mobile truck then returns to PROSHRED® Raleigh's secure facility where the shredded material will be unloaded and baled. The baled paper will then be loaded into dedicated trailers and transported to area pulping facilities where the shredded paper is recycled into new products.

Pros and Cons
Same-day document destruction. One major advantage of mobile shredding is that the process takes place immediately. As soon as the mobile shred arrives, PROSHRED® of Raleigh carries out the task of securely destroying your sensitive documents.
Destruction you can see. Since the shredding takes place on-site, customers are encouraged to witness it being done on their doorstep. This can give you greater peace of mind about your confidential information remaining safe and secure.
Immediate proof. Your mobile shredding vendor will immediately issue a certificate of destruction, proving that the process was done in compliance with current regulations.
Like plant-based shredding, mobile shredding has some items to be considered:
Added costs. Mobile shredding often comes with higher operating costs and service fees than plant-based shredding. One reason is the need for specialized trucks with the built-in equipment to shred multiple media.
Parking and congestion concerns. Mobile shredding trucks need space to conduct operations on-site. This means taking up parking spaces or travel lanes, potentially leading to congestion issues during peak times.
More distractions. Your staff and others in the area can't help but notice the shredding truck outside the office. Shredding trucks can also be quite noisy, attracting even more attention from onlookers.
Volume issues. A mobile shredder can only shred so much material in one visit. Offices with higher volumes should consider off-site shredding solutions as an alternative.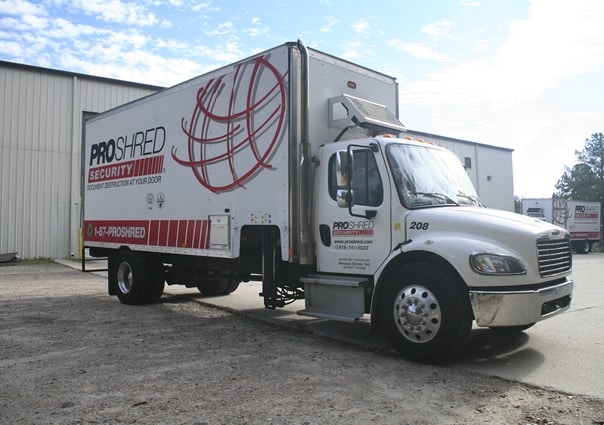 Choosing Based on Your Needs
There's no one-size-fits-all solution when it comes to document destruction. The choice between plant-based and mobile shredding depends on a variety of factors, from the amount of material disposed of on a daily basis to office layout and available space for mobile shredding trucks. Both options can be efficient, but only if they suit your office's shredding needs.