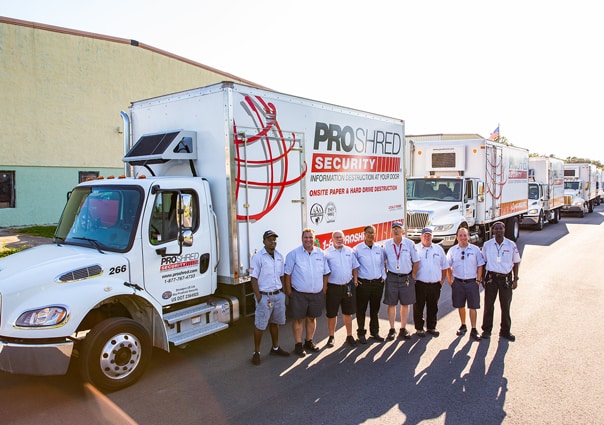 PROSHRED® Seattle Careers
PROSHRED® Seattle provides secure, on-site, destruction of confidential documents and mixed media to businesses, government facilities and residences in the Puget Sound region. Our drivers are equipped with top-of-the-line shred trucks that are clean and well-maintained. Proshred has a premier reputation in the industry for providing outstanding service. We offer our employees a work environment that has a small company feel and the professionalism of a large organization. Our values include Honesty and Integrity, Professionalism, Strong Work Ethic and a commitment to a Safe and Healthy work environment. We provide healthcare benefits.
Please e-mail a response to [email protected] with your name, contact phone number, e-mail address and complete resume.
Job Opportunity:
We have an immediate need for a high energy Shred Truck Driver who enjoys interfacing with customers, is physically fit, and has a strong work ethic. Our drivers are the face of the company for our customers. It is critical that this person can work effectively in a team-oriented culture that values timely and courteous communication.
The job is full time (~40+ hours/week), Monday through Friday. The role requires early morning work and sometimes long days. There is occasional weekend work (scheduled well in advance).
Primary Responsibilities:

• Provide exceptional customer service, including on-time service to all customers on the day's service route
• Shred all customer documents and mixed media in a secure manner as per company policy and procedures
• Complete paperwork neatly, correctly and accurately at each stop
• Assemble service containers and repair containers onsite immediately if required
• Deliver new containers to customers' locations
• Provide end of day paperwork in a complete and organized fashion as per company procedure
• Communicate promptly and courteously with other members of the Proshred Seattle team
• Complete a daily safety check of the shredding vehicle and equipment and report any deficiencies immediately
• Make minor repairs to the shredding truck and equipment as necessary
• Keep truck maintained and clean
• Participate in weekly meetings
• Perform community shreds on weekends periodically
Requirements:

• Class A or B CDL with Air Brake Endorsement (26,000-33,000 lb. GVW) is a plus but not required.
Clear driving record (no at fault accidents) - Provide Driver's Abstract
• Two years of verifiable commercial truck driving experience
• Pass pre-hire DOT drug and alcohol screening (position requires random drug testing after hire)
• Pass a criminal background check and a credit background check
• Be at least 21 years old
• Be comfortable lifting many boxes of paper weighing 30-50 lbs. and pushing wheel carts containing 300 lbs. of material every single day
• Be personable, dependable, cooperative and a team player
• Have a positive attitude and be flexible
• Have basic arithmetic skills
• Have good communication skills - both verbal and written
• Strong time-management skills
• Able to work early morning hours and work over-time when necessary
• Good knowledge of roads and routes in Western Washington

To Apply:

Please e-mail a response to [email protected] with your name, contact phone number, e-mail address and complete resume.