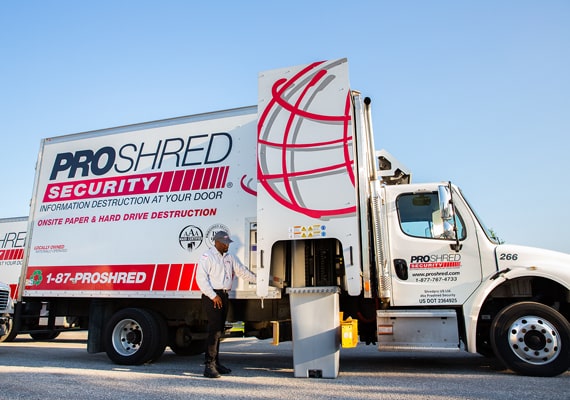 PROSHRED® Seattle Drop-Off  Shredding Locations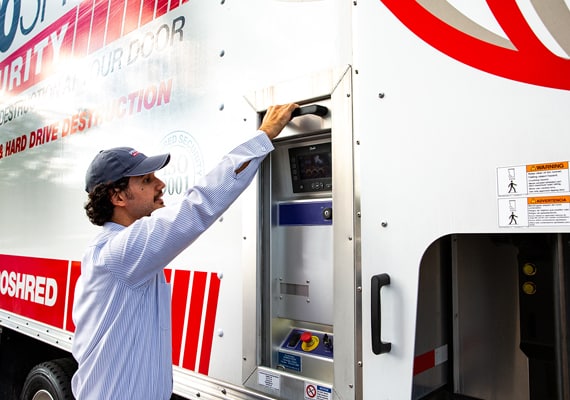 Identity theft is one of the largest crimes in the nation. Most likely, you have already had your identity stolen or know someone else who has. Once someone has stolen your identity, they can make purchases on your accounts, ruin your credit and create a headache trying to resolve the issue.
One way to protect yourself against this unfortunate event is to use a professional paper shredding company. PROSHRED® Seattle can quickly and efficiently destroy documents that contain self-identifying information, protecting you or your company's data. While large shredding projects often require an on-site regularly scheduled service, it may be easier for those with small amounts of papers to simply drop off their documents for a paper shredding service at one of our shredding locations.
Our main drop off location is at our office in Tukwila. At the Tukwila location we also offer Witnessed Shredding, with an appointment.  Witnessed Shredding allows you to watch your documents being shredded in front of you.
Locations
PROSHRED® Seattle offers both onsite and drop-off shredding services to small businesses and residential clients. Our drop-off service is designed to meet the needs of clients who do not have enough material to be shredded to justify a shred truck coming to their location.  You may drop off your materials at the locations below:
Seattle Drop-off Shredding
PROSHRED® Seattle
830 Industry Drive, Building 20
Tukwila, WA 98188
Tel: 206-424-9381
Drop-Off Hours:
Monday – Friday 9 am to 3 pm
*Witnessed Shredding Location
Everett Drop-off Shredding
Mailboxes 'N More
11014 19th Ave SE
Everett, WA 98208
Tel: 425-338-9524
Drop-Off Hours:
Monday – Saturday 10 am to 6 pm
Sunday 10am – 4pm
Tacoma Drop-off Shredding
Drop-off Location
2102 North Pearl St., Suite C108
Tacoma, WA 98406
Tel: 206-627-4378
Drop-Off Hours
Monday-Friday 9:30 AM – 4 PM
*Appointment Required
Bremerton Drop-Off Shredding
Pak Mail of Bremerton
5050 NE State Hwy 303 Ste 103
Bremerton, WA 98311
Tel: 206-814-5891
Drop-Off Hours:
Monday – Friday 9:30 am to 6pm
Saturday 10:00 am – 3:00 pm
What Type Of Documents Should You Shred?
Some documents that may be confidential and would require shredding include:
Bank Account Statements
Brokerage Reports
Cancelled Checks
Confidential Letters
Contracts
Correspondence
Credit Card Statements
Financial Reports
Insurance Policies
Invoices and Receipts
Job Applications
Legal Documents
Medical Records
Pay-stubs
Photographs
Profit/Loss Statements
Signatures
Social Security Numbers
Tax Records
Telephone Numbers
Contact us today for all of your Shredding needs.
PROSHRED® Seattle has the extensive experience and professionalism needed to provide industry-leading service to our Seattle customers.  Allow our team to work with you in customizing a shredding program for your needs.
Frequently Asked Questions About Drop-off Shredding
Proshred Seattle in Tukwila accepts drop off material Monday through Friday from 9 am to 3:00 pm. If you make an appointment in advance, you can see your dropped off material shredded in front of you for an added charge.
Staples, paperclips, manila folders (with or without metal prongs), rubber bands, envelopes with clear address windows can be shredded with paper.
CDs, DVDs, data tapes, hard-drives, back up hard drives, x-rays, three-ring binders, metal spiral bindings, and hanging file folders must be removed prior to having your paper documents shredded. These items either can damage shredding equipment or are not acceptable to recyclers.