August 16, 2021
How to Prevent Identity Theft: Tips for Businesses
Identity theft and hacking of confidential information have become a major hot-button issue over the past several years. Yet many still do not understand the issues at play or the ramifications of not treating private records properly. In fact, it's not just people that can be affected by identity theft, it's corporations as well. Over $220 billion every year is lost to business identity theft and fraud. Here's a look at how you can manage this risk to prevent it from happening to you, and how a Seattle business shredding company can help.
What is Corporate Identity Theft?
Corporate identity theft occurs when someone steals the information and identity of a business, and uses it for illegal gain. This happens when a business's network is hacked, when employees leak sensitive information, or even through "dumpster diving" by unscrupulous individuals. Regardless of the means by which the theft happens, companies that fall victim to corporate identity theft often lose money, resources, and their reputation.
Companies of all sizes can be subject to this crime. It doesn't matter if you are a multinational conglomerate or a small Seattle mom-and-pop startup, corporate identity theft can happen to you. Fortunately, there are steps you can take to manage this risk.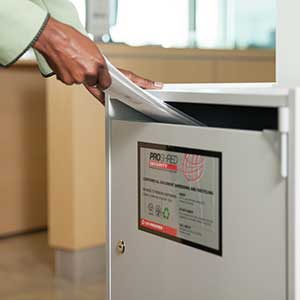 Ways to Prevent Corporate Identity Theft
Implement Password Protection
This is a given in this day and age, and yet all too many people don't do it. There are simple measures you can take to protect your passwords and keep prying eyes away from sensitive information. Never use the same password for multiple accesses or accounts. Don't make your password freely available; it doesn't matter whether it's for your computer network, an individual login, or your phone system. Protecting your passwords and keeping them private at all times is the first line of defense to protect your Seattle business.
Watch Account Activity
Another way to protect against corporate identity theft is to keep an eye on all of your account activity, from finances to client files. Review your accounts regularly and thoroughly, and make note of any unusual activity. Address this activity right away. The closer you watch your accounts, the better off you are.
If you do notice any red flags, report them to the proper Seattle authorities. Any suspicious activity can be a sign of serious problems, and reporting the issues can stop the criminal dead in their tracks.
Get Document Destruction Services
The best way to protect your confidential information is to secure the services of a qualified Seattle document destruction company. Even if your company has gone largely paperless, a document shredding service can help. Destroying old hard drives is a tricky process; deleting files does not remove them from a talented hacker's access. A document destruction service also knows how to completely destroy hard drives and shred mixed media to ensure that the information is gone for good.
Contact PROSHRED® Seattle for Secure Document Destruction
When it comes to paper documents, a shredding company can ensure that all of your documents are completely destroyed and recycled into new paper products. The service is thorough, secure, bonded, and efficient. It is environmentally-friendly and will ensure that you remain in compliance with the law as well as protect you from identity theft.
If you would like to explore the services of an expert Seattle document destruction company, PROSHRED® Seattle has a long tradition of superior service. Give us a call today for more information: 206-258-2900