June 29, 2023
The Importance of Financial Records Shredding
In today's challenging economic environment, safeguarding the privacy of your company, employees, and personal information from those looking to steal your data is more critical than ever. Unfortunately, identity theft continues to be one of the biggest threats facing consumers. Document shredding is one of the easiest ways to thwart scammers and other hackers from obtaining sensitive data.
While you may be tempted to destroy financial documents on your own, a paper shredding service can ensure that your documents are completely shredded in a secure manner. In this post, we'll look at the importance of financial record shredding and how it can be the smartest move you can take to protect you and your company's financial assets.
What financial records should be shredded?
Whether you're a small business owner or someone who still keeps paper receipts and other documents, if you're not careful, all those excess documents can pile up over time and prove to be a security risk. If you don't have a system to handle the flow of financial paperwork, keeping your office or workspace tidy and clutter-free can be challenging.
Here's a quick look at which financial records should be shredded:
Income statements
Bank statements
Balance sheets
Business receipts
Development plans
Customer receipts
Although this list isn't comprehensive, the best rule of thumb is to shred anything with sensitive data. For example, if your paperwork has taken over your space, and you need to dispose of it properly, then mobile document shredding could be the solution to your problem. A mobile document shredding company comes to you and can shred your documents promptly and securely. Plus, regularly working with a paper shredding service can ensure you're doing your part to protect the safety and privacy of your customers' and employees' sensitive information.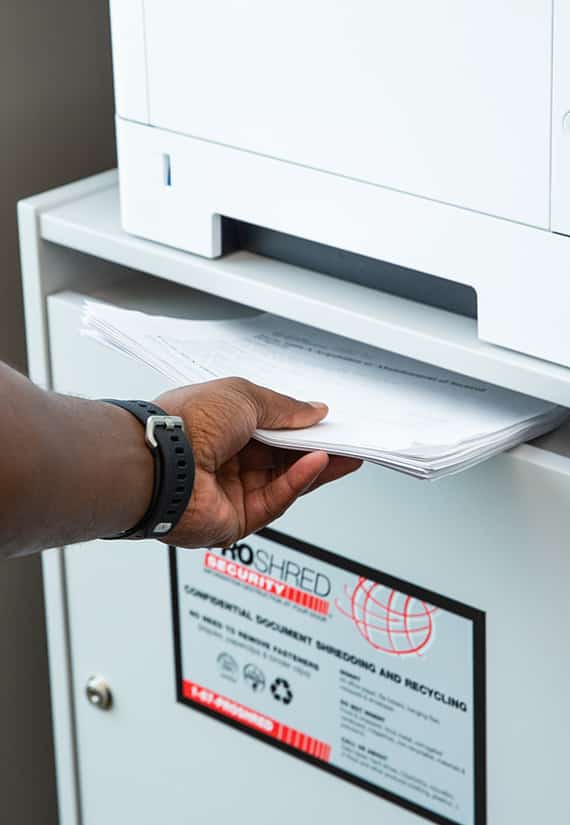 What happens if I don't shred my financial documents?
With scammers and hackers more prevalent than ever, being negligent when it comes to proper document shredding can set you or your business up for disaster. Scams like phishing and the cloning of telephone numbers of reputable companies and charities are on the rise and are becoming more sophisticated.
While we've become more aware of million-dollar sweepstakes and courier opportunities arising from suspicious overseas emails, identity fraud, and other scams can begin just as quickly from someone going through your garbage or copying your debit card information when you hand it over to make a purchase. You may not be able to stop someone from writing down your credit card number when you hand it over to make a purchase, but you can prevent someone from stealing information from your garbage can by not placing it there in the first place.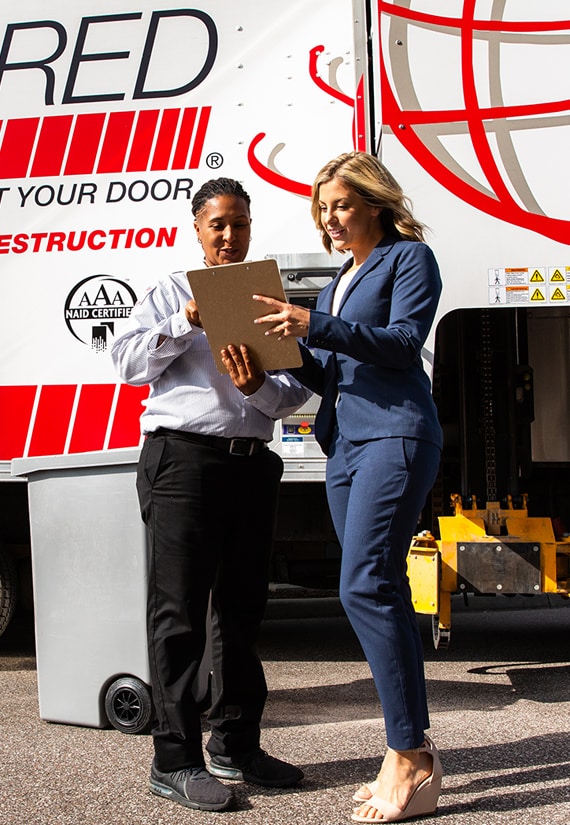 Why choose a professional shredding service?
Small business owners often work many hours and don't have the budget to hire extra people to manage loads of paperwork. The easiest way to ensure the safety of your financial documents is to set up a regular schedule with a paper shredding service. A mobile document shredding service will come to your residence or place of business and pick up your documents in a secure container and shred them at your location.
Many mobile shredding companies offer the use of a locked container that you can keep in your office. When it's time for the container to be emptied, the service representative will transport the contents of the container to their shred truck and shred the material with the shredder inside the shred truck while it is parked at your location.
Another reason you want to select a professional shredding service to handle your financial document shredding is that it's the law. Many laws are on the books, including federal, state, and local laws that require all companies to safeguard the sensitive data of employees and customers.
Ready to protect your privacy? Contact PROSHREDⓇ Seattle to get started today!
Now you know the importance of proper financial document shredding and how it can protect your assets and other interests, there's no better time to get started. Whether you're looking for a one-time purge or a regular document shredding schedule, PROSHREDⓇ Seattle has got you covered.
Unlike our competitors, we offer flat fee pricing. This concept means you pay a set fee per container. We don't charge more just because fuel prices fluctuate from one month to the next.
From shredding jobs that are one page to millions of pages, PROSHREDⓇ Seattle can handle them all. We are a locally owned company helping businesses and residents in the Seattle metropolitan area safeguard their privacy since 2013. So contact us today to schedule a consultation or a quote and let us help you have one less thing to worry about.