May 17, 2018
On-Site Shredding vs. Plant-Based Shredding: The differences in terms of security
Deciding which professional shredding method to use – on-site vs plant-based — is critical to ensuring that you are obtaining the level of security concerning your confidential material destruction that is prudent for your type of business.
Proper data destruction protects company information and trade secrets, client profiles, and employee data, among other things.
If you have taken steps to hire a shredding company, then you are on the right track.
The next step is to familiarize yourself with the key differences between on-site shredding and plant-based shredding so that your decision is aligned with your business' security requirements.
What is On-Site Shredding?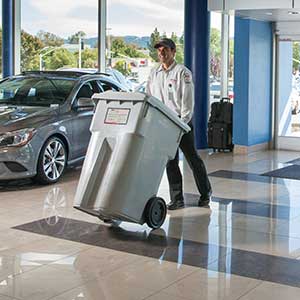 Don't mistake on-site shredding with in-house shredding.  In-house shredding is when your company handles the job alone, most likely using employees who are not trained on how to properly handle confidential materials.
On-site shredding is provided by a professional data destruction service on your company's property.
Even though the documents do not leave your business location, it is not your employees who are handling the shredding process and equipment.
Rather, a professional shredding company is handling all of the shredding related tasks to ensure that the procedures utilized are proven to be completely secure.  The company's team is typically certified in information destruction by NAID, the National Association for Information Destruction.
All material designated to be shredded will be destroyed before the shredding company's truck leaves your location. Knowing that the confidential material can no longer get into the wrong hands because it has been destroyed provides your team peace of mind.
How Does It Work?
Employees prepare for on-site shredding service by isolating their confidential material that is ready to be shredded in a secure location or in secure containers.  Secure containers can be provided by a professional shredding company.
There are two types of on-site shredding service: one-time service and ongoing service.  The former is what you would expect, the shredding company comes just one time and shreds all of the designated material.  With ongoing on-site shredding, the shredding company comes to your location on a regular basis (daily, weekly, biweekly, monthly or bimonthly) to shred your confidential material that is typically kept in secure containers provided by the shredding company.  During each visit the shredding company shreds the contents of all of the secure containers by wheeling the contents of each container to their shred truck and shredding the material immediately.
The shredding company's secure containers are mechanically hoisted into the shredder of the truck.  The material is shredded into irregular pieces, typically about 5/8 inches wide and one to two inches long.  The shreds are pushed with an auger to the back of the shred truck where they remain until they are delivered to a recycler or to a pulp mill that will use them to make recycled paper products.
You may watch via a display panel on the side of the shred truck your materials being shredded.  This panel also allows you to see the shreds as they are being sent to the back of the truck.  Seeing this process in its entirety provides businesses peace of mind.
Pros and Cons of On-Site Shredding
Pros
Documents do not leave the grounds of your facility until they are destroyed
The shredding company uses containers and shred truck technology in a way to limit their staff having to touch your company's confidential material directly.
Using a professional shredding company to perform on-site shredding requires only a small amount of employees' time in terms of oversight. This way they can focus on their regular roles within the business.
Ongoing, onsite shredding service means that your business will not have to provide a lot of dedicated space to store its obsolete confidential material.
Not having to transport unshredded documents to a plant-based shredding location eliminates the risk of the documents getting into the wrong hands either during travel or at the offsite facility destination.
The process is completed quickly. Shred trucks can usually shred 10 file boxes (300 lbs. of documents) in 5 to 5.5 minutes.
Using a shredding company rather than your employees to shred ensures that it done regularly, efficiently, securely and with minimal disruption to your office team.
 Cons
Can be more expensive than offsite shredding, depending on the company you choose
What is Plant-Based Shredding?
Plant-based shredding, also known as off-site shredding, is an outsourced shredding service where documents travel to a remote location to be shredded in a secure shredding facility.  The shredding is generally not conducted in front of any of your company's employees.   Rather, swing-shift employees at the facility typically sort the material to be shredded on conveyor belts and then the material is shredded by a plant-based shredder.  The shred size generated by plant-based shredders is typically similar to what is generated by on-site shredding.
How Does It Work?
With plant-based shredding, the shredding company also supplies your business with one or more secure containers to hold your confidential material between shredding service dates.
One a scheduled service date your confidential material is wheeled in the provided secure containers, or in file boxes, to  a box truck in your parking lot and the box truck transports the material to as secure plant-based facility where it is eventually shredded.
While your employees are typically not able to personally witness the destruction of your company's confidential material at a plant-based shredding facility, they can take comfort that the plant-based facility generally has video cameras recording every step of the shredding process at the facility.
Pros and Cons of Plant-Based Shredding
Pros
Outsourced, plant-based service does not pull your employees away from their regular duties for very long.
Ongoing, plant-based shredding service means that your business will not have to provide a lot of dedicated space to storing obsolete confidential material.
Plant-based shredding can be less expensive than on-site shredding.
Cons
Your confidential documents travel away from your business location This increases the risk of your confidential data being compromised during transport to off-site shred location.
Depending on your agreement, your business' documents could sit for several hours or even days before the job is completed at the off-site facility.
You can watch a video of your materials being shredded, but it will likely not be live. It will likely be a recording you may see after you have gone through red tape to obtain access to it.
Files pass through several hands and processes before reaching the final shredding phase.
Problems with the transport truck, accidents, or robbery could expose the unshredded material to theft.
Plant-based shredding staff may choose to sort through the documents to make sure they are recyclable, which means more eyes and hands on your sensitive business information before it is destroyed.
How to Minimize Risk with Outsourcing Shredding Services
No matter which method you choose, outsourcing privileged information comes with some level of risk. Even with on-site shredding, you must protect your company from liability as much as possible.
Documents like the Chain of Custody and Certificate of Destruction help you track the processing of your documents and prove that you have taken measures to protect your business' confidential information.
Chain of Custody
The Chain of Custody is a document that tracks the location of your secure paperwork and who handled it at all times throughout the process. This gives you an added layer of protection with plant-based shredding in case unforeseen incidents arise.
You can still use Chain of Custody documents with on-site shredding, and having the shredding take place at your location strengthens it. The process cuts out many of the locations and the number of  staff members (internal and external) who handle your materials.
Certificate of Destruction
The certificate of destruction shows details and activities relating to the shred job. The document will include:
The date when the data destruction took place
Who picked up, loaded, and transported the materials
Name of witness (employee) who oversaw destruction of the documents
The Certificate of Destruction is proof that you utilized a professional shredding company's services to shred your confidential documents. If the service you receive proves insecure, this document demonstrates that you made efforts to have your confidential material securely destroyed.
Many industries must adhere to state or federal laws that require them to furnish Certificates of Destruction. Professionals who handle legal, financial, or medical information are among those who require Certificates of Destruction.
On-Site Shredding vs. Plant-Based Shredding: Which is Best?
As you can see, each method of data shredding has its strengths and weaknesses. However, the popularity of on-site shredding suggests that the additional security it provides is more than worth its incremental cost compared to plant-based shredding.
On-site shredding reduces the steps it takes to have your private information destroyed.  Documents never leave your business in whole form.
These advantages make it worth it to invest a few more bucks and avoid losing money down the road.
PROSHRED® Seattle is a Leader in On-Site Shredding Services
Secure shredding service is vital to running a successful company. It not only protects your confidential information, but it also keeps your clients' data protected.
Clients are your most precious asset, so protecting their information means securing your business future.
When you are ready to schedule your on-site shredding, call PROSHRED® Seattle a recognized leader in secure, onsite shredding in Western Washington.
With years of document destruction experience, the right shredding equipment and our industry certifications enable us to shred for businesses of all sizes. Contact us today.