May 25, 2021
What is High Security Shredding, and Do You Need It?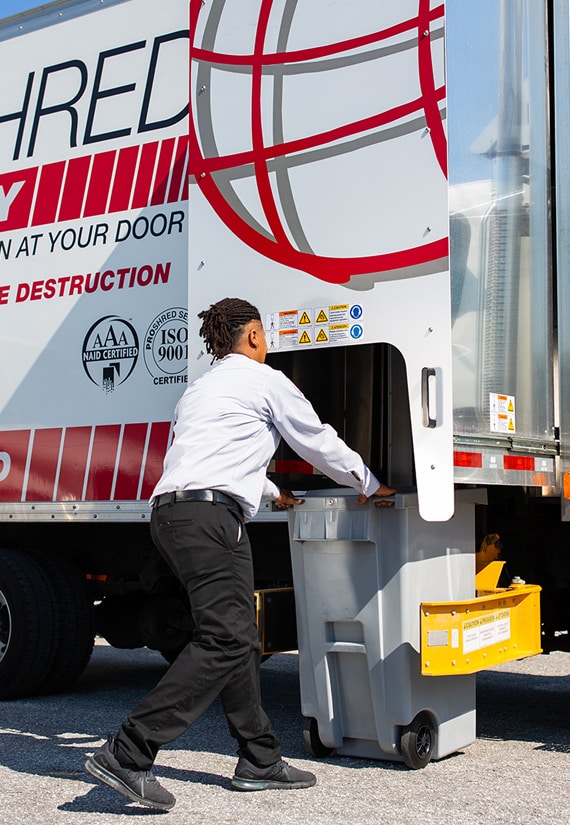 Every business that is interested in maintaining a good reputation as well as protecting the privacy of employees and customers should be taking steps to keep sensitive information out of the trash. Chances are if you're reading this blog, you understand that securely shredding your paper documents is a vital way to protect yourself and your business or organization from data theft and fraud. You may have even used an on-going shredding service from PROSHRED® Seattle or a similar company in the past. These services are great for keeping on top of data destruction so that documents aren't just sitting around, waiting to become fodder for criminal enterprise.
At PROSHRED® Seattle, we've been providing secure paper shredding and hard drive destruction services to the public since 2013. We know the ins and outs of the business and have perfected the art of secure mobile paper shredding. We also recently upgraded our fleet of mobile shredding trucks with a new technologically-advanced truck that can provide an even higher level of security than we've been able to provide in the past. But what is meant by "high security shredding," and is it something your business, law firm, or medical office needs to know about? Read on to find out!
Why are shredding security levels important?
You probably know that using a professional paper shredding service like PROSHRED® Seattle is not only cost effective and hassle-free, but also results in a more secure shred than can typically be achieved with an office or home shredding machine. But you may not know that there are even more levels of shredding security depending on the type of machine that is used.
The German Institute of Standardization has actually set guidelines for shredding security levels, also called DIN security levels. There are seven different levels, and all have their uses depending on the type of information you're trying to destroy.
DIN Level 1 & 2 Shredding
Home and office paper shredders are fine for some types of documents that don't contain super sensitive or personally identifying information, like junk mail or credit card offers. This type of shredding is often at a DIN Level P-1 or P-2. These shredders often use a "strip-cut" method, where the paper is shredded into around 40 pieces that can still be reassembled with some effort. For high security shredding, you'll need higher DIN levels than these.
DIN Level 2 & 3 Shredding
PROSHRED® Seattle mobile shred trucks produce a hybrid shred level of DIN P-2/P-3 using a cross-cut method. This method does not create perfect strips, but rather a shred size that cuts a piece of 8.5"X11" paper into over 195 particles. This DIN P-2/P-3 shred size is known as a "hybrid" because it creates shreds with a width that is reliably 5/8th of an inch, which is P-3, but the length can be as long as 1 or 2 inches, which is P-2.
This level of shredding security is most commonly used by businesses, financial institutions, and other organizations. Because the shred size is so small and the paper is immediately taken to a paper recycling facility to be made into new paper products, there is very minimal security risk using this method. However, we routinely get requests from government and military agencies needing a higher level of security just to cover their bases, and that is where Level P-4 shredding is useful.
DIN Level 4 Shredding
A DIN Level P-4 shred size means that a sheet of paper measuring 8.5"X11" will be pulverized into nearly 400 separate particles, similar to a confetti. This is the smallest shred size that can be achieved with a cross-cut shredder, and it is this shred size that PROSHRED® Seattle now has the technology to accommodate.
With our newest mobile shredding truck we can produce Level P-3 shredding and then, with the flip of a switch, produce Level P-4 shredding. If DIN Level P-4 Shredding is important to you, please request our high security shredding truck when you call for a shredding appointment.  PROSHRED® Seattle is equipped to handle customer requests for having all or a portion of their shredding done at a high security level.
Get High Security Shredding for Your Business Today
Now that you know the difference between shredding sizes, you can make an informed decision about the security level your company needs the next time you decide to have documents shredded. And with PROSHRED® Seattle, you can have the best of both worlds! Get rid of documents that contain less sensitive information with one size shred, and use the other for documents that are more confidential in nature. We're here to accommodate your needs and help you keep your business secure and compliant, 365 days a year. Contact us today to learn more about our data destruction, product destruction, and information security services: 1-206-258-2900