December 3, 2021
Questions to Ask Before Outsourcing Your Shredding
When handling the disposal of documents containing sensitive information, data security is the number one concern. You want to ensure that the information within those documents is kept confidential and out of the hands of unauthorized individuals. However, proper document disposal practices can be difficult to keep up with in-house.
This is why it's recommended that your organization outsources its shredding to a professional shredding service. But before you sign the service contract or any other agreement, there are some standard questions that you should ask your potential provider. To help you determine if a professional shredding service is right for you, the data security experts at PROSHRED® Seattle have compiled this list of common questions and the answers you should expect below.
What can I shred?
When you think about shredding, images of paper being slowly fed through a compact office shredder probably come to mind. However, your information security plan should go beyond paper files. Realistically, any item that contains sensitive information and/or information that can be used against you, your clients, or your organization should be shredded.
A professional mobile shredding company, such as PROSHRED® Seattle, can handle a variety of information security services ranging from standard document destruction to mixed media shredding.
Items that you can shred include, but are not limited to:
ID cards that are no longer valid
Legal documents
Hard drives
Old photographs
Defective products
Outdated uniforms and apparel
Copies of important documents like birth/death certificates and marriage licenses
Any other items that contain things like names (maiden names as well), addresses, phone numbers, emails, account numbers, driver's license numbers, birthdates, passwords or PINs, signatures, or Social Security Numbers (SSNs).
What happens to the shredded material?
When you choose to shred your documents with a mobile shredding company, the company will most likely partner with a paper recycling facility to ensure that your paperwork is responsibly disposed of after it has been shredded. Most local recycling entities, whether privately owned or owned by municipalities, will not accept paper shreds directly from the customer.
With PROSHRED® Seattle, you'll never have to worry about where to recycle shredded paper again. Our secure shredding trucks will transport all of the shredded paper material to a trusted local recycling center where it will be baled and then sent to a pulp mill to be used to produce new paper products.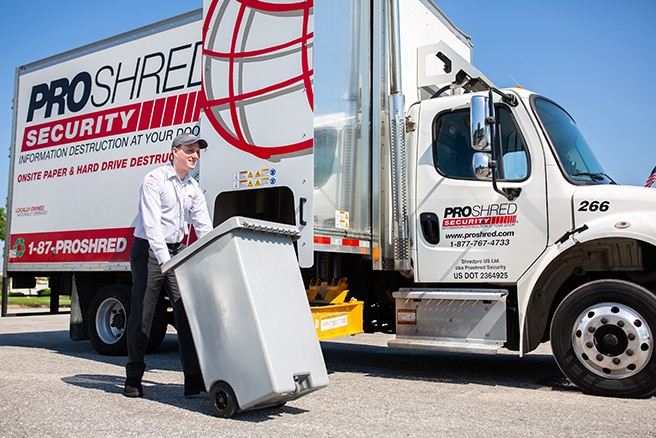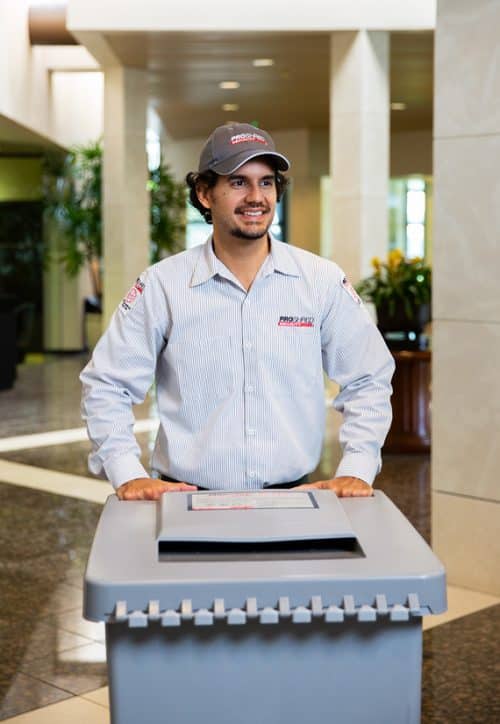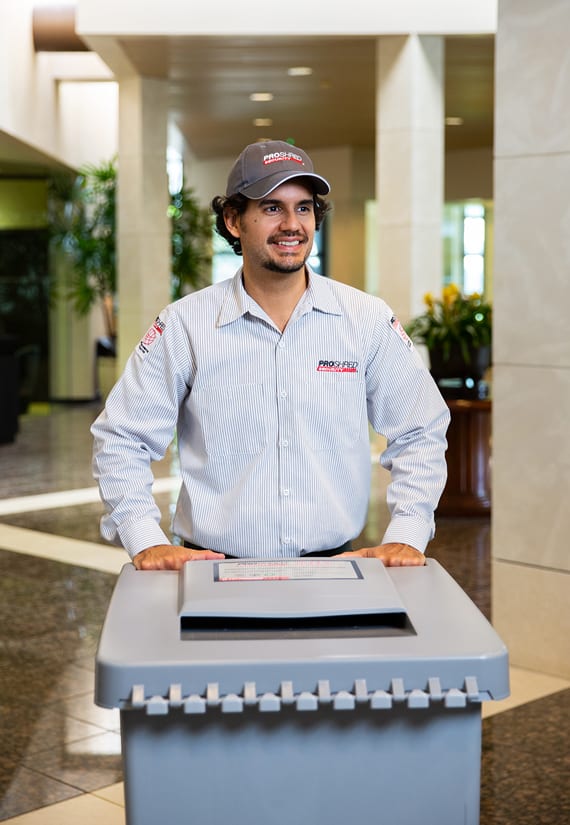 Who will be handling my documents?
Outsourcing your ongoing shredding to a mobile shredding service involves entrusting your private documents to an individual outside of your organization. This can be a scary concept for many companies. That is why it is crucial to ensure that the company that you choose takes the proper precautions when hiring and monitoring their data security professionals, such as ongoing drug testing and background checks.
The team behind PROSHRED® Seattle goes even further to provide our clients with peace of mind. In addition to the industry-standard precautions, each of our shredding experts arrives at your location with a photo ID, in uniform, and in a truck branded with the PROSHRED® logo. This leaves you without a doubt as to who is disposing of your data.
Are your services certified?
Though there may be many shredding providers across the country, not all of them are NAID-certified shredding companies. The National Association of Information Destruction (NAID) enforces the highest industry standards for shredding and destruction companies. A strict chain of custody is required for all AAA NAID-certified shredding companies, ensuring that the privacy of your data is always protected.
PROSHRED® Seattle is the only certified paper shredding company that holds both the AAA NAID certification and ISO 9001 certification in the area. By not only adhering to the standards guaranteed by these certifications but also our own strict quality standards, we are able to provide our customers with an unparalleled level of service every time.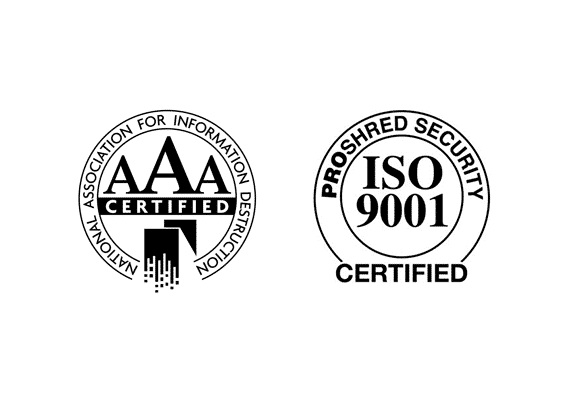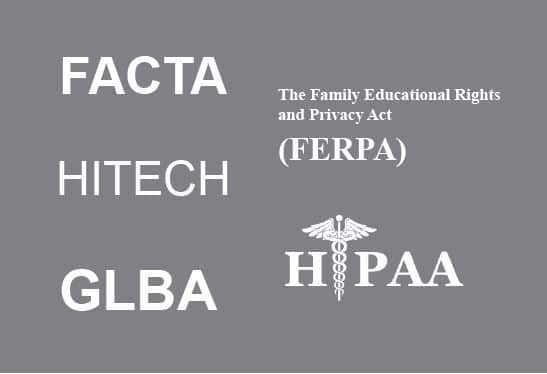 What industries do you serve?
It is important to ensure that the mobile shredding company that you hire has experience with shredding documents in your industry. With all of the different rules and regulations put in place on the federal, state, and local level, there can be significant differences in how information should be disposed of between industries. For example, standard business documents might hold much less sensitive information than medical records or financial papers. You want to make sure that the shredding provider you choose correctly follows all of the rules and regulations required for your industry and can provide secure paper shredding services across the board.
At PROSHRED® Seattle, we know just how vital it is to follow all laws regarding proper document disposal. That is why we make sure to go above and beyond to guarantee that all of your documents are disposed of in accordance with laws such as HIPAA and FACTA.
Will I receive a certificate of destruction?
Finally, you should ensure that you will receive a Certificate of Destruction from your shredding provider upon completion of shredding. This document serves as a form of proof that your documents (or products and mixed media) were securely destroyed.
You should keep this document in a safe, easy-to-find location as it can be used in the event of a court case or other legal proceeding. PROSHRED® Seattle provides each customer with a Certificate of Destruction that states the date and time of the shredding, and the amount of shredding performed.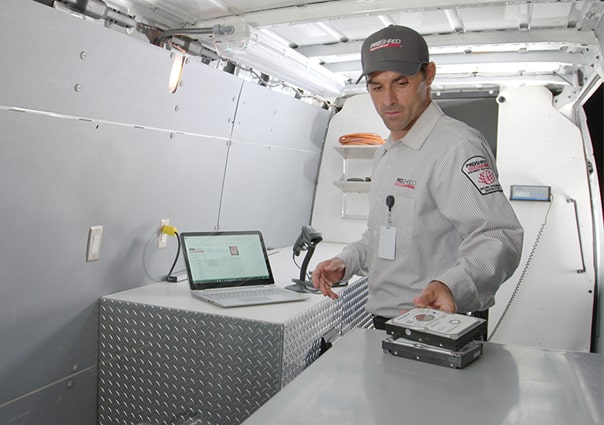 Choose Confidential Shredding with PROSHRED® Seattle
When you are in the market for secure shredding services, choose the paper shredding specialists at PROSHRED® Seattle. Regardless of whether you need product destruction, home office shredding, regularly scheduled service, or anything in between, our team of data security experts is here to help.
You can rely on PROSHRED® to arrive punctually at your location and shred your confidential documents quickly and efficiently before ever leaving your location. In addition, there are no binding contracts or hidden fees with any of our services. To get started with best-in-class document destruction from the industry leaders, give us a call.