October 21, 2021
What You May Not Know About Mobile Paper Shredding
Most organizations that work with a lot of paper documents are painfully aware of how cumbersome it can be to dispose of them when they are no longer needed. Chances are, there is a small shredding machine located somewhere in your office. However, as you may be aware, these modest paper shredders are as limited in their capabilities as they are noisy and inconvenient. This is why many institutions from all types of industries have turned to mobile document shredding.
But what is mobile paper shredding? This is when a shredding company sends out a paper shredding truck equipped with an industrial-sized shredder to securely destroy all of your company's outdated papers on-site. These trucks may also be capable of shredding e-media devices as well.
Now, you may be questioning how this type of service can benefit you and your business. Let's take a look below.
Mobile Shredding Produces a More Secure Shred
Not all shredded paper is created equal. The vast majority of the compact office shredding machines use a strip-cut, or spaghetti-cut, method of shredding. The long strips of paper produced by these machines are about 7/32" wide and as long as the pieces of paper. This type of shredding is not ideal for sensitive information, because pieces of paper that have been strip-cut can easily be put back together to produce a clearly legible document. This means that using a strip-cut shredding machine and then tossing the shreds into the trash can may not be as secure a method as your business needs in order to fully protect your sensitive information.
Shredding trucks, on the other hand, create much smaller particles that would be incredibly difficult to reassemble. These shredders use a cross-cut method to take a sheet of paper that measures 8.5" X 11" and turn it into nearly 200 particles, compared to the approximately 40 particles that would be produced by a strip-cut machine. Shredding trucks from PROSHRED® Seattle are also capable of high security shredding, a specialized method of shredding that creates even smaller particles, and is best used for documents that are highly sensitive.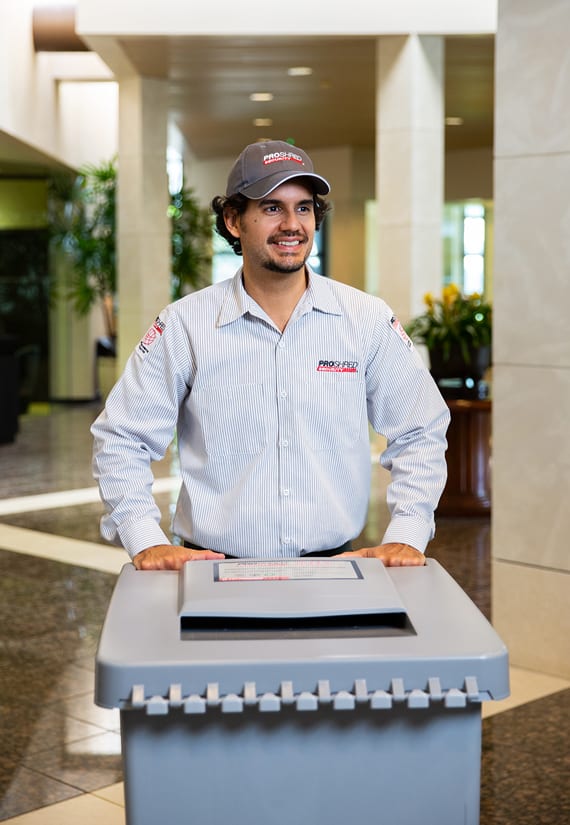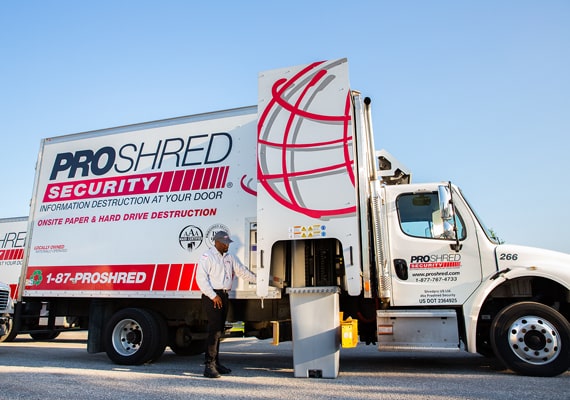 Mobile Services Recycle Your Shredded Paper
One of the biggest questions people tend to ask themselves is how to dispose of shredded paper once the destruction process is complete. Unfortunately, shredded paper is generally not accepted in curbside recycling programs, in any form, due to the risk of litter and contamination issues. There is some good news, however. Paper shreds are recyclable, and the easiest way to partake in shredded paper recycling is to choose a mobile shredding service that partners with local recycling plants that take your destroyed documents and turn them into pulp to be used in new paper products. This way, you can get the best of both worlds; a cleaned-out office and a smaller impact on the environment.
Paper Shredding Companies Service Individuals
Many people with home offices or outdated, unnecessary paperwork may be in need of larger-scale shredding than a personal shredder can handle, but are unaware that many mobile shredding companies in their area offer paper shredding services for individuals as well as businesses. If you've begun to notice that your documents are starting to pile up in your home and you do not have a way to transport the materials to a drop-off shredding location, you may want to look into a one-time shredding service from the mobile shredding company near you.
This program will bring the paper shredding truck to your home for a fast and efficient shredding service. The shredding professionals can shred all of your paper documents without the sensitive data ever leaving your residence. Paper shredding trucks can cut through an average of around 2 tons of material per hour, so you can dispose of your documents both securely and quickly.
If you don't have a large amount of shredding to do but still want to securely dispose of your documents, you can also utilize the drop-off shredding service at the PROSHRED® Seattle office, or bring your papers to one of our community shred events.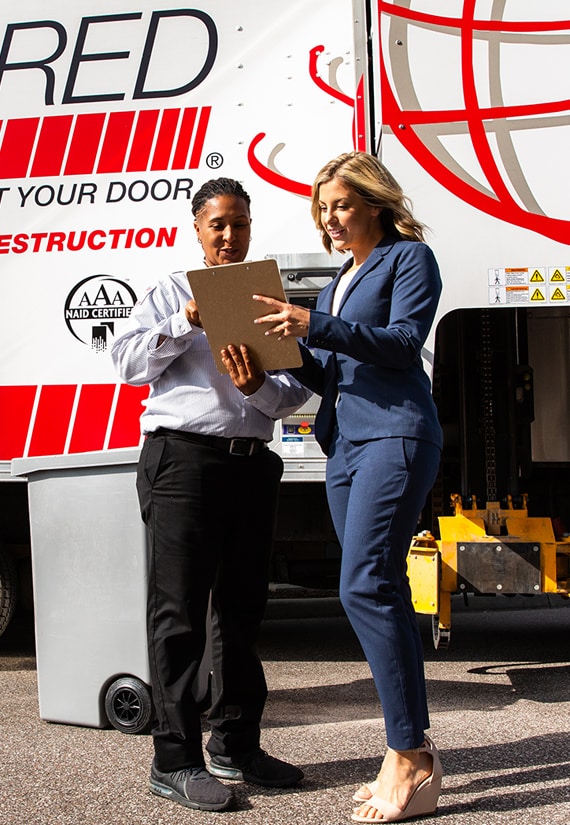 Mobile Paper Shredding is Cost-Effective
When you think about the process of scheduling a shredding truck to come to your location and dispose of your documents on-site, you may picture a hefty price tag attached. But that is simply not the case! In fact, many individuals and businesses will find that the cost of mobile shredding services is surprisingly affordable.
When considering the price associated with purchasing and maintaining your own in-house paper shredder and the time spent shredding your documents, mobile paper shredding costs are much more practical. PROSHRED® Seattle charges no hidden fees or fuel surcharges, and will charge a reasonable rate based on the amount you need to shred and whether you are using a mobile shredding or drop-off shredding service.
Mobile Paper Shredding Companies Provide Proof of Destruction
If you or your organization are required by law to shred certain documents, you will be happy to know that mobile shredding companies provide you with a Certificate of Destruction upon completion of shredding. So what is a Certificate of Destruction? It is a type of documentation that shows that your sensitive documents were completely destroyed, according to the highest standards in the industry.
A Certificate of Destruction is required when medical, financial, or legal documents are disposed of, and proves that the information that was contained within those documents is no longer able to be read or used. This certificate can be used in the event of an audit or legal proceeding.
How to Find Mobile Paper Shredding Services Near You
PROSHRED® Seattle can assist you with all of your required business or residential paper shredding in Seattle. With over 30 years of experience, it's no wonder that PROSHRED® is a world leader in document destruction. We are also ISO 9001 and NAID AAA certified and follow rigorous standards for data security that go above and beyond the requirements set forth by local, federal, and state laws.
To top it off, our team of highly-trained professionals will ensure that your private data is completely destroyed right before your eyes, without ever leaving your location. With all of these guidelines and more, you can confidently say that your information is safe and secure throughout the shredding process. Give us a call today to get started.