January 28, 2021
Protect Your Information: Destroy Confidential Papers with Professional Shredding Services
Thinking about not shredding your documents? Think again.
Data breach statistics rise higher with each passing year and with each technological advance. As businesses switch their workflow to digital and paperless systems, most will put their focus on virus and malware protection to fight off hackers from the digital side. But digital protection is only half the battle, as many data thieves still get their information the old-fashioned way. Throwing away or attempting to recycle old documents you no longer need makes them an easy target for theft.
Why Shred Confidential Papers?
You may think you're saving time or money by simply throwing important papers in the trash, but this is opening your business up to data breaches and information security risks that could set you back big time. Even if your industry isn't one of many that has requirements for when and how to shred confidential documents, you still need to follow suit in order to protect your business's reputation and your bottom line. The dangers of not shredding confidential papers and materials can result in permanent damage or having to close your business for good.
Data theft is no longer a matter of if, but when for most companies. And it can be prevented by companies working to keep their information from being exposed to those who could do harm.
Leaving around old hard drives, files, customer profiles, and employee information is a recipe for security disaster. Criminals are professional data thieves who spend countless hours searching for their big break. Don't make a breach easy by not having a paper shredding or mixed media shredding plan in place.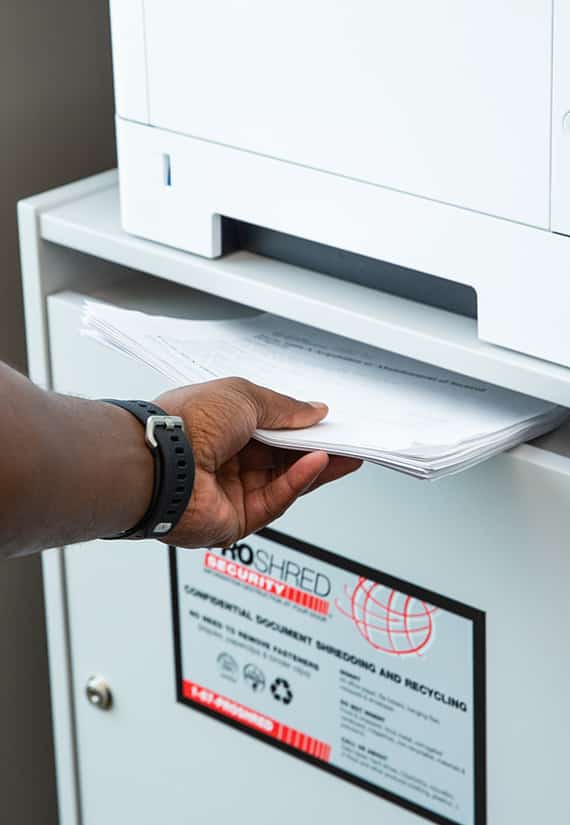 Four Common Ways Data Breaches Occur
It's important to be aware of the potential ways your business information can be leaked or stolen so that you can take steps to prevent it. There are several ways your company can play a role in a data breach:
• Purposefully – This is when an employee or former employee acts out of negative emotions or intends to retaliate.
• Reluctantly – This is when a competitor takes advantage of information innocently shared.
• Accidentally – This happens when information is delivered to the wrong person.
• Carelessly – This is something that is easily avoidable, but still happens when documents are not kept secure or are not securely shredded.
When you fail to properly dispose of your documents, it exposes privileged documents to unprivileged people. Privileged information leaks can lead to identity theft, which can ruin your brand image and undermine consumer trust.
Benefits of Professional Paper Shredding
Protect Your Reputation
Whether done purposefully or carelessly, information leaks can tarnish your brand reputation for a long time. Your brand is what sets you apart from other businesses of the same kind, and customers associate your products and services with the brand you've built over time. Having documents securely shredded with a professional paper shredding service can keep negative events from occurring and help you maintain your brand's image and reputation.
Save Time and Money
As we've mentioned, the time you save by simply throwing documents away isn't worth the security risk. But there are more efficient ways to shred documents than by employing an in-office shredding machine. These machines are often expensive to maintain and operate slowly, taking valuable time from your employees who could be doing other tasks. With a Seattle scheduled mobile document shredding service, you don't have to worry about collecting, transporting, or shredding your documents: our expert customer service professionals will do all of that for you and can even destroy your documents on-site for added security. Our customers are also often amazed at the value for money they get for not having to worry about whether their information is being compromised.
Gain Peace of Mind
We know that as a business owner, the last thing you want to worry about is the potential dangers of not shredding your business records in an efficient and secure manner. Professional paper shredding services provide peace of mind that all of that is taken care of, and after every service, we'll provide you with a certificate of destruction as proof you are in compliance with all laws and regulations.
Find a Professional Paper Shredding Company Near You
Now that you know the risks, use this information to make critical changes in your security and risk management strategies. Shred all documents, or at least the ones with confidential company, employee, and client information. Don't just throw away old hard drives or try to destroy them on your own; mixed media shredding services can take care of that with ease. And product destruction services can destroy old uniforms, security badges, and expired or defective products, so you don't have to worry about these items being stolen and compromising your brand's reputation.
PROSHRED® Seattle is an industry leader in secure document shredding and hard drive destruction. We help businesses of all types and sizes keep paper out of the trash to avoid data breaches and keep information secure. Give us a call today to learn more: 206-258-2900