September 12, 2023
Why You Should Use Lockable Shredding Bins
Large businesses, firms, and clinics collect a significant amount of information. Over time, these documents can pile up and some become too outdated or unnecessary to keep anymore. When it's time to get rid of them, storing these documents in unsecured placings or tossing them out poses a large risk to your company's reputation and your clients' private information. This is when a shredding company is needed. More importantly, you need proper document storage between shredding sessions. If you're searching for "shredding services near me" and seeking the right kind of storage, PROSHRED® Seattle offers lockable security consoles for you to store your unneeded paper documents in before we shred them for you.
Risks of Data Theft and Exploitation
Improper storage and disposal of confidential documents lead to impending harm to your business' security. Even simple documents hold vital information that can be exploited if they fall into the wrong hands. Papers like bank statements, legal documents, medical records, and business contracts are just a few examples of what shouldn't be left out in the open. If they aren't handled with care, this information can be leaked.
Trashing documents rather than waiting to shred them is also risky, as regular trash cans and recycling bins expose documents to thieves and other breaches of privacy. People can sift through discarded documents and gather private information for various, harmful reasons. Because of various privacy acts, such as HIPAA and FACTA, it's crucial to protect the information you have stored. Failing to comply with these regulations can result in severe penalties for you and your company.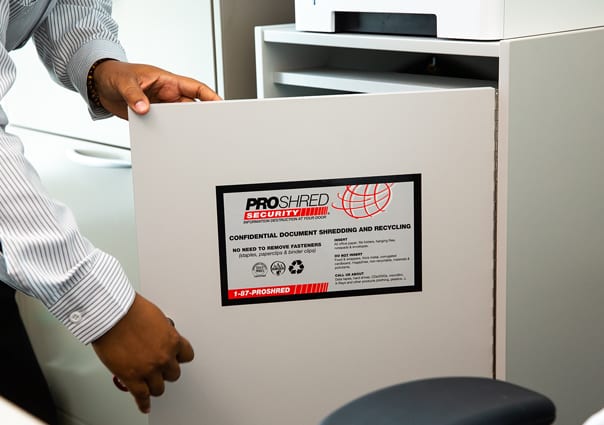 The Benefits of Security Consoles
Document shredding consoles are a convenient solution to improved document storage for paper documents. When you regularly schedule shredding services with PROSHRED® Seattle, our team installs these consoles for you and your company throughout the office to use as secure storage until we come out to shred your materials. There are multiple benefits to these bins that make them indispensable in maintaining security.
Thorough Security
Our security consoles are lockable and tamper-resistant, with a one-way slot that prevents anyone from retrieving papers once they've been placed inside. The bins are durable and able to hold office equipment on top, making them well-equipped to keep your private information safe and secure inside.
Compliant with Laws
Because there are various privacy acts and regulations set in place for businesses, firms, and other organizations, keeping confidential documentation is crucial. If these laws aren't followed, you and your business are at risk of repercussions such as fines, legal action, and overall damage to the reputation of the company and to the trust of your clients. With lockable shredding bins, you can ensure your company is compliant with those laws.
Reduces Data Risks
Data breaches can cause lasting damage to a business and its clients. With security consoles in the office, the risks of data breaches can be mitigated and leave it practically impossible for private information to be retrieved from them without authorized personnel.
Eco-Friendly
When you dispose of a large amount of papers, paper waste can feel inevitable. That's why PROSHRED® Seattle takes an eco-friendly approach, by partnering with local recycling centers. Once the paper from our security consoles is shredded, we take it all to be recycled.
Efficient and Convenient
Integrating lockable shredding bins into your office makes document disposal efficient and simple. Employees can easily discard sensitive documents into these consoles, without the hassle of using office shredders. They keep your workspace organized and free of clutter and ensure your information is secure.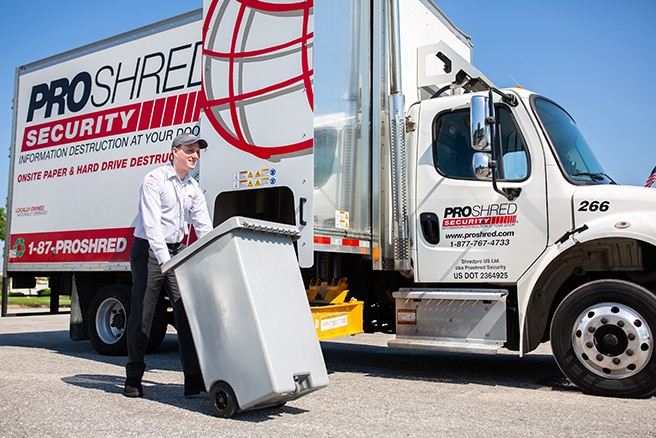 Picking the Right Console
When you're selecting a document shredding console or a lockable bin, there are a couple of things to consider, since every business and organization is different.
Bin Capacity- Depending on the size of your company, you have to consider what the capacity of your bins should be. For smaller offices, with less frequent disposals, there are 36" x 22 ¾" x 15 ¾" bins. If your company is larger and disposes documents more frequently, there are high-volume containers, which have capacities of 64 gallons or 96 gallons.
Security Features- All of our bins come with tamper-resistant features to prevent anyone from retrieving documents out of them without authorized access. Our smaller bins have front-loading, one-way feed-slots, and can take up to 400 papers at one time.
Our 64 and 96 gallon consoles are wheeled carts made of durable plastic, and easy to move around the office. They are secured by padlocks and have top-loading security slots that can't be opened without a key.
Contact PROSHRED® Seattle for Secure Shredding Solutions
At PROSHRED® Seattle, our top priority is protecting your business and your clients through secure shredding solutions. Whether it's one-time shredding or regularly scheduled services, we'll give you peace of mind that your documents are in good hands and will be thoroughly disposed of. Contact us today for a free quote, or to schedule a service with us.