February 8, 2022
3 Ways to Stay Ahead of a Data Breach
As thieves and hackers become more creative about stealing data, it is crucial to employ a variety of different methods and techniques to secure your company's information. This has become especially important with the recent increase in flexible and remote work across the country. Businesses need to be vigilant about making sure that each employee and the company as a whole are following all of the necessary security measures so that no private information falls into the wrong hands.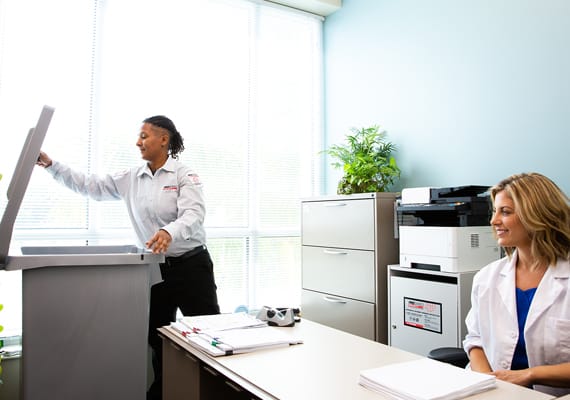 Know the Main Causes of Data Breaches
Data breaches carry with them a number of serious consequences. These consequences can range from a damaged reputation to extensive fines that may cause financial issues for the company. The best way to protect against data breaches is to identify the most common causes and work to strengthen weak areas in your current security plan.
Unfortunately, data security goes beyond the standard online requirements of firewalls and anti-virus software. In fact, physical data breaches account for a staggering 43% of all breaches in the United States in 2021. How can this happen? Let's take a look.
Improper document storage and disposal methods
Employees leaving sensitive documents unattended in public areas, especially when they are not in use, can be detrimental to your security efforts. This includes leaving documents on printers, meeting rooms, or anywhere that unauthorized individuals may have access. However, documents can also be compromised if proper document disposal methods, like paper shredding, are not followed. Files can be easily removed from the trash and used to expose private company data.
A remote/hybrid workforce
With the recent rise of the remote/hybrid workforce, sensitive documents are either being transformed into digital files or traveling between the employees' home office and the workplace. This presents a new set of challenges for the employer that many have not seen before. Simply leaving a private document on an employee's desk while they are not in the office can put the information on that document at risk. Likewise, disposing of files outside of the office or working in a semi-permanent location can both pose serious security risks.
Human error
One of the biggest challenges to data security has always been and will continue to be employees. To put it simply, accidents happen. No matter how strenuous your data security protocols may be, a lack of understanding about the importance of data security or even a case of forgetfulness can expose your company to data security risks.
Stockpiled IT equipment
Companies of all kinds store vast amounts of private information on the hard drives of electronic devices. Once the devices are no longer needed, management is faced with the task of disposing of them or finding a way to store them. However, unauthorized individuals can take advantage of unsecured hard drives. Alternatively, deleting the information on the hard drives will not completely remove the data that has been stored on them, leaving them equally vulnerable once they reach the dumpster. That is why many businesses turn to a professional hard drive shredding service to ensure that their data remains secure.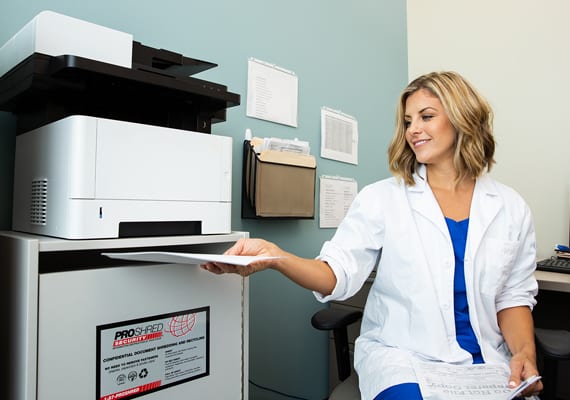 Establish a Clean Desk Policy
Many companies have found success in implementing clean desk policies for their workplaces. A clean desk policy, or CDP, is a directive that specifies how employees should leave their space when they leave the office for the day. Typically, this means ensuring that all desks are cleared of papers and all binders or files are locked away in their proper locations. A CDP can also include guidelines for secure document disposal such as a home office shredding service for remote/hybrid workers and regularly scheduled shredding for centralized workspaces.
Engage a Professional Shredding and Information Security Company
By far the easiest way to guarantee that all of your data remains secure once it is no longer needed is to invest in a mobile paper shredding company. A mobile shredding company can shred all of your confidential files, whether they are paper documents or digital files stored on a hard drive, in a safe and secure manner. With this type of service, you can have peace of mind that your unneeded information is disposed of efficiently, leaving no room for a potential data breach.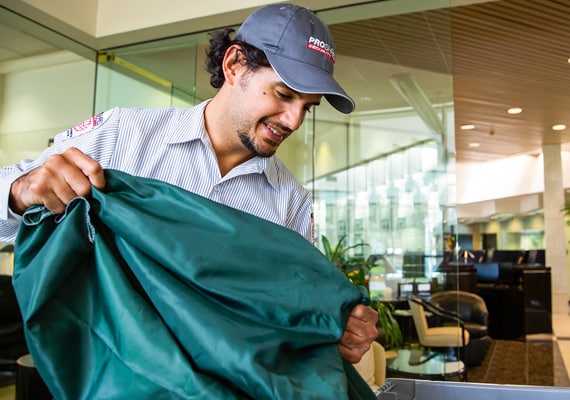 Need Routine Shredding Services? Trust PROSHRED® Raleigh
If your company needs routine, professional shredding services, PROSHRED® Raleigh can help. Our experienced team will provide you with the most confidential shredding service in the country with our state-of-the-art mobile shredding trucks. We will work with you to develop a shredding plan that works for your business and will provide you with a Certificate of Destruction upon completion of each visit. For more information and to schedule an appointment, contact us today!