Secure Desk Policy
Maintaining a Secure Desk Policy improves overall productivity; compliance and limits your risk of data breach. Get in touch with the professionals at PROSHRED®, for more details about this convenient policy and how our document shredding services help support a Secure Desk Policy.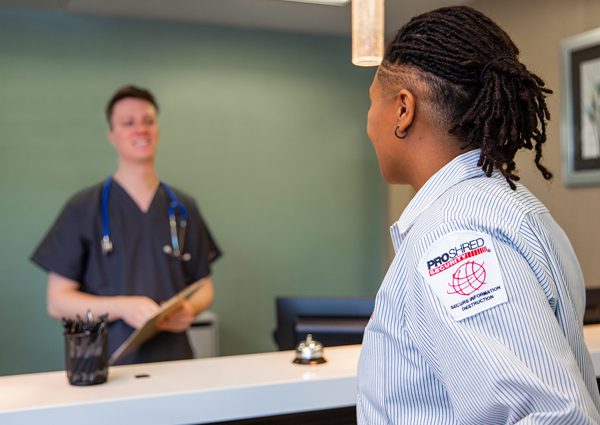 The Benefits of Implementing a Secure Desk Policy
A Secure Desk Policy requires that employees keep desks free from material that is sensitive in nature, including business documents, notes, post-its, and anything else that's deemed as private. All PC's should be powered off and should also be password protected at all times, to prevent hacking or misuse. All removable media, such as CDs, hard-drives, or memory sticks should be removed and kept secure in a lockable cabinet or room. A Secure Desk Policy is ideal for any size and type of business because it sets a welcoming and reputable tone for clients visiting your place of business, and most notably it limits your risk of data breach and information theft; both of which occur more often in cluttered and unsecure work environments.

Initiate The Process
Provide direction to the team in regards to what the policy entails. It's imperative that executives are adhering to the policy themselves, setting a good example for their employees to do the same.

Policy in Writing
Any and all work policies should be available to access online through your internal business management system, or printed off in an employee handbook.

Use On-Going Reminders
A Clean Desk Policy checklist should include office reminders that reinforce compliance. Put up memos outlining the policy online, and place reminders in busy common areas, such as meeting rooms and the lunch room.

Increase Compliance
Encourage your employees to document information electronically; this is not only a sustainable practice, it also helps to keep your office organized and clean. When feasible, share files instead of printing them, to save on paper.