Mobile Shredding Trucks for On-Site Service
There's no room for 'one-size-fits-all' services to protect the security and confidentiality of sensitive, personal, or financial information. PROSHRED® is a shredding company with state-of-the-art shredding trucks for document destruction services. By utilizing mobile paper shredding trucks, we take the hassle out of document destruction with on-site service – coming to your home to shred your confidential documents using some of the most secure and effective shredding trucks available.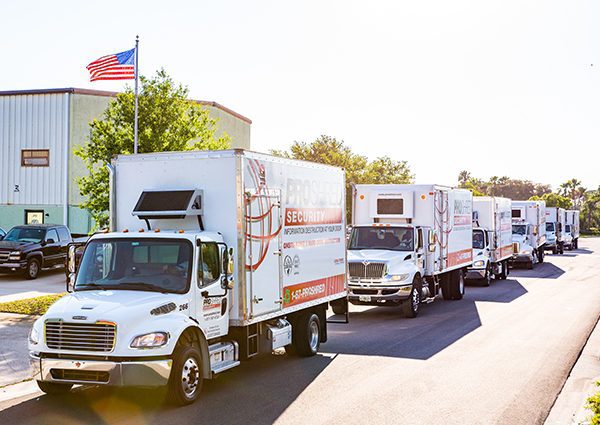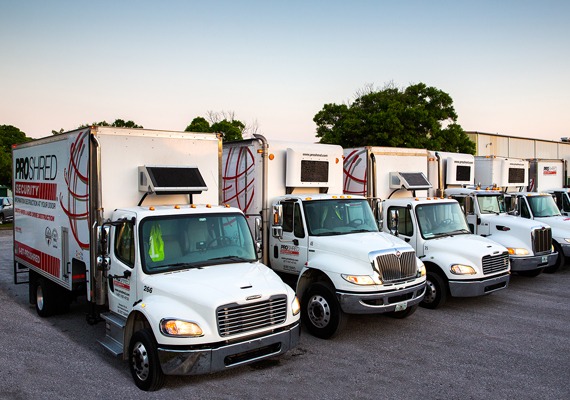 A Flexible Solution to Modern Document Destruction
Traveling to large off-site shredding locations isn't an option for all clients, while small independent in-house shredders often can't handle the bigger jobs or assure the level of security you need. Mobile paper shredding using trucks fits right in between this gap as a uniquely flexible solution to modern document destruction.
Equipped with large industrial paper shredders, our trucks come straight to your business or specific location for your ease and convenience. Your documents are then destroyed with this on-site shredding service so you can remain confident that your sensitive information will never again risk getting into the wrong hands.
Keeping Your Operations Secure and Compliant
Recent laws and regulations at both the state and federal level have set strict guidelines regarding the security and disposal of sensitive documents and confidential information. Mobile shredding trucks offer one of the most convenient and accessible options for busy businesses that don't have the time for off-site locations – easily and effectively keeping your operations secure and compliant with legal guidelines.
Whether you require a one-time purge service to clean house, or desire a regularly scheduled service to continually keep your business on track, mobile shredding trucks from PROSHRED® bring the frontier of professional and secure document destruction straight to your door.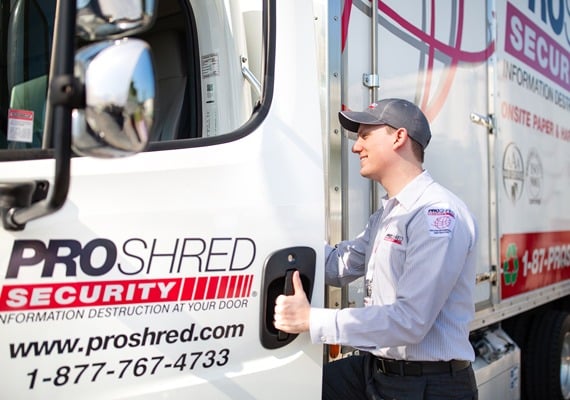 "I like to consider the truck that I operate for the day 'My Office'. At the beginning of the day, I like to make sure 'My Office' has the supplies needed for the day, make sure all systems are up and operating before leaving the lot, and throughout the day keep a note of what needs attention, so that it can be recorded and reported. At the end of the day, I like to make sure the 'office' is fully stocked and prepared for the next day. Especially in the event that someone else may have to operate 'the office'. You cannot go wrong in always being prepared. Things may come up, but with the team we have, we always have each others best interest in mind!
Marcus Black | Charlotte, NC
2012 National Customer Service Professional (CSP) of the Year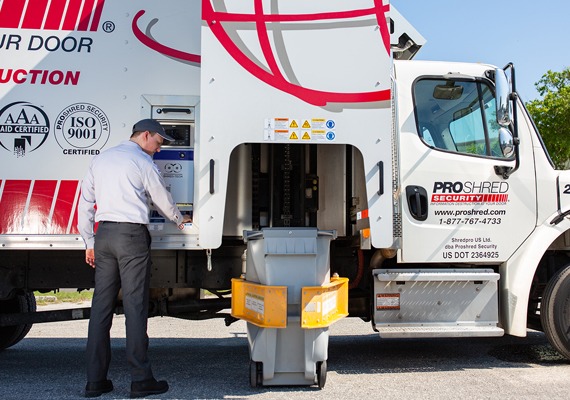 Pierce-and-Tear Shredding Trucks
Pierce-and-tear shredders use multiple rotating blades that punch holes in the material being shredded, and then rip the material into tiny pieces. This system tears the paper at the fiber instead of cutting it, which results in a random and more secure shred size than standard strip-cut shredders.
Premium Aerodynamic body with safety strobe lights
Shreds 2,000lbs/hr – 9,000lbs/hr with a 5,000lbs – 10,000lbs payload
Single-Shaft Rotary Grinders
Single-shaft rotary grinders (SSRG) comprise an amp-controlled hydraulic ram, which moves the plastic purging or part to be reduced against a single cutter shaft, rotating relatively slowly, at about 100 to 125 rpm. This low-speed, high-torque shaft has precision, four-point cutters embedded in it, which shear the material against a bed knife (counter-knife) and feed the resulting 'scissor-cut' granules through a screen of a size predetermined to provide granules of the desired size.
Payload compartment – 16'L, 1,200 cu. ft (8,000 – 10,000lbs)
Shreds up to 30,000 lb

/hr

, depending on the size of grinder used.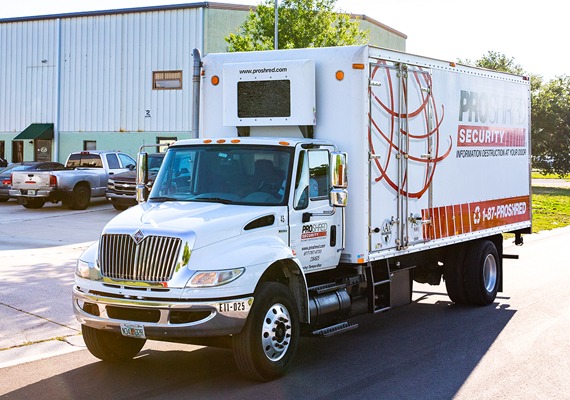 Our mobile shredding trucks are equipped with large industrial paper shredders that shreds and rips the paper in ways that your personal in-home shredders can't. With our convenient on-site shredding, we can come straight to your business or specific location for yourease and convenience. Your documents are then destroyed immediately so you can remain confident that your sensitive information won't get into the wrong hands. 
Our trained professionals will come to your premises to take care of all your shredding needs, using our mobile shredding trucks. Your documents, hard drives and products can be destroyed on-site where you can watch the entire process for your peace of mind. Once your information has been securely destroyed, you will receive an official certificate of destruction. Finally, all of the destroyed materials will go to a designated recycling facility. Our mobile shredders have capabilities that commercial off the shelf shredders simply don't, so using a professional shredding company is the safer alternative.