Home Office Shredding Services
Whether you have remote employees or you run a small business from home, it's important to keep your sensitive documents secure. PROSHRED®'s home office shredding services allow you to securely dispose of confidential documents by having them securely shredded on-site at your home. Contactless pick-ups are available, and we recycle all shredded paper waste. Our home shredding services are available nationwide. Contact us for a free quote or to find your nearest shredding service provider.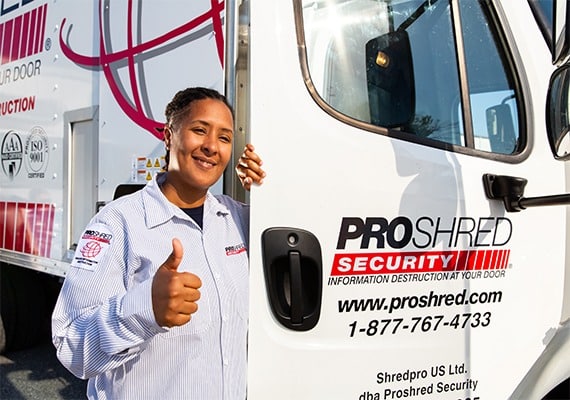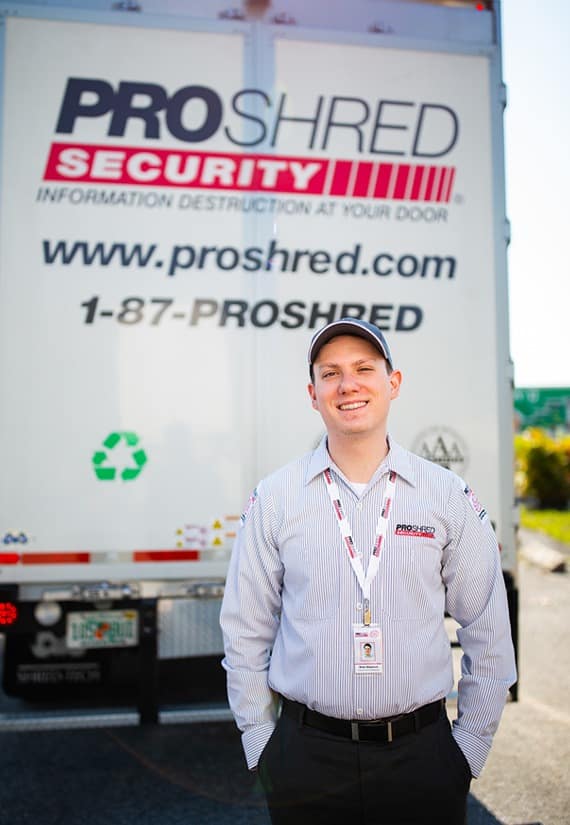 What is Home Office Shredding and Why Do You Need It?
Six out of 10 knowledge workers in the U.S. work remotely, with that number likely to rise. About two-thirds of businesses who adopted work from home policies due to COVID-19 expect to make those policies long term. With more staff working from home, traveling, and keeping flexible hours, private documents are increasingly likely to leave the office. Organizations now face a higher risk of security breaches for remote employees than ever before.
Privacy legislation extends beyond the office setting, obligating businesses to establish systems and procedures for safeguarding confidential information in and out of the office. Companies are still liable in the case of a breach or lack of compliance even when it takes place off-site.
A professional shredding service is the best way to dispose of confidential documents in a home office. Professional shredders cross-cut, a more destructive technique than personal home shredders perform. A shredding company can also guarantee a secure chain of custody and a certificate of destruction confirming results. These professionals are familiar with the challenges and compliance regulations that affect your business's industry
Develop A Confidential Shredding Program for Remote Employees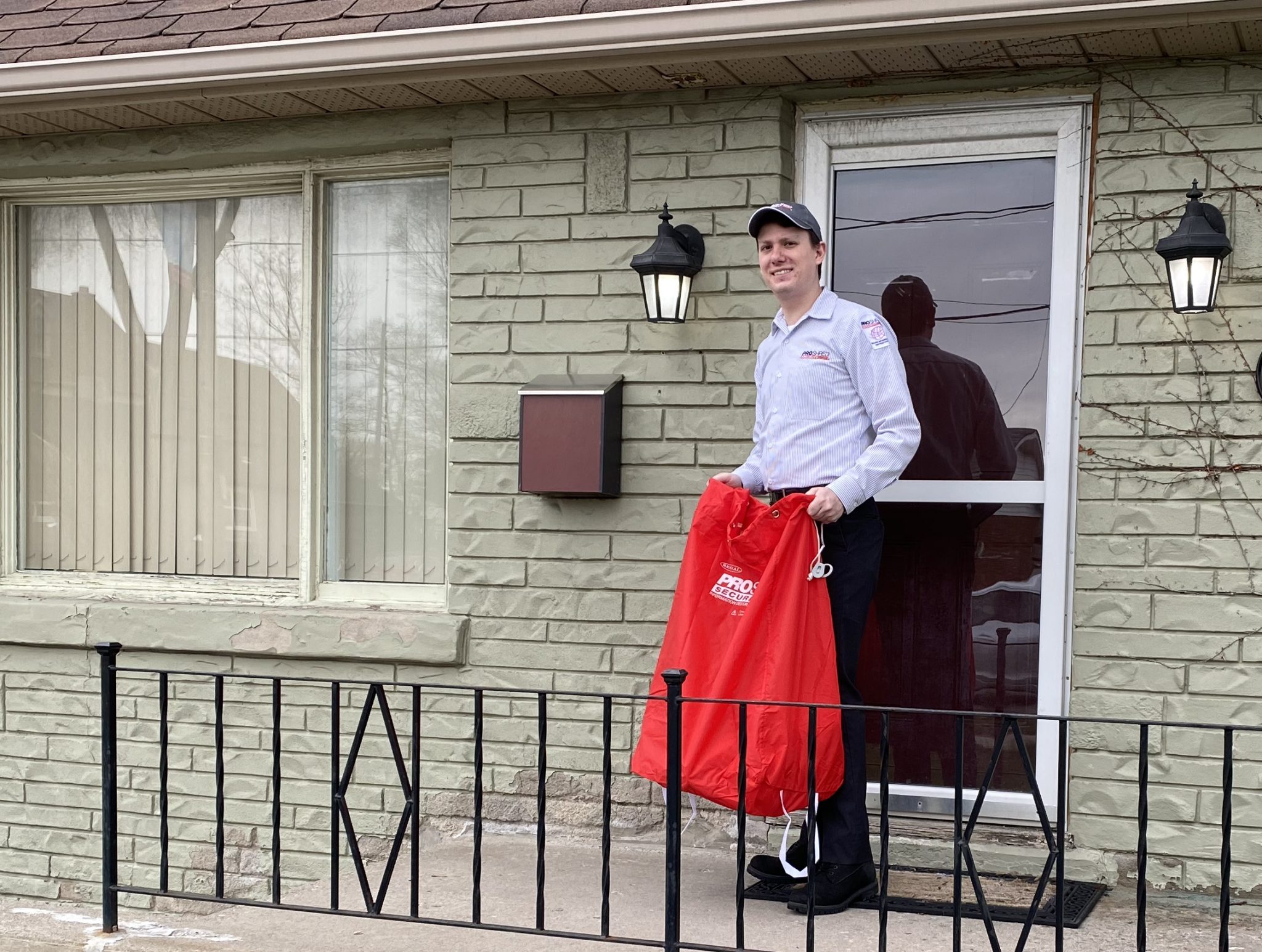 To assist organizations in meeting legislative requirements, PROSHRED® has developed integrated shredding service programs for home office records destruction that work in conjunction with an organization's in-office scheduled shredding system. By arming staff with the necessary tools for securely handling confidential documents outside the office, and by assisting you with the education of staff regarding how to best maintain confidentiality, PROSHRED® offers your organization one of the most comprehensive home office shredding programs available.
We can serve large businesses, with employees in one city or across the nation. We know which compliance laws apply to your business and adapt our shredding schedule to fit your needs. For part-time remote workers, the SHRED BAG program offers a secure and easy way to transport sensitive documents from between home and office for shredding. This process improves security and efficiency for confidential documents for organizations of all sizes.
Home Office Shredding for Small Businesses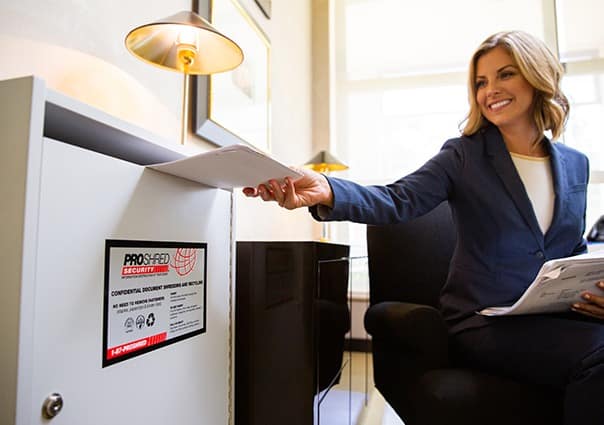 Home shredding services are helpful for small businesses, as well. In addition to home office workers employed by large organizations, there are also an increasing number of small businesses throughout the country that handle sensitive documents. Entrepreneurs and small business owners may work from an office, from home, from a co-working space, or while traveling. A lack of a single, permanent location only increases the risk that important materials could be mishandled.
Even a sole proprietor or a company with a small staff needs to protect employees' and customer's personal information. A slip in compliance or a security breach could cause permanent damage to the finances and reputation of your small business. There is also the need to protect intellectual property and confidential business records. Secure home shredding ensures any size of business can dispose of its documents responsibly.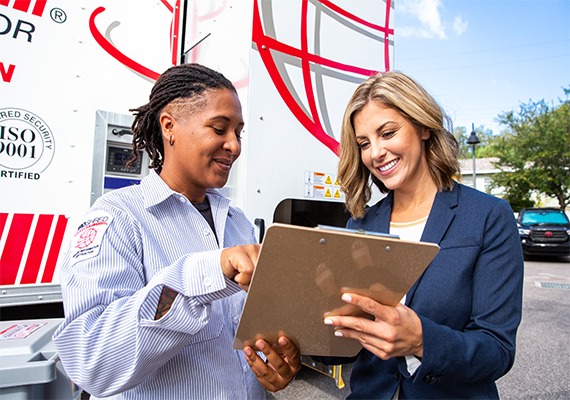 How Our Home Office Shredding Process Works
One of the benefits of working with PROSHRED® is that our home shredding process is simple, convenient and effective steps:
Documents go into a secure bin, console or SHRED BAG
Our mobile shredding truck arrives for pick-up
Documents are shredded on-site
You receive a certificate of destruction
Shredded waste is taken for recycling or final processing
You can arrange for recurring or one-time services
Compare Professional Home Office vs. Personal Home Shredders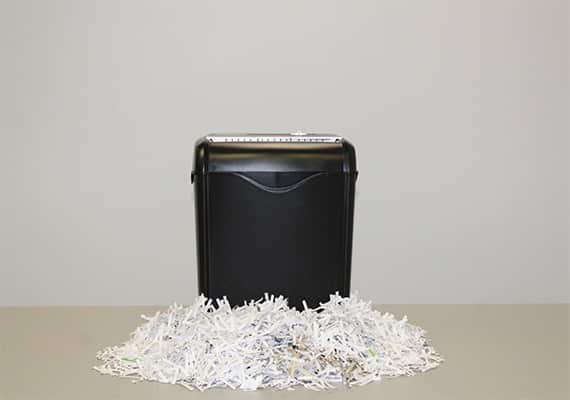 When comparing small quantity shredding options, you might wonder whether a personal home shredder can handle the job. You will need to consider short- and long-term costs, security and efficiency. In doing so, you will find that professional shredders make the process more efficient, since they use more powerful shredders. Personal shredders tend to overheat and require cooldown periods.
Professional shredders more fully destroy the documents, as well, with techniques like cross-shredding. They can also handle items other than paper, like folders, hard drives and digital media.
Finally, a professional shredding company can ensure materials are recycled correctly and provide you with confirmation.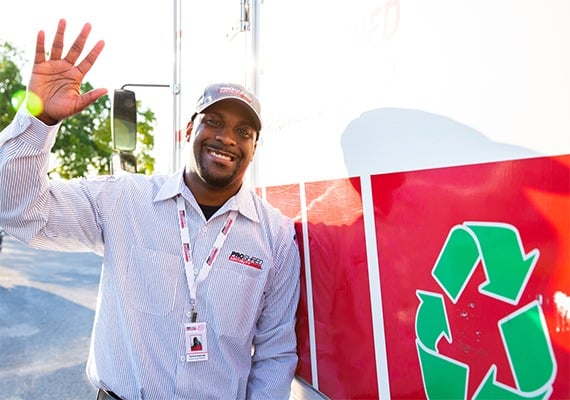 Environmentally Friendly Home Office Shredding
Companies of all sizes, from entrepreneurs to nationwide enterprises, care about their environmental impact. Sustainability is increasingly shown to make a positive impression on customers and employees and helps to preserve resources on which we all depend. PROSHRED® works with local recycling partners and offers a Green Loyalty Program. Get the peace of mind that your confidential papers are securely destroyed and responsibly recycled afterward.
Frequently Asked Questions
Our home shredding services are available for all sizes of businesses, from small businesses up to large organizations where employees work remotely.
This is an on-site shredding service, where documents are destroyed using a mobile shredding truck.
The cost is determined by the volume of materials you need destroyed and how often you schedule pick-ups. For more information, request a quote on our website or call us at 1-877-767-4733 (1-87-PROSHRED).