September 8, 2017
Comply With Various Legislation With Document Shredding
No Matter What Industry Your Business Operates In, PROSHRED® Is Ready To Help With Document Shredding Services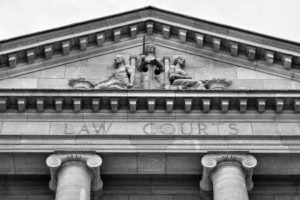 In the United States there are many different pieces of legislation affecting business operations on a daily basis. Operating protocols, including the management and disposal of certain types of information is amongst the many concerns businesses across America have during operation. PROSHRED® recognizes these important considerations across sectors. That's just one reason we are proud members of NAID. Through our membership to the National Association for Information Destruction, we are committed to keeping on top of the legislation that affects how businesses in all sorts of different sectors dispose of their sensitive documents and information. Document shredding is a widely excepted method of secure document disposal in the eyes of the United States government, and how services can help businesses in all sorts of industries stay in line with the law.
Legal Industry
Lawyers and legal professionals are first and foremost to understand the importance of truly secure document shredding services. Document shredding services assist in keeping very confidential information of clients' secured. PROSHRED® has years of experience working with the legal sector, and our scheduled document shredding services are common in legal firms due to the nature of dealing with high amounts of confidential information. No matter what area of the law your firm operates in, we have the expertise and equipment to provide the highest quality shredding services available.
Commerce
Essentially all businesses that make transactions or receive payments using US sources of income are subject to a piece of US legislation known as FACTA. The Fair and Accurate Credit Transactions Act is an amendment designed and intended to protect consumers from identity theft. One section known as the Disposal Rule involves the disposal of sensitive consumer information in specific manners. One such method of approved document disposal under FACTA is through the physical shredding of documents. Destruction of digital media devices such as hard drives is also encouraged.
Healthcare
In the United States businesses working with patient information are subject to their own set of regulations under HIPAA (Healthcare Insurance Portability and Accountability Act). The goal of HIPAA is to provide data privacy and security to protect sensitive patient information. It covers many different aspects under healthcare, but the second section of HIPAA includes provisions on data security. In this section the legal requirements regarding the retention and disposal of documents containing sensitive patient information are outlined. The act also outlines the punishment penalties for failing to follow these provisions.
Education
Educational programs in the United States which receive any funding through programs administered by the Department Of Education, are subject to a piece of legislation known as Family Educational Rights & Privacy Act (FERPA). This act seeks to protect the identities and personal details of students in America. PROSHRED®, through experience, knows how document shredding can help businesses and firms in the education sector keep in compliance with FERPA. That includes which documents you should be keeping and which you should be shredding. Our services ensure that information stays secured throughout the entire process, keeping clients in the educational sector well in line with the requirements of FERPA.
Our team of experts is prepared to work with clients in any of these sectors and more. With PROSHRED® you can rest assured that your business is working with the best and most knowledgeable in the business.
Contact one of our many branches across America today to learn how we can help you and your business.
Call 1-87- PROSHRED®.