Drop-Off Shredding Services
PROSHRED® specializes in Drop-Off Shredding Services for businesses and government organizations. However, we have clients that prefer to drop-off small quantities at our secure access facilities for shredding later the same day. If you have small quantities of confidential or sensitive information, please consider using our drop-off shredding service.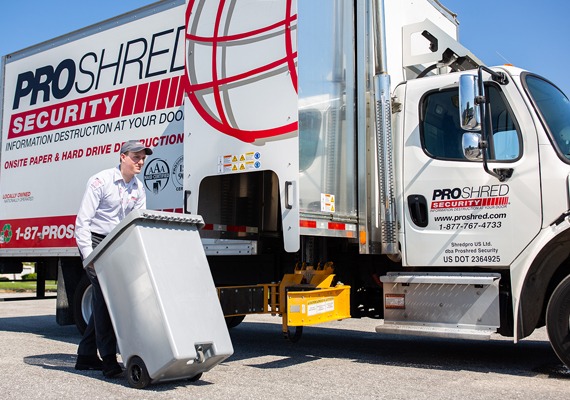 Shred Documents The Same Way Large Businesses Do
Since we are an on-site document destruction company, we do most of our shredding on state-of-the-art mobile shred trucks. Our trucks are equipped with security cameras to view the shredding process – allowing you to see your confidential documents being shredded. Since our corporate and government clients shred a certain amount of documents at each visit, we only come to residential locations that have similar amounts. It may be easier and more cost-efficient for residential clients to use our drop-off shredding services.
What Type Of Documents Should You Shred?
PROSHRED® Drop Off Shredding Services meets the specific needs of our home-businesses and residential clients in your area. in your area. Some documents that may be confidential, and would require shredding, includes:
Bank Account Statements
Correspondence
Job Applications
Profit/Loss Statements
Brokerage Reports
Credit Card Statements
Legal Documents
Signatures
Cancelled Checks
Financial Reports
Medical Records
Social Security Numbers
Confidential Letters
Insurance Policies
Pay-stubs
Tax Records
Contracts
Invoices and Receipts
Photographs
Telephone Numbers