March 21, 2023
How Mobile Paper Shredding Works | PROSHRED®
How Mobile Paper Shredding Works and Why Your Business Needs It
According to the Fair Credit Reporting Act (FACTA) all businesses or organizations must take "reasonable steps" to destroy their customers' sensitive information which includes payment processing information, confidential correspondences, and proprietary information.  While there are various methods that are considered "reasonable"; mobile paper shredding is often the most affordable, secure, and convenient method.
What is mobile shredding?
Mobile Shredding is a form of document destruction where your documents are destroyed onsite at your business, residence, or storage location. With this form of destruction, your items are transferred into a secure wheeled bin by a trained technician and then lifted into a mobile shredding truck which will destroy your items via pierce-and-tear shredding.
During this process, you or a member of your organization are able to witness the destruction via a monitor affixed to the side of the truck, giving you a level of peace-of-mind which can only be achieved through onsite, mobile paper shredding. We offer both one-time purge shredding to securely destroy stored documents as well as a regularly scheduled shredding service to ensure your organization is continually protecting its confidential information.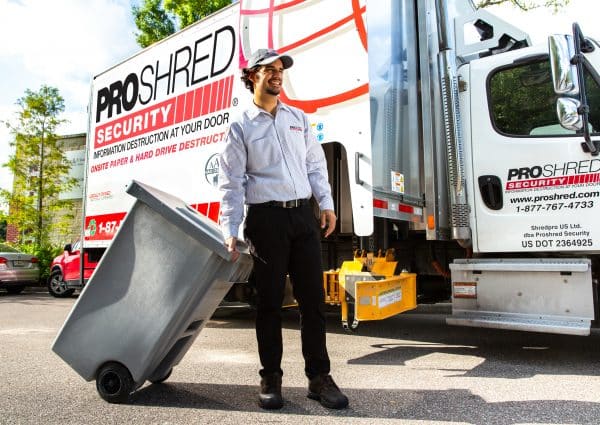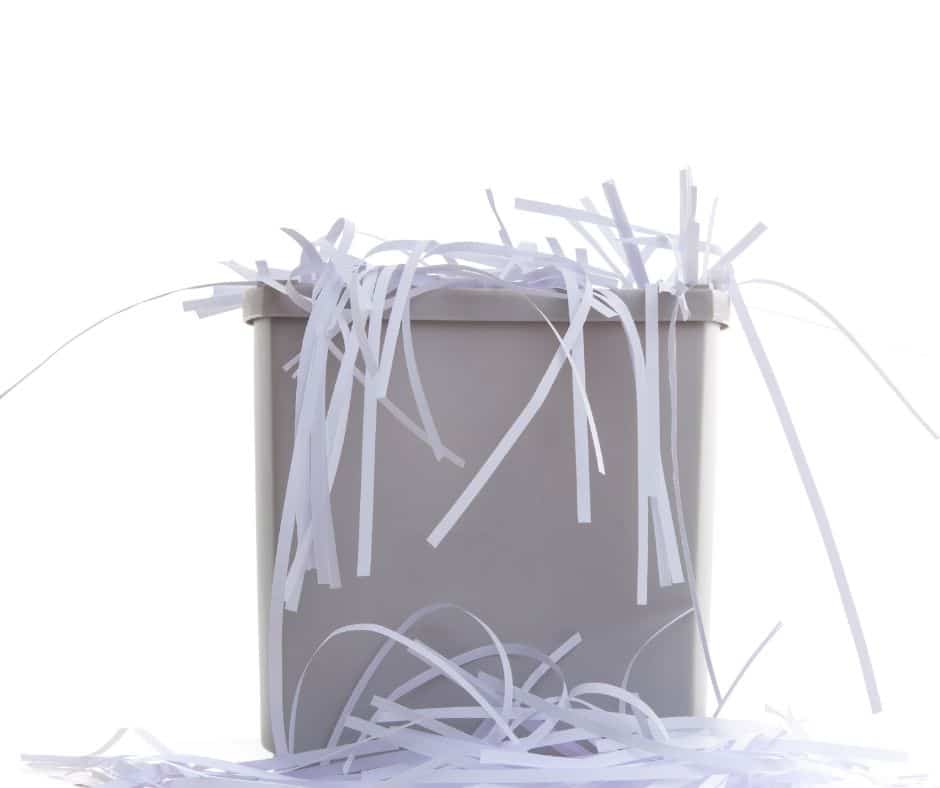 Why is mobile shredding more secure than offsite shredding?
When it comes to destroying your sensitive documents or your organization's sensitive documents; there are many factors to consider, one of the most important being security.  By using an onsite, mobile shredding service, you are able to eliminate doubt that your documents could see the light of day. A very important factor to consider for any information destruction project (whether you are destroying paper documents, hard drives, or branded materials) is the chain of custody. 
Using a mobile paper shredding service ensures that the chain of custody is clear and simplified. Your items are destroyed at your location by a professional, background-checked technician in a manner in which you can witness the entire process.  With offsite shredding services, the chain of custody is much vaguer. Your items are picked up from a location and brought to a facility where they could be handled by unknown, often non-background-checked employees. 
Additionally, it is often unclear when and where your documents are destroyed or uncertain if they are even destroyed.  By using a mobile shredding service, these uncertainties are made clear allowing you to focus on your business or organization and giving you unparalleled peace of mind.
Protect Data
Due to the number of data hacks and theft attempts that have taken place over the past few years, businesses need to take the proper steps to protect any data. If you are getting rid of old equipment, there is likely a surprising amount of sensitive data stored on it. Even if you were to delete all files and try to wipe your hard drive, there is likely still information that can be accessed. When you use a hard drive destruction service, it will completely destroy the drive and any information.
Comply with Regulations
Depending on the industry that you operate in, there are bound to be requirements around protecting business and customer data. Even if you follow the proper processes and are diligent, there is still a chance your data could be stolen. If this occurs, you could face regulatory punishment on top of financial and reputational setbacks. If you use a hard drive disposal service that completely gets rid of this data, you can mitigate this risk to ensure you stay in good standing. It can also help to reduce your liability risks, which can help manage insurance costs for your overall business.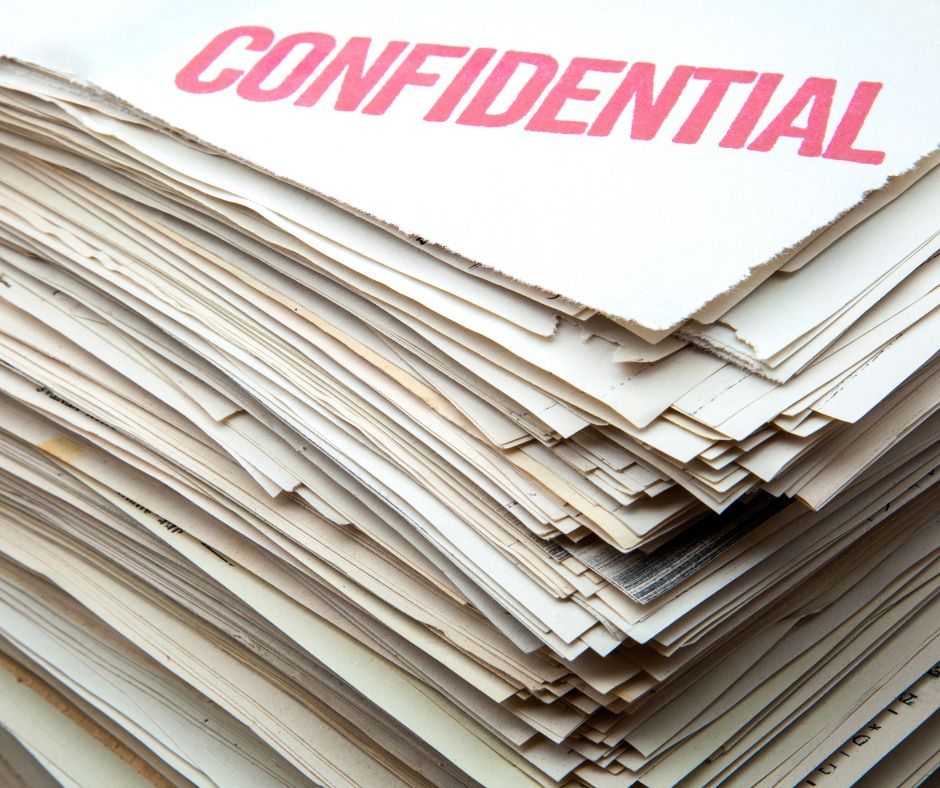 How does mobile shredding differ from home/office shredding machines?
The pierce-and-tear shredding method used in our mobile shredding trucks differs from the shredding method used in home/office shredding appliances you might find at an office supply store.  In addition to these home/office shredders often breaking down and requiring valuable employee time and effort to operate; they nearly always employ a method of shredding called "strip-cut" shredding. Strip-cut shredding produces long, strand-like pieces of paper which are much easier to reassemble back into their original form than the irregular confetti-like remnants produced by the pierce-and-tear methods used in a mobile shredding truck.
Additionally, with home/office shredders you are left with the shredded paper, leaving the onus on your organization to go through the process of having the shredded materials recycled. Our mobile shredding services are an all-in-one service where we both destroy your materials onsite as well as handle the recycling process. In addition to being a more labor-intensive process, home/office shredding appliances are often less secure than mobile shredding solutions.
What Materials Can Be Destroyed With Mobile Shredding Services
When we think of mobile shredding services we often think of onsite paper shredding services. However, there are a number of confidential materials that can also be destroyed by our mobile shredding services. Hard drives from computers, storage devices, and servers can hold massive amounts of information. Simply deleting these files does not render them irretrievable. 
Our onsite hard drive shredding service is perfect for eliminating the confidential data stored on hard drives. There are also a number of non-paper materials which contain sensitive information. These types of materials include but are not limited to branded apparel, employee uniforms, plastic data tapes, and recalled or expired packaging. Our mobile product destruction services can serve as the perfect solution, ensuring these materials do not reach the general public.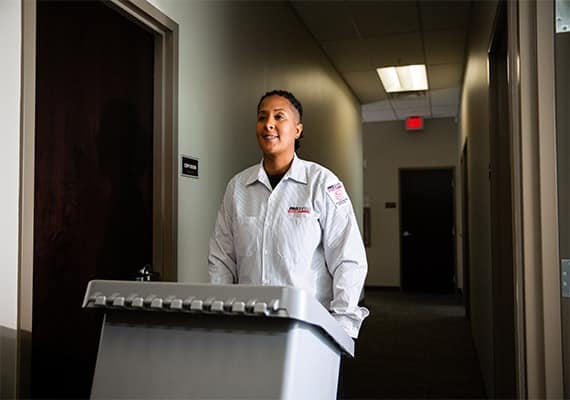 Frequently Asked Questions About Mobile Shredding
Mobile Shredding is one of the most secure forms of document destruction. The mobile shredding process allows you to witness the shredding process: ensuring your confidential material is securely destroyed via the pierce-and-tear method which is considered more secure than the strip-cut shredding process used in most home/office shredding appliances.
Reach out to PROSHRED® today at 1-87-PROSHRED to find out how we can meet your shredding needs. Whether you have paper documents, hard drives, or sensitive products, reach out to us to see how we can help.