February 1, 2021
How Mobile Shredding Trucks Work | PROSHRED® Security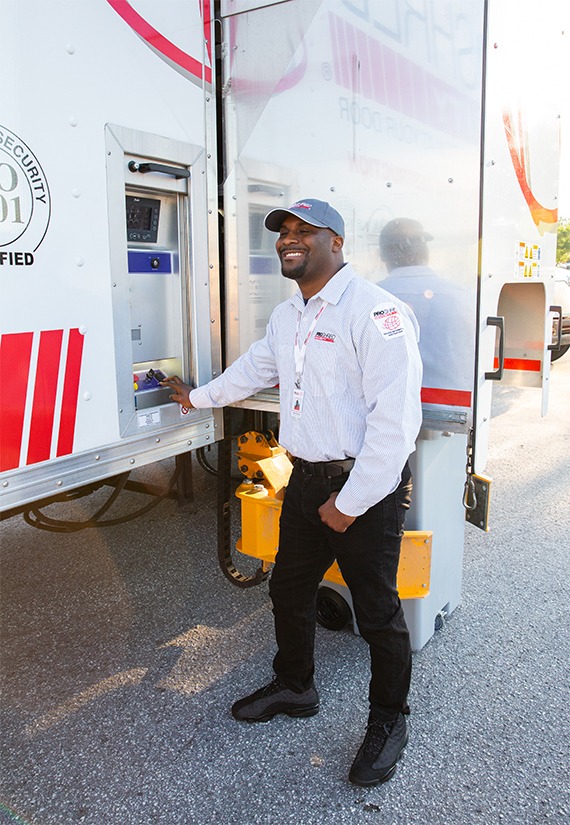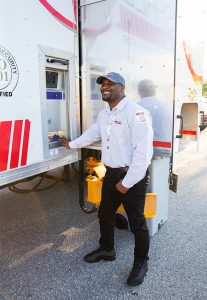 How Does a Mobile Shredding Truck Work?
When you're new to outsourcing shredding services, the concept of a mobile shred truck can be confusing. A truck that is also a paper shredder? Common questions we get about our shredding trucks typically revolve around how it works, if it keeps information safe, and if you can watch the shredding as it happens. In fact, these high-tech, heavy duty machines are actually pretty straightforward, and ideal for medium to large on-site shredding tasks. Read more to find out what shred trucks are and how they might be a great fit for your business, medical or government shredding needs. 
What is a Shredding Truck? 
At PROSHRED®, the on-site shredding process is easy thanks to our top-of-the-line shredding trucks. Just like the name suggests, these trucks are a mobile, on-the-go way to collect and shred paper and hard drives on location for our customers. Equipped with high-efficiency industrial shredders, shred trucks are able to handle a much larger volume at a much higher rate than a traditional office shredder. Much like garbage trucks, shredding trucks are also designed to securely hold compacted shredded material and transport it to our shredding facility or recycling center. 
How Does the Mobile Shredding Process Work? 
Once you schedule an on-site shredding service with PROSHRED®, our employees will drive up and collect your documents or hard drives from the shredding bins or security consoles we have provided you for your home or business. They are transferred into a high-volume security bin and then wheeled out to the shred truck. Also similar to a garbage truck, the shredding truck uses a grab arm to pick up the bin and empty its contents into the shredder. 
The secure shredding process then begins, and our customers are able to view their items being shredded through a mounted screen on the side of the truck. 
PROSHRED® locations utilize one or both of the following methods of shredding in their mobile shred trucks. 
Pierce-and-Tear Shredding
Pierce-and-tear shredders use several rotating blades to punch holes in the paper. The paper is then ripped into tiny pieces. Because this system tears paper at the fiber instead of cutting or slicing it, it results in a more random and therefore more secure shredding process than typical strip-cut shredders like those found in an office. Shredders that use this method can process between 2,000 and 9,000 pounds of material per hour, depending on the size of the truck. 
Single-Shaft Rotary Grinder Shredding
During the shredding process, single-shaft rotary grinders use a hydraulic-driven ram to press the material that is being shredded against a rotating cutter shaft. While it rotates, the shaft pushes the material against a bed knife, shearing it and creating scissor-cut, uniform-sized granules. With this type of shredding process, up to 30,000 pounds per hour can be processed, depending on the size of the grinder. These shredders can handle various materials, including hard drives. 
The Benefits of Mobile Shredding 
The benefits of mobile shredding for the safety and security of your confidential information, whether business or personal, are numerous. Because traditional at-home or in-office shredders are not as secure as industrial shredders like those used by PROSHRED, simply engaging one of our document destruction services is game-changing from a security standpoint. There are, of course, other benefits that include more time given back to you and more money in your pocket. 
Perhaps one of the best benefits of mobile shredding is that it is extremely flexible. A pickup can be scheduled on a weekly, bimonthly or monthly schedule depending on your needs. With routine scheduling, you won't have to worry about calling someone when the bin is full or take time to drive your papers to a drop-off site; we'll be there to pick up your documents on a regular basis. Mobile shredders are also just more efficient than traditional in-house shredders, and because you don't have to buy or maintain a shredder, the cost savings can be significant. 
Schedule an On-Going Shredding Service with PROSHRED®
At PROSHRED®, we're committed to providing unique document shredding and hard drive destruction services that can match the diverse wants and needs of our customers. With our mobile shredding trucks, we are able to take the inconvenience out of the paper shredding process. We come right to your door with our hassle-free, effective destruction services, giving you peace of mind about the security of your confidential information. If you're looking for a company that can provide you with confidence that your sensitive information will never be at risk of ending up in the wrong hands, contact us today. We'll be at your door with a mobile shredding truck.