November 13, 2015
Why You Need to Dump Your Office Shredder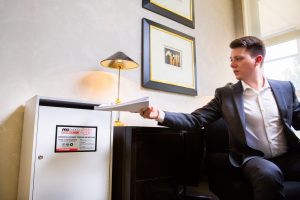 In many different businesses across the United States, office paperwork can start to pile up if not properly disposed of, causing clutter, disorganization and limited space. Holding onto unneeded documents and records can lead to risks, such as
identity theft
crimes, for you, your staff and business associates. While many businesses are aware of the risks of not destroyed sensitive information, as a business employer, ask yourself what you can do. An office shredder is an ideal solution but in reality, the office shredder can lead to more problems than they solve.
Here are the reasons why you should hire a proper document destruction provider for your shredding needs.
1. The Office Shredder Only Shreds Paper
When it comes time to shred your private documents, you may not realize that you can't destroy data beyond physical paper with an office shredder. Items that can contain confidential information include backup tapes, CD-ROMs, USB keys and hard drives. The fact is an office shredder will only shred paper sheets. PROSHRED® can destroy all of your documents, hard drives and other media material using our shred equipment.
2. The Office Shredder Will Not Completely Destroy Your Documents
An office shredder does shred your documents but it will only cut your documents into thin strips that can be taped or glued back together. When you team with us, you can be rest assured that all your documents are completely destroyed. Our equipment shred your material into small pieces which is then mixed with other destroyed documents.
3. The Office Shredder Takes Time Away from Your Work
Using a normal office shredder means you can only shred a couple of sheets at one time – 3 or 4 sheets. If you need to shred dozens and dozens of documents, it can take you or a staff member hours to destroy all private data. With PROSHRED®, we can shred hundreds of documents within minutes. You will be able to focus on your daily work tasks instead of shredding your documents by yourself.
4. The Office Shredder Does Not Save Money
If you are considering purchasing an office shredder, think it over before you do. An office shredder can not only be expensive to buy, you will have to deal with ongoing maintenance and repairs that can be costly for your business. We offer fair and reasonable prices with no hidden costs.
In addition, teaming with PROSHRED® for your shredding needs means you are working with an ISO 9001 Certified and NAID "AAA" Certified company. We also offer a variety of different shredding services. For more details, contact us at 1-87-PROSHRED.