March 2, 2017
How PROSHRED® Can Help Improve Your Security With Document Shredding
PROSHRED® Security Document Destruction & Identity Protection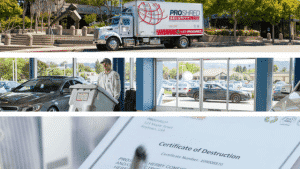 Document destruction and disposal of personal, confidential, and sensitive information is a vital part of your security. PROSHRED® Security document destruction can offer you this sense of security you need.
Many individuals like yourself have an abundance of private information, much of which can be disposed of. People often find themselves questioning what documents should be kept, and which should be disposed of. This frequently leads to built up piles of personal information that can easily be duplicated by identity thieves if not properly disposed of.
In order to avoid any personal security breaches and identity theft, PROSHRED® Security document destruction offers on-site secure shredding services. PROSHRED® gives you the peace of mind knowing exactly the files you should have destroyed so your information is not stolen or duplicated. Best of all, you are able to watch the entire process of destruction so you can be assured your personal information was handled in a professional and secure manner. Once the documents have been shred in our state-of-the-art trucks, customers receive a Certificate of Destruction as proof of secure PROSHRED® Security document destruction.
What Should You Dispose Of?
Now you might be left asking yourself, "Well what should I dispose of to avoid any confidential breach of information?" Well PROSHRED® is here to help you sort through those pesky piles of documents and make deciding what to keep and throw away as simple as possible.
In general, you want to keep physical copies of anything related to state or federal matters – certifications, licenses, deeds. Along with those important documents, you will also want to store:
Tax records and receipts (keep for at least 7 years)
Pay stubs and bank statements (keep for a year)
Home purchase, sale, or improvement documents (keep for at least 6 years after the sell date)
Medical records and bills (keep for at least 1 year)
Warranties and receipts (keep as long as you own the product or service)
Social security statements
Insurance policy statements
Retirement plan statements
Now that you know what to keep, organize your documents and store them safely. A good rule of thumb when deciding what is important enough to keep is thinking about how hard it may be to replace that information.
Shred Everything Else!
If you are able to easily replace information on documents you are unsure you need to keep, shred it! You should discard documents with personal information that include:
your name
address
phone numbers
social security number
bank account information
Everything else you can safely discard using PROSHRED® Security document destruction. If you would like more information about how professional document destruction can help keep your personal and confidential information secure, read about our document destruction services, and get in touch with us today to book a service!