November 2, 2020
Is Your Business Downsizing? Time to Shred!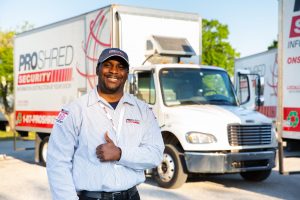 Most aspects of life look much different today than they did this time last year. Of those changes, one of the most significant is how companies have altered their office space as they shifted employees to remote work. 
Businesses across the country have reduced the number of people working in physical offices, and in turn, have downsized the amount of office space they are renting or using. 
With no sign of things returning to normal anytime soon, working from home appears to be here to stay for a vast number of Americans. 
And while remote employees have their own challenges of balancing work and home life, companies are left scrambling to clean up and get organized for a move to a smaller office footprint. 
The logistics of moving and getting rid of extra office chairs, desks, and other equipment can be time-consuming and stressful, but it's also a great time to think about purging nonessential paper documents that have been collected over the years. 
Reducing the amount of paperwork and files stored in office spaces, storage rooms, or even warehouses prior to a company relocation can be a game-changer for your business. To achieve this, it's important to understand your options and make sure that no matter how much you're getting rid of, your paperwork and other assets are disposed of in a way that does not expose your company's sensitive data. 
Keep Your Data Secure While you Move Offices 
Any time you print company information on a piece of paper, there is an inherent security risk. Businesses that understand complicated state and federal privacy regulations know that simply throwing out documents, no matter how outdated, creates a potential security issue. 
That's where shredding comes in as an integral step to the downsizing process.
Legally, "reasonable measures" must be taken when documents are disposed of to ensure there is no "unauthorized access to or use of the information," according to the FACTA Disposal Rule of 2005. Shredding is one of the best and most secure ways of disposing of documents so that information cannot be stolen or used to harm your business. 
To help keep businesses in compliance with privacy laws, PROSHRED® has developed a secure, convenient, sustainable and cost-effective way to destroy documents. From mobile shredding services that show up at your door to hard drive and product destruction,  PROSHRED® offers comprehensive shredding services to help ensure your downsizing efforts are handled securely and in compliance with the law. 
As you're moving to a new office or downsizing to a smaller space, schedule one or more of the following PROSHRED® services to meet your needs: 
One-Time Shredding Services
A one-time purge shredding service is perfect for businesses that are downsizing and want to get rid of large amounts of unwanted documents and papers quickly and easily. PROSHRED® shredding trucks are able to handle bulk loads of paper and destroy them so that they are unrecoverable.
Best of all, the process is entirely touch-free: our professionals never physically touch your documents, ensuring your confidential documents are securely destroyed.  
Hard-Drive Destruction
It's likely if you have a large number of documents to purge and shred, you also have old hard drives laying around that are vulnerable to theft and hacking if not properly disposed of. Simply deleting vital information from your computer or electronic device will  not erase the data from your hard drive. The only way to completely erase information from a hard drive is with a secure hard drive destruction service like the one offered by PROSHRED®. 
In a similar manner to our document shredding services, our mobile shred trucks are equipped to shred your hard drives right before your eyes, so you don't have to wonder if the process is truly secure. The shredded parts are also taken to electronics recycling centers for further processing, ensuring as little material as possible ends up in the landfill. 
Product Destruction
Like hard drives, products tend to accumulate when you've been in business long enough. From uniforms to promotional materials to identity cards and security badges, these items can not only create unnecessary clutter but pose a security risk if stolen or misplaced. 
PROSHRED® offers shredding for specialty items from x-rays to recalled products to branded apparel. If you have a large quantity of items like these that you need destroyed, our product destruction services are the best way to make sure you properly dispose of items that could compromise your company's reputation if they fall into the wrong hands. 
Purge Cleanout Shredding Services are Key to Downsizing Any Office
Cleaning out old documents isn't just another yearly dreaded office task; it's become a commonplace practice as businesses downsize and move to smaller, more manageable spaces. 
To make sure that your company is doing everything it can to securely dispose of documents that are no longer needed, schedule shredding services for your business. Call today for pricing and to learn more about our secure shredding process! 1-877-767-4733