April 7, 2017
Redishred Announces Acquisition of Long-term Successful Franchisee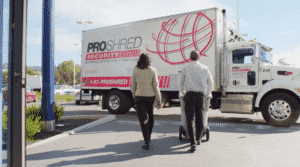 On April 1st, 2017 PROSHRED® Security made the announcement that PROSHRED® Northern Virginia has been acquired by franchisor Redishred Capital Corp. The Northern Virginia market has been served since 2008 under the leadership of Steve Theobald. PROSHRED® is excited about their newest acquisition of this well respected and stable franchise and will continue the level of service its customers have come to expect in the market.
The acquisition includes the location's four on-site paper shredding trucks, one on-site hard drive destruction truck, plant based shredding equipment, other equipment and client relationships throughout Northern Virginia.
"We are very happy to have the opportunity to own and operate a PROSHRED® location in this fast paced and growing market," Redishred CEO Jeffrey Hasham said about the acquisition. "Steve was a great franchisee and we are thankful for the solid base he built, that serves as the foundation for future growth."
Throughout the last nine years the Northern Virginia location has built a network of connections throughout the community. PROSHRED® will continue to foster these relationships including the partnership with the American Institute for Cancer Research.
PROSHRED® Security is a leader in the shredding industry with 34 locations providing services to 22 states. PROSHRED® shreds confidential documents and proprietary materials for thousands of customers in the United States in all industry sectors. As proof of document and hard drive destruction, PROSHRED® presents their clients with a certificate of destruction proving that in fact shredding of specific documents took place at the specified date and time. Once the materials have been shred, PROSHRED® recycles 100% of the shredding products and local recycling plants and landfills. Over the years, PROSHRED® has helped save millions of trees through their recycling initiatives. PROSHRED® is a pioneer in the mobile document destruction and recycling industry and has the ISO 9001 certification. It is PROSHRED®'s vision to be the 'system of choice' and provide shredding and recycling services on a global basis.