February 10, 2017
Let's Celebrate Valentine's Day Together!
Being single may not always be easy around Valentine's Day, especially when love (and chocolate) fills the air. Many may refer to Valentine's Day as "Singles Awareness Day." What better way to celebrate being single and mending a lonely heart than with a unique release of destroying any evidence of a relationship that has gone sour.
Singles Awareness Day is the humorous holiday that provides single people with an alternative to the lovey-dovey Valentine's Day celebrations. You might be thinking that Singles Awareness Day may suggest that single people are sad and lonely. PROSHRED® is turning this opportunity around for those who would like to celebrate the fact that they don't need a significant other to enjoy Valentine's Day.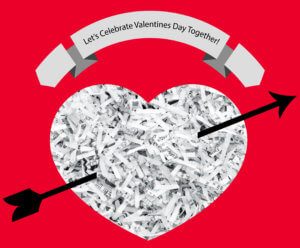 On the week of February 14th, 2017 PROSHRED® locations throughout the United States will provide shredding services to those who are ready to purge themselves of any past relationships and the items that have been held on too as a bad reminder for far too long.
What better way to rid yourself of all the debris that a rough breakup can leave in its wake. We believe that it's important to get rid of things that you are still clinging onto in order to create space for a better future without keeping memories of what used to be. And what better day of the year to do this than Valentine's Day.
You might be asking yourself. "What are all the things I am able to get rid of?" Well, PROSHRED® suggests purging yourself of items that include memories you no longer want to hold onto, whether that may be: letters, pictures, clothing, cd's, or hard drives containing unwanted memories. Virtually most items that you feel no longer has a sentimental purpose in your life can be destroyed.
Here`s How The Valentine`s Day Shred Works
Call 1-87-PROSHRED® or visit any of our locations if you are unsure as to what can and cannot be put through our shredding trucks to make sure you can rid yourself of your past. Our trucks can virtually shred almost any item you would like to throw away. Simply gather the items you would like to get rid of, stop by one of our many locations throughout the United States, and watch as our truck destroys all the unwanted items quickly and efficiently.
After all your no longer wanted belongings are fully shredded and destroyed you will receive a certificate of destruction as proof that you were able to put your past behind you, and enjoy Valentine's Day with the satisfaction of knowing you no longer have to see any evidence. 100% of our items are recycled at a local recycling facility, so rest assured that you are not only doing yourself a favor, but a favor for the environment as well!
So Join Us For A Second Date…
During the month of February, any returning customers who shred with PROSHRED® locations will receive a free $20 gift card for coffee, on us!*
*Promotion valid only at selected stores (Albany, Charlotte, Milwaukee, New York, Miami, Fort Lauderdale, and Syracuse)