September 20, 2016
3 Reasons Why Your Albany Business Should Have On-Site Document Shredding Services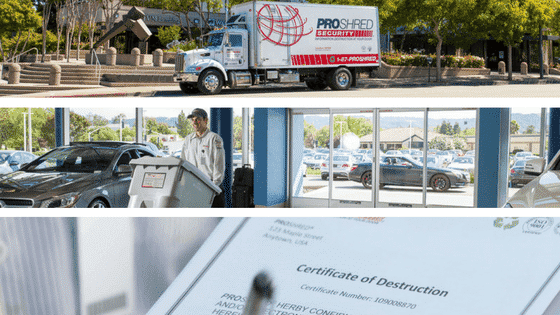 With a population of nearly 100,000, the city of Albany consists of hundreds of different kinds of organizations, such as technology companies, law firms, medical offices and non-for-profit businesses. Each Albany business creates, shares, and accumulates sensitive information that's needed in day-to-day work tasks. In fact, without business information, a company may not have what's needed to remain successful; it's essentially the lifeblood of any company. Once your paperwork starts to pile up, it can quickly cause clutter and disorganization, which can lead to security issues. On-site document shredding services provide the best way to safeguard your business data.
Here are 3 reasons why your Albany business should turn to on-site document shredding services:
1. Saving You Time and Money
PROSHRED's on-site document shredding services will save your business valuable time and money. Our mobile shred trucks are equipped with the highest quality shred technology on the market today. All of your documents will be destroyed within just minutes and all shredded paper is mixed with other destroyed paper, thus making it impossible for your information to be recoverable. In addition, our service prices are more than reasonable and affordable.
2. Maintaining Compliance
By teaming with PROSHRED, your Albany business will stay in compliance with state and federal laws and regulations, such as HIPAA, HITECH, FACTA and GLBA. After completing a shred job, your business will be given a Certificate of Destruction which details that all of your business data was professionally destroyed.
3. Contributing to a Greener Environment
As a professional shred provider, we believe in keeping the environment as green and healthy as possible. It's important to our team, and giving back to the local economy is something we stand by. Unlike other shred companies, our guarantee is that we will take all of your shredded paper and bring it to a local paper mill where material is recycled and new paper products are created.
For additional information on how PROSHRED's on-site document shredding services will benefit your company, contact us today at 1-518-512-0321.