January 1, 2018
January is "Clean Desk Month" – Do It Right!
Make 2018 The Most Secure Year Yet!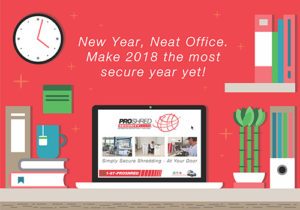 The New Year always brings opportunities to start with a fresh slate. It's standard practice to form resolutions to improve our habits, lifestyle, and organization. As you pen your New Year's resolutions, don't forget to add: privacy protection. January is the perfect time to improve the way you handle personal and business data disposal and effectively reduce the amount of clutter in your office space.
When it comes to a task as important as protecting confidential information, complying with a clean desk/no clutter policy using a shred-all strategy is the best method. It's important to remember to not be passive as lose or lost records can be dangerous and costly. A practical and effective way to ensure security and cleanliness is to work with a professional data destruction company such as PROSHRED® Security. We are NAID and ISO certified and provide an easy friendly service that you can count on!
How can a certified data destruction company help you?
Using PROSHRED® Security with a "shred-all" strategy to destroy confidential information is far more effective than relying on employees to choose between the waste bin or the locked security shred container. Not only is it the only 100% security policy, but it will save you the time separating documents or feeding the noisy, dusty office shredder.
Our main goal at PROSHRED® is to give our customers total peace of mind with an ease of doing business that has earned us a 94% referral rate. Companies and individuals deal with documents that contain confidential information on a daily basis. These documents can be mishandled or disposed of improperly, and too easily we read how they end up in the wrong hands. With a certified on-site shredding company such as PROSHRED®, you can simply place your documents in one of our secure containers and we will shred the documents right in front of your eyes! Finally, partnering with a document shredding company for secure document disposal makes it easier for employees and individuals to adopt a clean desk procedure that supports privacy, security, and the overall confidentiality of information.
Call your local PROSHRED® Security location or call us at 1-87-PROSHRED so we can help you stay secure this year!