September 8, 2017
Paper Shredding Services That Work For Everyone
Paper Shredding Services That Work For Everyone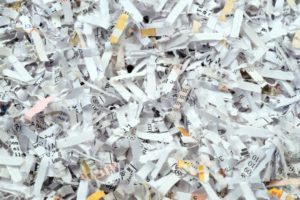 With the landscape of the modern workplace changing constantly, PROSHRED® recognizes that many businesses have different needs at different capacities. This is why we offer so many different hard drive and paper shredding service options, including purge, recurring, on-site, and hard drive service options. We offer paper shredding services that will work for anyone, no matter what your situation may be. Here is a quick rundown of some of the paper shredding services we offer:
Scheduled paper shredding is an ideal solution for businesses and organizations that constantly deal with sensitive information, and which truly value keeping their and their customers' information confidential. Our team will come to your workplace to install locked disposal bins. From there we will show up at your office periodically to empty and shred any paper documents in the bin. We will even destroy the papers right on site for you to witness.
One-time shredding services are excellent for businesses looking to test the waters of using a dedicated shredding service. Our one-time shredding services are offered on a drop-in basis, as well as by scheduled on-site appointments. This service is designed for businesses or residents who need a single clean-out (also known as a purge). Our one-time services are affordable and effective.
Drop-off services are specialized for businesses and government organizations; however we welcome all clients to visit our plant to drop of their documents for destruction. It is common for some clients to bring in small quantities of documents to our secure, state of the art shredding facility. We have branches and offices across the country. Find out which one is closest to you!
We also offer highly secured and effective hard drive shredding solutions. With computers becoming an increasingly critical role in the office, it is important to ensure that information stored digitally is disposed of safely and securely. Sometimes it is possible for hackers to retrieve data from hard drives that have "failed", or even if the files were deleted before disposal. We offer this service on a drop-off and on-site basis just as we do with our paper shredding services.
PROSHRED®'s highly secured destruction services are also environmentally friendly! With our certified paper shredding services, 100% of the material is recycled and turned into new paper products following destruction. In fact, we even provide customers with TreeSaver certificates at the end of each year which indicate the total number of trees saved by choosing us to shred your documents.
If your business is considering using a dedicated paper shredding service for your next clean-out or is looking for a committed service provider on a regular basis, contact the only secure on-site shredding company that meets ISO 9001 certification standards. We also serve residential clients! Contact one of our many branches today. 1-87- PROSHRED®