August 29, 2017
PROSHRED helps victims of Hurricane Harvey
PROSHRED® will donate a portion of its proceeds to help the victims of Hurricane Harvey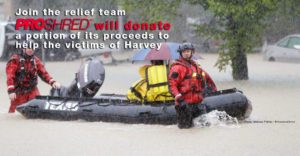 Over the past few days, Hurricane Harvey hovered over Houston dumping 20 to 30 inches of rain on already saturated streets, killing people and prompting evacuations of apartment complexes and dramatic rescues.
This situation has profoundly affected the PROSHRED® family not only because we provide services in the area through our Franchisee PROSHRED® of Houston but also because our customers and employees have been deeply affected. Our CEO, Jeffrey Hasham stated: "We worry for those who are still in peril, and we wish they find safety as soon as possible. We certainly hope that the rains stop and the waters subside in short order. Once that happens, we know that the great people of Houston will not only persevere but be stronger than ever before. Texas's community is facing an incredible devastation and we all need to help".
PROSHRED® is committed to supporting Texas's communities by donating a portion of its proceeds to the victims of Hurrican Harvey.
If you want to make a bigger and faster impact, please consider donating funds.  Visit any of the following organizations to make a direct donation:
We thank you for your contribution in advance.