July 6, 2017
Protect Yourself this Summer with PROSHRED® Security
Enjoy Your Summer Vacation and Let PROSHRED® Keep You Safe
Summer is a great time to relax and enjoy your much needed vacation. It's also a time when identity thieves and burglars get busy targeting empty homes and businesses hoping to score valuable data.
While we may be getting better about protecting our information regularly, many times we are all too willing to toss our safe practices out the window when we're planning a vacation. According to ProtectMyID, 39 percent of the respondents surveyed have become victims of identity theft while traveling, or know someone who has.
So now you're left wondering how you can protect yourself from identity thieves while on summer vacation? PROSHRED® Security is here to help provide you with the tips you need to stay safe!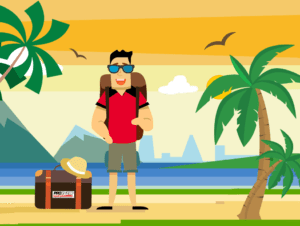 Suspend Mail and Newspaper Deliveries
Identity thieves and burglars will often target a home where mail and newspapers pile up. This is one of the most obvious signs that no one is home. This also presents thieves with the chance to go through your mail and steal any personal information. Call your post office and local newspaper to suspend your delivery, or ask a neighbor to collect any mail that is delivered to your home while you're gone.
Keep Quiet on Social Media
Announcing to the entire social media world that you're on vacation is very tempting. However, this is an invitation for a thief to enter your home. Posting to social media that your home is unattended puts everything inside it at risk. Avoid the temptation to post on your social media while you are gone.
Contact Your Credit Card Companies
You should alert your credit card companies to where, when, and how long you will be on vacation. Doing so will help fraud departments stop any bogus charges before they get out of hand and this will also help reduce the risk of your card being declined due to any unusual activity.
Be Careful Surfing on Public Wi-Fi Spots
Hackers may be able to access public networks and see any information you are sending over that network (including bank account numbers, logins, and passwords). Try skipping wi-fi while traveling, unless you are using a VPN (virtual private network).
Be Cautious When Swiping Your Credit or Debit Cards
From as stations to ATM's, skimmers are on the prowl for your personal information. Credit and debit card skimmers are portable capture devices used by thieves to record you typing in your PIN number. In order to reduce your risk, always inspect the card reader and area near the PIN pad (try pulling at the machine and comparing it to other machines. If it looks different or the parts come loose, avoid using these machines). Primarily use your credit card since it offers better protection than your debit card and the money won't immediately come out of your bank if there is an issue.
Shred Travel Documents Containing Sensitive Information
Once you are back from your vacation it is best that you shred any of your travel documents after they are used. These documents contain personal and sensitive information that you would not want any thieves getting their hands on. Call us today to book your shredding service.
Taking reasonable precautions while on vacation won't just keep your identity safer this summer, it will also give you the peace of mind so you are able to focus on enjoying time on summer vacation with your family and friends.