July 6, 2020
How to Choose a Shredding Company Near You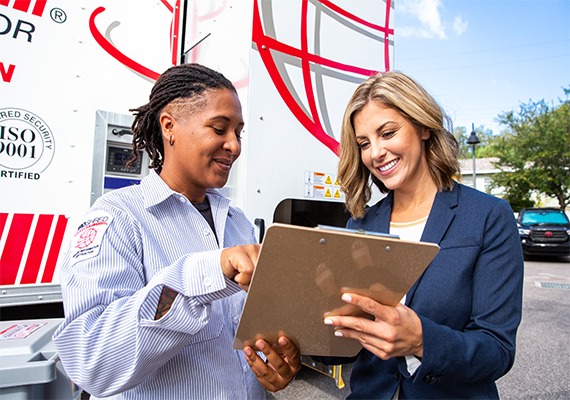 Protecting your sensitive information is a top priority for most businesses. However, even if you have a thorough cybersecurity plan, it still should be paired with equally effective physical security. Data thieves target sensitive paper documents at least as much as digital ones, and often with greater ease. In hospitals, for example, hard copy records (including paper and film) are the most common location of data breaches.
No matter whatever your industry is, your employees can put your company's information at risk for a security breach, intentionally or unintentionally, through the careless handling of hard copy records. Document shredding companies provide security against this growing threat of data breaches. But for the best results, shredding services should use the most sophisticated means of destruction, whether for paper or hard drives. In addition, they should meet certain other factors, such as following security procedures and privacy laws.
Here, we list the top 13 things to consider when choosing a local shredding company. Looking for a company that has these traits will help you choose the best shredding service provider with the right equipment, protocols, and services to ensure your sensitive information stays out of the wrong hands.
1. Understands Compliance Laws
Each industry has its own security and privacy regulations. A good document shredding company understands the range of regulations that apply to your industry and their significance. Whether you're in the legal, financial, healthcare or any other industry, ask a shredding company about their knowledge of your area.
2. Good Hiring and Staff Training
Since shredding companies handle your sensitive information themselves, they must hire trustworthy individuals to carry out the work. Ask if the company conducts background checks and thorough training of employees. In addition, look for a shredding company with ties to the community so you know that they and their employees understand your needs as a customer.
3. NAID AAA Certified
It's important to know that your shredding service provider knows and follows all current best practices for information security. NAID® is the standard-setting body in secure data destruction, and they offer certifications. Look for a company that is at least NAID AAA certified. You can usually find the NAID badge on their website.
4. Secure Shredding Start to Finish
Document shredding should be a secure process, and therefore your materials need to follow a secure chain of custody from collection to destruction. This means, your employees place sensitive materials into a secure bin or console, then you can watch the steps as they are gathered and destroyed on site. The professionals conducting the service should also limit access to the shredding equipment, documents, and waste material to ensure protection all the way to the end of the process.
5. Certificates of Destruction
A reputable shredding company should provide you with a certificate of destruction after completing the job. This service report for your records proves that your materials were properly destroyed in accordance with security best practices and applicable compliance laws.
6. On-Site and Off-Site Service
Depending on what's most convenient for your business, you may want to choose between on-site or off-site shredding. On-site shredding services can help limit the misplacement of documents along the way and gives you visibility into the process. That said, businesses with work from home employees may need a more flexible option, in which case you can arrange for off-site shredding on a regularly scheduled or one-time basis. Another option is to hold a shredding event, which can provide private or community access to mobile shredders to safely destroy a large quantity of papers and other materials.
7. Accepts Different Materials
Confirm that the shredding company you choose can handle all of the different kinds of sensitive materials you use in your business. This may include paper documents, but also folders, binders, proprietary products and other digital media like disks and hard drives.
8. Recycles Waste
The waste you create from shredding can impact the environment, and this is especially true for e-waste from electronics and hard drives. Ensure that your shredding service recycles waste responsibly so that you can count on green services that boost your corporate sustainability and help the planet.
9. Transparent Prices
Another sign of a trusted local shredding service is that their prices are competitive for your area. Be wary of hidden fees, such as fuel surcharges, environmental fees, console delivery charges, or parking fees in large cities. Also ask about any customer loyalty programs, which can save you money over the long run.
10. No Long-Term Contracts
Recent events like COVID-19 show how life can change quickly for businesses. You don't want to get stuck in a shredding contract at the wrong time. Ideally, your shredding company should offer flexible service agreements or, even better, no contracts.
11. Trusted Reputation and Reviews
As with any vendor you hire, you should thoroughly investigate a shredding company's reputation. Check references and reviews for red flags like missed appointments or underserviced accounts. Also, get a sense for the company's mission and goals by taking a look at their company history, corporate social responsibility and charitable giving on their website, and note whether they have locally based staff and resources who are more likely to deliver personal customer service.
12. Environmentally Friendly
More and more, companies realize that keeping the natural environment in mind when making business decisions helps to preserve resources for us all, saves money, and makes a positive impression on customers. Take time to ask your prospective shredding service whether they not only recycle the paper they shred but also take other measures in the interest of the environment, such as having green loyalty programs.
13. Customer-Driven Solutions
Your shredding needs today look different than they did five or ten years ago, and they will continue to evolve. As technology (new forms of media storage) and workplace habits (such as working from home) change, a shredding service must listen to their customers to understand their evolving needs. Look for a company that goes beyond document destruction by offering document scanning and other services that can help your business manage and protect its information.
When Choosing a Local Shredding Company, PROSHRED® Checks all the Boxes
When you're looking for a shredding company in your area who meets these 13 criteria, the one to trust is PROSHRED®. We have extensive shredding industry knowledge, including for business and residential services, with a trusted reputation built over 30 years of service. Our locations around the country are locally owned or managed by service providers who represent and care about the communities they serve. More reasons to choose PROSHRED® include:
Multiple industry certifications (ISO 9001 Certified by NSF-ISR & NAID AAA)
Secure process with certificates of destruction available for mobile, scheduled, one-time and other shredding services
Good recycling practices and TreeSaver certificate
Ability to shred hard-drives and products, as well as paper
Document scanning capabilities
Help reviewing a contract that you're stuck in currently
Easy and flexible scheduling on your terms
No surcharges, contracts or hidden fees
A Preferred customer program for scheduled customers
A Green Loyalty Program that has saved more than seven million trees
Services and solutions that customers truly need
If you're ready to get started, find your nearest shredding location, or contact us today to request a free quote.
To see how PROSHRED® services stack up against the competition, view the chart below.