July 26, 2023
Advantages of Using Shredding Services Over an Office Shredder
When it comes to running a business, documents, and papers tend to pile up over time, and need to be disposed of. Doing this task yourself might be what comes to mind initially. You may have an office shredder available to shred the documents you no longer need, but this is not always the best option.
Many business documents contain information that is confidential and needs to be properly disposed of. Simply shredding these documents in an office shredder isn't enough when the means of data theft are becoming more advanced over time. Whether your business is big or small, it is important for you to be in accordance with privacy laws, so proper disposal is vital to comply with them. By hiring a shredding company, you can eliminate security risks.
PROSHRED® San Francisco has had years of experience in the community developing a paper shredding service you can count on. We strive to ensure your private information is safe from security breaches, and that our process complies with the laws and acts in place. If you're in need of disposing of confidential documents, there are several advantages to hiring our company in place of using your own office shredder for business shredding.
Secured and Certified Paper Shredding
We understand the importance of confidential paper shredding, as it protects your business' security and reputation. Part of our services include onsite paper shredding, to guarantee the most secure shredding process available and for you to be able to witness the destruction process in person. You'll even receive a Certificate of Destruction afterwards for physical confirmation of the destruction of the documents.
In order to bring you the most secure shredding services, we value the importance of adhering to privacy laws and acts, and having proper certifications. We are one of the only paper shredding companies to be ISO 9001 Certified by NSF-ISR, and we are audited regularly. Our dedication to our certifications and to complying with the laws and regulations is important to us, and we are proud to provide ultimate security to businesses, law firms, and medical practices.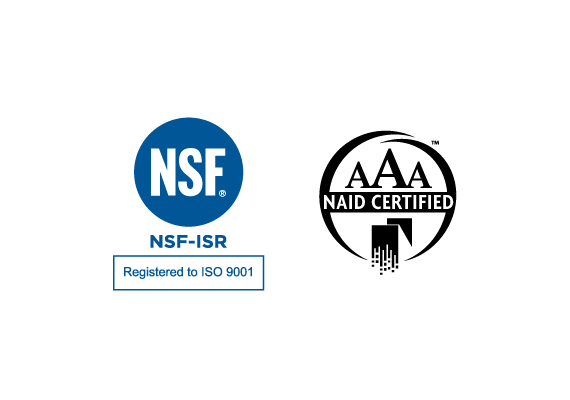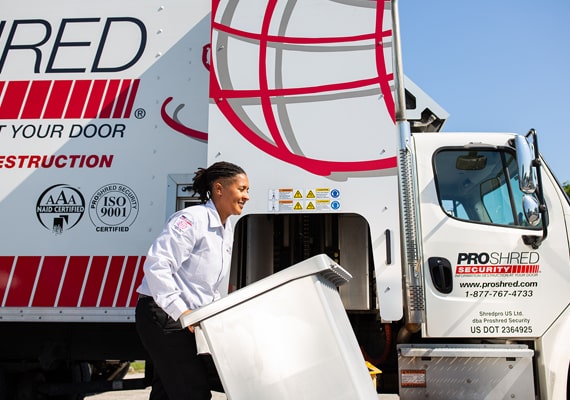 Affordable and Convenient Disposal
Some problems with doing your own document shredding are the inconvenience and the cost of it. Allowing unneeded documents to pile up is a problem within itself, by being a security risk and also taking up space in your workplace. Excessive use of the shredder in your office can also lead to it having complications or even breaking, and it's costly to repair or replace it. This takes up more of your work time, making your workday much more hectic.
Using PROSHRED® San Francisco for your business shredding needs can save you time and money. Our flexible services can be a one-time purge appointment, or a regularly scheduled event, and there is no costly contract required for it. With our mobile shredding trucks, you don't have to take time out of your work day. We'll come to your workplace to shred your documents efficiently and securely. By providing high-quality bins and consoles in your office for your unneeded documents, we can transport these conveniently out to our mobile trucks when they arrive.
Environmentally Friendly
It's likely that there isn't much time in your workday to take your shredded materials to a recycling center, and not every shredding company has recycling options with their shredding services. With a large bulk of materials being shredded, though, it would be beneficial for them to be recycled.
At PROSHRED® San Francisco, we value the importance of preserving the environment. This is why we partner with recycling centers throughout the region to use your shredded materials in an environmentally friendly way by recycling 100% of them. When you schedule services with us, you receive a TreeSaver Environment Certificate annually to show you how many trees your company has saved through partnering with us. Your shredded paper contributes to recycled materials such as paper towels, copy paper, and tissue paper.
Trust Your Documents With PROSHRED® San Francisco
Our team at PROSHRED® San Francisco understands that your business' security is vital, your time in your workplace is valuable, and that shredding your documents on your own can be a costly hassle with significant risks. Our main goal is to protect your confidentiality and your business's reputation with affordable business shredding. With no contract or hidden fees and flexible scheduling, our trained, certified team will come to you to provide a highly secured service for your shredding needs. Call us today for more information, or to schedule a service!