San Jose Shredding Services
When you need San Jose paper shredding services, look no further than PROSHRED®. We are the ideal choice for document destruction, hard drive shredding, and other secure information destruction services. Our team is trained and certified to take care of your confidential data and make sure it never ends up in the wrong hands. Stop wasting time and money with small, inefficient office shredders and give us a call today!
San Jose Paper Shredding Services
Companies and organizations in all industries can benefit from our secure San Francisco paper shredding services. Old tax documents, receipts, credit card statements, outdated medical records, and closed client files are just a few of the items that need to be cleaned out on a regular basis to protect you, your employees, and your customers from identity theft and fraud. From one-time pick up services to regularly scheduled shredding, we offer a paper shredding plan that can be customized for everyone.
When you are cleaning out an office or a warehouse and need a lot of documents destroyed fast, we can bring a mobile shredding truck to your location to dispose of them. Our trucks are equipped with industrial shredding machines that can shred thousands of documents in a matter of minutes. No more loading up boxes and boxes of papers to transport to your local recycling facility; we can come to you for bulk shredding services that will put your mind at ease.
If your business is constantly creating new files and needing to get rid of old ones, a San Jose regularly scheduled shredding program might be the perfect solution for you. Our ongoing paper shredding services can be done on a daily, weekly, or monthly basis, whatever fits your needs. We will provide you with secure shred bins, which your employees can use to store their unwanted documents in between pickups.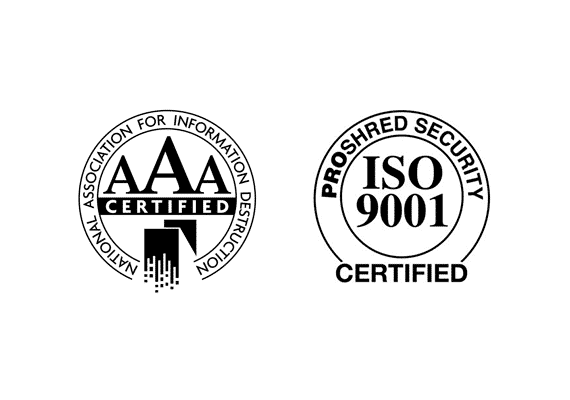 Maintain Compliance with PROSHRED®
Whether you utilize our mobile shredding truck service or bring your documents to us at our local drop-off shredding location, you can be sure you are doing the best thing to protect your sensitive data. We are a NAID AAA and ISO 9001 certified shredding company, which means we are up to date and follow all applicable laws and regulations for secure information destruction. Security and client satisfaction are our top priorities, and we maintain these standards so that you will never have to worry about being out of compliance with privacy and data protection laws like HIPAA, FACTA, or GLBA.
Our Mobile Shredding Process
Since the company's inception over three decades ago, PROSHRED® has been a leader in innovation for the shredding industry. Our San Jose mobile shredding trucks are a testament to that, as we were one of the first shredding companies to offer this convenient service. When we pick your documents up for shredding, the entire process is touch-free. One of our trained Customer Service Professionals will empty your shredding bins into a large bin that will be loaded onto our truck with a mechanical arm. Once the documents are inside the shredding machine, you will be able to watch the process through a closed-circuit monitor on the side of the truck. When the service is complete, we will provide you with a Certificate of Destruction, which serves as legal proof your documents were disposed of properly.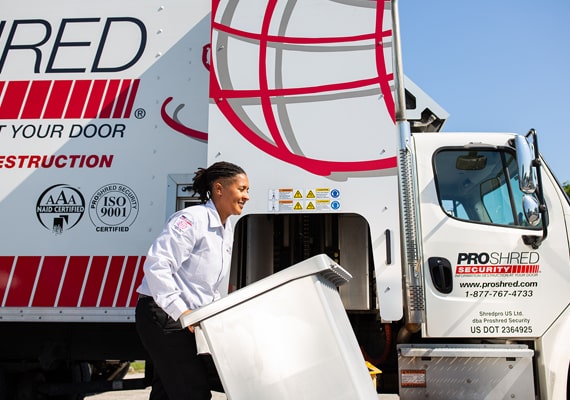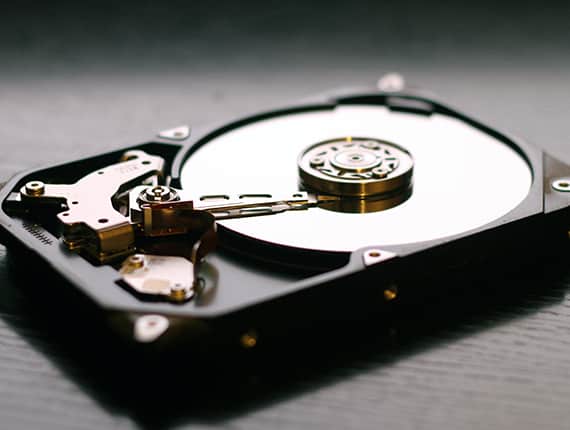 Safeguard Data with San Jose's Hard Drive Destruction
Paper documents are not the only medium that can pose a threat to your business or organization unless properly destroyed. Even if you have formatted or wiped your old hard disk drives, traces of your data still remain. Old hard drives that have not been completely destroyed via a shredding process can be accessed by thieves wishing to do you or your business harm. That is why it is important to hire a certified shredding company to dispose of your digital information completely with an environmentally friendly process. All of the scraps from our San Jose hard drive destruction services are sent to a secure electronics recycling facility for further processing.
Get Secure, Convenient San Jose Shredding
From document shredding to hard drive destruction to product destruction, we can help you strengthen your information security program by securely disposing of your unwanted items. We also offer IT asset management and disposition services for an all-encompassing program for recovering value from your current assets while maintaining security. If you have questions about any of these services or wish to schedule a San Jose shredding service, give us a call today!
San Jose, CA Shredding Services
On-Site Shredding San Jose, CA
Scheduled Shredding Service San Jose, CA
One-Time Shredding San Jose, CA
Hard Drive Destruction San Jose, CA
Legislative Compliance
HIPAA Compliant
HITECH Compliant
GLBA Compliant
FACTA Compliant