Business Shredding
PROSHRED® San Francisco Bay Area Shredding
Why is Paper Shredding Important for Businesses?
Paper shredding is the only way to guarantee business and personal information is protected from unauthorized individuals, eliminating the risk of identity theft and data breaches. Paper shredding also ensures your business meets state and federal legislation.
Privacy laws affect both small and large businesses in the San Francisco Bay Area. Using a professional paper shredding company, such as PROSHRED® ensures you are protected against outside threats to your confidential information.
Throughout the years, PROSHRED® San Francisco Bay Area has developed a paper shredding and recycling process that is convenient, affordable, eco-friendly, and 100% secure. Destroying your confidential documents ensures your private data is safeguarded, you are maintaining legislation compliance, and you are avoiding potential security breaches that could create negative publicity.
Secure Paper Shredding Services
PROSHRED® San Francisco Bay Area understands the importance of protecting your business's security. This is why we have developed the most secure paper shredding system in the nation. With our on-site corporate document shredding, you are able to completely destroy your sensitive materials and protect your company's confidential information.
For over 20 years, we have been providing paper shredding services to businesses across the San Francisco Bay Area. We are proud to be among the only paper shredding companies in the industry who are ISO certified, representing our dedication to high standards and quality service.
Our paper shredding process guarantees ultimate security. Unlike other shredding companies who take documents off-site for shredding, we perform your paper shredding conveniently and professionally at your location. Completing on-site document destruction reduces the risk of a security breach. After each service, you will receive a Certificate of Destruction which documents and confirms your materials were properly shredded and destroyed. To provide even more security, our shredding professionals will not leave your premises until the paper shredding process is 100% complete.
Our friendly staff is highly trained, bonded and uniformed, and all carry picture identification. They are committed to providing you with the most secure and professional customer experience possible.
Convenient Paper Shredding for Businesses
Our ultimate goal at PROSHRED® San Francisco Bay Area is to create a convenient paper shredding system for your business. Included in each on-site shredding service are free security consoles that are strategically installed throughout your facility. This gives employees an easy way to discard confidential information.
Typical office shredders can be time-consuming and messy. With our paper shredding services, there is no need to remove paper clips or staples. You can simply place bulk papers into the security console and let us handle the rest!
We work with your business to develop a system that not only meets but exceeds your needs. Whether you need your confidential papers serviced weekly, bi-weekly, or monthly, we have a solution for you! Additionally, we don't hold our clients to contracts, so if your needs change, we can easily adjust our service schedule.
If you have a need to shred files that you have accumulated in storage, PROSHRED® San Francisco Bay Area's purge shredding business can be handled either in conjunction with regularly scheduled services, or during special one-time shreds.
PROSHRED® San Francisco Bay Area offers several locking security consoles and containers to choose from. We will help you make a decision based on your logistical requirements and which one is most convenient for your staff. We also shred more than just paper, including proprietary products, electronic media, and various other materials.
With state-of-the-art shredding trucks and highly-trained professional staff, we efficiently and conveniently shred all materials on-site, providing guaranteed security for all of our customers.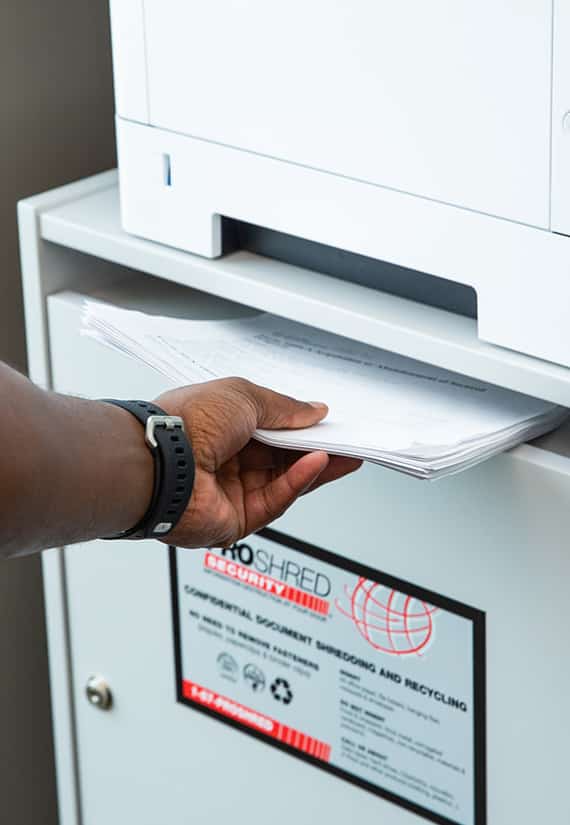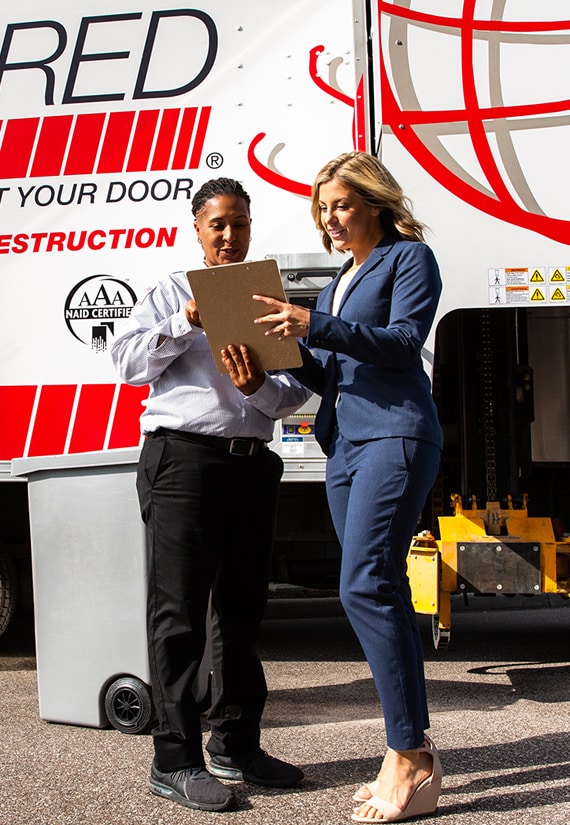 Affordable Shredding Services
One of the greatest parts of our paper shredding services is how affordable they are. We did the research and we discovered that on-site document shredding can save you more than 25% compared to in-house shredding systems. In addition to saving money, outsourcing your paper shredding creates more time for your employees to focus on their primary job because they are not having to shred documents themselves.
Our pricing policy is simple and based on a negotiated service frequency. Other shredding companies will charge you based on weight or time, but PROSHRED® San Francisco Bay Area is dedicated to providing you with consistent price each month. This guarantees there are no surprises and you can budget in advance. You will not find a company like our anywhere else in the area. It is our goal to provide San Francisco Bay Area businesses with professional and secure paper shredding services at a great value and affordable rate.
Compared to recycling and off-site or in-house shredding programs, PROSHRED® San Francisco Bay Area's professional on-site shredding system for business provides both the best value and the most secure shredding service available in America.
In helping find and deliver the most secure shredding services for our clients we offer free consultative estimates and do not require our clients to sign contracts. We are happy to set up a contract with you to help meet legislative or corporate requirements, but we don't expect our customers to sign a contract. Our philosophy is that if we are not truly serving your needs, you don't deserve to be bound to us.
Eco-Friendly Paper Shredding
At PROSHRED® San Francisco, we believe that everyone has a role in protecting our environment. Therefore, as part of our environmental commitment, we recycle 100% of the paper we shred. Security is not the only aspect we take seriously. As your trusted partner in corporate responsibility, together we are making a positive difference to the well-being of our nation's environment.
Each invoice we send will provide the cumulative tally of mature trees you have saved by using shredding services. At the end of each year, we present you with a TreeSaver Environmental Certificate showing the total number of trees your company saved throughout the given year.
PROSHRED® San Francisco's shredding service provides you with the most secure document destruction and recycling program in the U.S.