Fremont Shredding Services
What do you think is the most important thing that you can do to protect your company's confidential information? If you think that your answer is by shredding all of your old documents and hard drives, then you are absolutely right! It is time to stop dumping all of your papers in the trash and start calling the professionals a PROSHRED®. Our Fremont shredding services are perfect for businesses in any industry that face concerns about information security.
Why Team with PROSHRED® SFBA?
Drop-off document shredding services for residents in need of secure destruction solutions
No need to move any documents and records offsite; we come to your location
No "hidden" fees for fuel and no additional trip fees; we offer one standard price
Mobile document shredding services that are specific to your business
Secure document collection bins and consoles are provided free of charge, to your business
About Our Fremont Paper Shredding Services
Whether you own a small business or run a large financial institution, the daily activities of your employees likely generate a lot of paperwork. Some of that paperwork can easily be discarded in the recycling bin, while other documents contain sensitive information that shouldn't be handled lightly. If your office is still using old shredding machines to get rid of this information in-house, you're likely taking employees away from more important tasks. And unfortunately, office shredders tend to only create long strips of shredded paper that could be pieced back together by an industrious data thief. With all of these potential information security threats, combined with a loss of productivity, it's important to explore your options for secure data disposal in Fremont.
At PROSHRED®, we offer secure on-site shredding services to institutions of all sizes, and even residents who need our services to dispose of sensitive information. We send a mobile shredding truck right to your location for convenient shredding of all of your paperwork, no matter the amount you have to shred. Our Fremont mobile shredding services can be broken down into two main categories: ongoing shredding and purge shredding.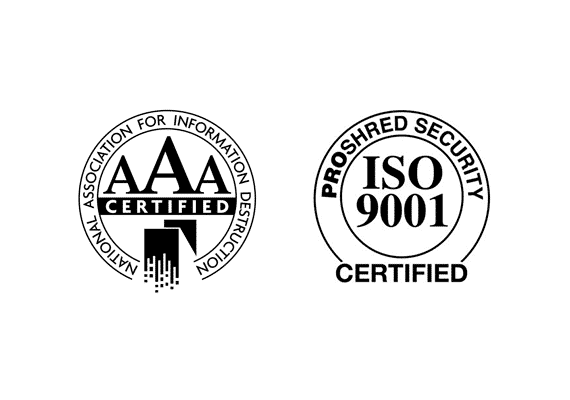 On Going Shredding in Fremont
Ongoing shredding is exactly what it sounds like. With this service, we set up a recurring appointment time for us to come pick up your documents to be shred on-site, whether that's on a weekly, bi-weekly, or monthly basis. We'll even provide you with secure, locking storage bins for employees to dispose of documents in between services. For regular Fremont paper shredding at your door, PROSHRED® is here for you.
Purge Shredding in Fremont
For companies and residents who need less regular shredding, PROSHRED® offers Fremont purge shredding services. This service is perfect for when you're performing an annual or seasonal cleanout of your offices or warehouse and need to get rid of a lot of documents both quickly and securely. One of our Customer Service Professionals will show up at your location wearing a branded uniform, and you can watch the entire process take place from start to finish.
Schedule Fremont Hard Drive Shredding
Fremont paper shredding is not the only service we provide. Hard drives also need to be disposed of carefully, not only due to the nature of the item, but also due to the sensitive information hard drives can contain. There are many online tutorials about how to wipe a hard drive of its data or how to destroy the physical hard drive, but most of these hard drive destruction methods are both unsafe for an untrained individual to perform, as well as potentially ineffective at protecting confidential information. At PROSHRED®, we use a state-of-the-art shredding machine that can effectively destroy hard drives without any risk to personal safety. Our Fremont hard drive shredding service renders information that was once contained on a hard drive completely irretrievable, and all of the parts and pieces are then recycled and repurposed.
Trust PROSHRED® For Your Fremont Shredding Services
Don't leave your information security up to chance. With Fremont shredding services from a ISO 9001 and NAID AAA certified shredding company like PROSHRED®, you can rest assured that your confidential documents and hard drives will be securely shredded right on site. For more information about our services or to schedule an appointment, contact us today!
Fremont, CA Shredding Services
On-Site Shredding Fremont, CA
Scheduled Shredding Service Fremont, CA
One-Time Shredding Fremont, CA
Product Destruction Fremont, CA
Legislative Compliance
HIPAA Compliant
HITECH Compliant
GLBA Compliant
FACTA Compliant