San Mateo Shredding Services
At PROSHRED®, your information security is our top priority. We offer San Mateo shredding services that fit your schedule and your budget, and specialize in mobile shredding, where our secure shredding trucks pull right up to your door to destroy all of your documents before we leave your sight. Our convenient and accessible services are designed to fit your needs, no matter your industry or the size of your business.
Secure San Mateo Mobile Document Shredding
There is nothing more convenient than secure shredding right at your door. Our mobile shredding trucks are equipped with industrial shredding machines that can destroy thousands of documents in just a few minutes, taking what would otherwise be a days-long process and shortening it to under an hour. When you need shredding on an on-going basis, our regularly scheduled shredding services fit the bill.
We will provide you with secure shredding bins or consoles that you can use to store your documents in between pickups, and when it comes time for shredding, one of our trained Customer Service Professionals will drive a truck to your location and pick up your documents in a touch-free process that keeps your sensitive information completely secure. A mechanical arm will lift the shredding bin up and dump the contents into the shredding machine, which in turn creates tiny particles out of your sensitive papers.
Our mobile shredding trucks are a great solution to not only on-going shredding needs but also when you need a quick office cleanout. Instead of packing up documents into cardboard boxes and loading them into a car for transporting to a recycling facility, we can take care of everything for you. High-powered and efficient, our San Mateo mobile shredding trucks can turn your papers into particles so small, they can never be pieced back together. For infrequent shredding, we encourage residential customers and small businesses to use our drop-off shredding services or attend a free community shredding event.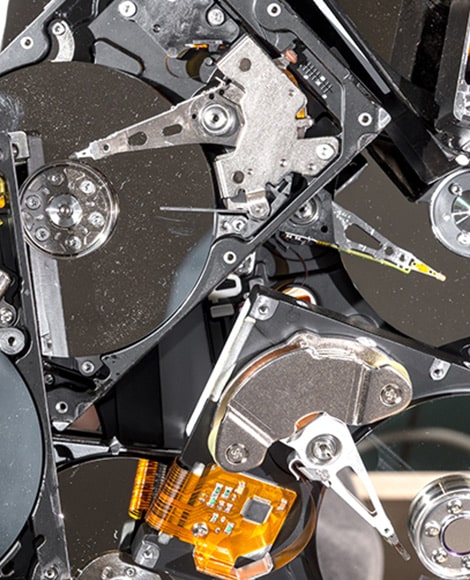 San Mateo Hard Drive Destruction
Long gone are the days where companies stored sensitive information only on paper documents. Today, a large number of files are being stored on hard drives. This easily accessible method of storing information is great for companies and employees, as it cuts down on printing costs and increases efficiency, but also comes with its own inherent security risks.
When you are ready to dispose of your old hard drives, don't assume that wiping them is enough to get rid of the important data they store. Hard drives can still retain their data even after files have been deleted, so it is important to use a San Mateo hard drive shredding service like the one provided by PROSHRED® to keep your data out of the hands of thieves who wish to commit fraud or other nefarious activities. We can make sure the data on your old hard drives is unrecoverable and recycle the shredded materials.
Your Trusted San Mateo Shredding Company
At PROSHRED®, we maintain NAID AAA and ISO 9001 certifications to ensure that our data destruction processes stand up to scrutiny. We follow all applicable information security and data destruction laws so that you don't have to worry about remaining in compliance with these regulations. We uphold a strict training program for all of our staff, and work to inform our customers about our San Francisco paper shredding procedures to maintain a transparent process. We never charge fuel surcharges or other hidden fees and will work with you to develop an information security plant that fits your needs. When you need a shredding company in San Mateo that you can trust, PROSHRED® is here for you. As a locally owned business backed by a national brand, we have all of the resources to help keep your information safe. Want to learn more about our shredding services? Give us a call today!
San Mateo, CA Shredding Services
On-Site Shredding San Mateo, CA
Scheduled Shredding Service San Mateo, CA
One-Time Shredding San Mateo, CA
Hard Drive Destruction San Mateo, CA
Legislative Compliance
HIPAA Compliant
HITECH Compliant
GLBA Compliant
FACTA Compliant