Pleasanton Shredding Services
For the best local shredding services in Pleasanton, PROSHRED® is the choice for you. From document shredding to product destruction, all of our shredding services are designed to fit your needs. Our team is trained to securely handle your materials, so you can rest assured that your information is properly destroyed. We also specialize in mobile shredding in order to deliver convenient and affordable services to all of our clients. Quit wasting time and money with ineffective office shredders and choose PROSHRED® for your San Francisco paper shredding service provider.
Convenient Pleasanton Document Shredding
At PROSHRED®, we offer shredding services for companies of any size. Whether you own a large company that quickly goes through paper or a small business that only needs occasional shredding, we have the perfect shredding option for you. Some of our most popular services include purge, ongoing, and drop-off shredding.
Purge Shredding: Whether you need to clear a warehouse full of old materials or you're just cleaning a small office, our purge shredding option is perfect for those needing a one-time service. With Pleasonton one-time shredding, our team will come to your location and destroy your old materials on site for a quick and convenient service.
Ongoing Shredding: If your company consistently handles sensitive documents and needs a way to securely dispose of old information, our ongoing shredding service is perfect for you. To create a shredding schedule that fits your needs, our team will work with you to determine if you need daily, weekly, or monthly visits. We also provide shred bins to our ongoing clients, so you can safely store your documents between visits.
Drop-Off Shredding: If you need to shred a small amount of material, but don't want to use our purge shredding services, then you can visit one of our drop-off shredding locations near you. Our drop-off locations were created to provide a more affordable option for clients with a small amount of documents. Our drop-off locations don't require an appointment and your documents will be destroyed on the same day you drop them off.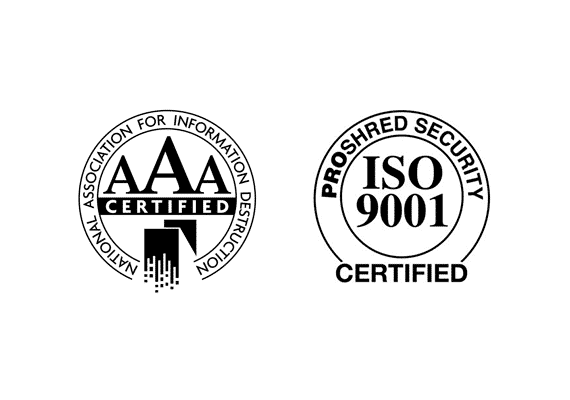 Keep Data Safe With Pleasanton Hard Drive Destruction
With the increased importance of computers in the workspace, it's important to properly dispose of your old digital files. Deleting your files is important, but that information is still being stored on your computer's hard drive. The only way to securely dispose of your digital information is hiring a shredding company to destroy your old hard drives. At PROSHRED®, we understand the importance of protecting all of your information, both physical and digital, and our Pleasonton hard drive destruction services will keep your digital information safe and unrecoverable.
Securely Destroy Your Old or Outdated Products
Along with our document shredding and hard drive destruction services, PROSHRED® provides product destruction services. Your brand's reputation is determined by the quality of your products, and improperly disposing of your old products could harm that reputation. If you throw away your old or damaged products, thieves could steal them and try to harm your reputation by misrepresenting your products' quality. You take pride in your business, so we work hard to properly dispose of your old products and protect your brand.
Trust PROSHRED® With Your Pleasanton Shredding Needs
From document shredding to hard drive and product destruction, we are proud to offer Pleasonton shredding services. Our main goal is to ensure your sensitive information is protected at all times. By choosing PROSHRED® for your shredding needs, you're receiving the most secure shredding services at an affordable price. For more information or to schedule a service, give us a call today!
Pleasanton, CA Shredding Services
On-Site Shredding in Pleasanton, CA
Scheduled Shredding Service in Pleasanton, CA
One-Time Shredding in Pleasanton, CA
Hard Drive Shredding in Pleasanton, CA
Legislative Compliance
HIPAA Compliant
HITECH Compliant
GLBA Compliant
FACTA Compliant