Mobile Paper Shredding Trucks
Every business needs its own unique shredding service. There is not a single solution that will properly secure all personal and company data. This is why PROSHRED® San Francisco Bay Area is dedicated to providing a document destruction service that is unique and meets your specific business needs.
Our customizable services with our mobile paper shredding trucks make your shredding service hassle-free. They include the most convenient paper shredding solution in the industry. A shredding truck simply arrives at your location and destroys your sensitive documents on your premises, ensuring ultimate and advanced security.
Using an off-site shredding facility requires additional traveling for your company. This extra time can unfortunately result in higher labor costs and low productivity. Likewise, small in-house office shredders take up valuable time and can be costly as they are unreliable and break often. These smaller, independent shredders are not made to handle large amounts of paper shredding and often use unsecure shredding methods.
To receive a quality paper shredding service that fits between using a large off-site shredding facility and a small, in-house office shredder, your company should use PROSHRED® San Francisco Bay Area's on-site shredding service with our state of the art mobile shredding trucks. This service offers a unique and flexible solution to modern paper shredding.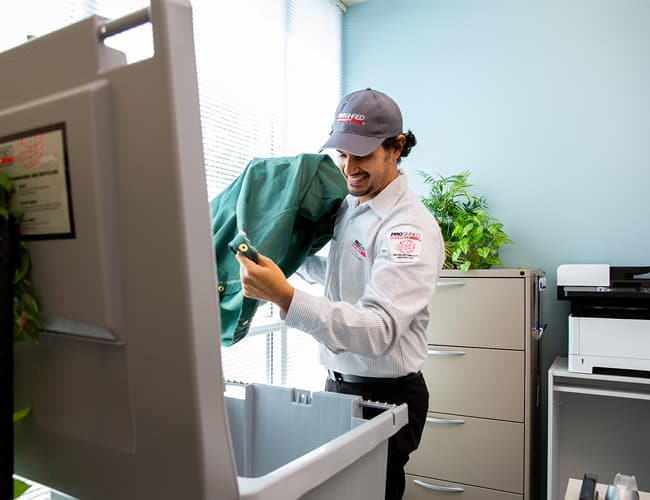 Arriving directly at your company's location, PROSHRED® San Francisco Bay Area's mobile shredding trucks are designed to provide an easy and convenient shredding service. They include large, industrial paper shredding equipment to meet both the demands of large and small shredding projects. All materials are shredded on the trucks at your location, where you can witness the destruction take place. This ensures your sensitive information is secure and never accessed by an unauthorized individual.
Both state and federal privacy regulations have strict procedures in place regarding the security and disposal method of confidential information and materials. For busy companies who deal with large amounts of sensitive papers, our mobile shredding trucks provide the most convenient option for safeguarding your business operations. With one of our on-site paper shredding services, you do not have to worry about not having the time to transport documents to an off-site shredding location. The shredding service comes to your location and does all of the work directly under your supervision, keeping you compliant with your industry's privacy laws.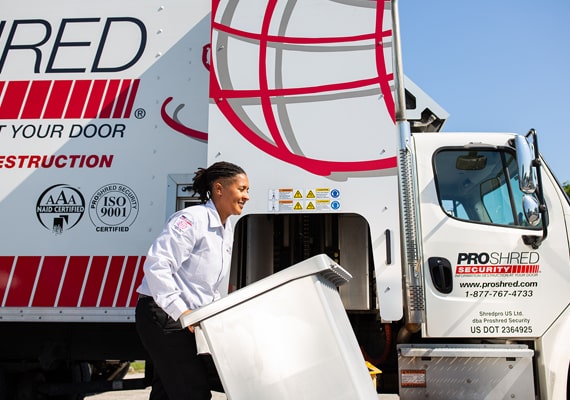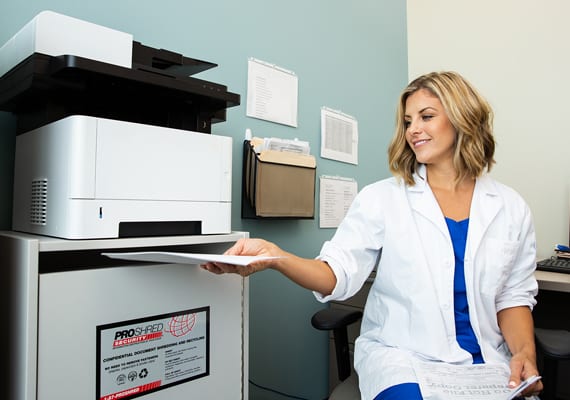 On-site shredding services are perfect for both businesses and local residents. Whether you need a one-time paper shredding service to purge unwanted documents at home or an on-going paper shredding service to ensure ultimate business safety, PROSHRED® San Francisco Bay Area has the right solution for you! Our mobile shredding trucks provide ultimate security when it comes to document destruction for homes and businesses.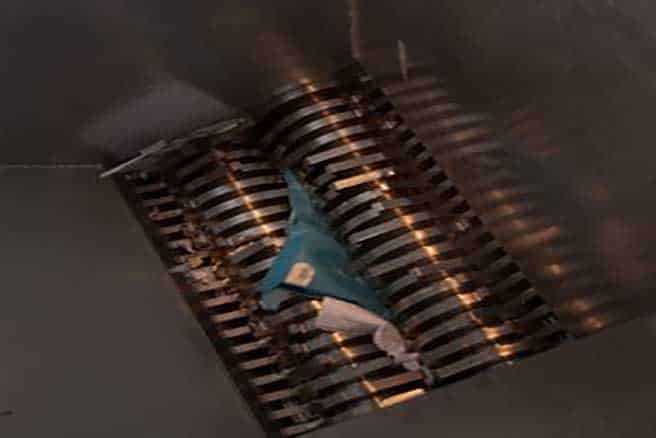 Pierce-and-Tear Shredding Trucks
This type of shredding machine uses multiple rotating blades to create holes in the materials being shredded while also ripping the materials into tiny pieces. Instead of cutting the paper, pierce-and-tear shredders tear the paper at the fiber. This creates a more secure and random shred size compared to office shredders that generate paper strips.
Premium Aerodynamic body with safety strobe lights
Shreds 2,000lbs/hr – 9,000lbs/hr  with a 5,000lbs – 10,000lbs payload
Single-Shaft Rotary Grinders
Single-shaft rotary grinder (SSRG) machines include an amp-controlled hydraulic ram, that is used to move the part to be reduced or plastic purging, against an individual cutter shaft. This rotates relatively slowly, usually around 100 to 125 rpm. Single-shaft rotary grinders are known for their low-speed, high-torque shafts.  These machines provide ultimate precision and have four-point cutters embedded in them that shear the material against a bed knife. This feeds the newly 'scissor- cut' granules through a predetermined sized screen to create granulate of your desired size.
Payload compartment – 16'L, 1,200 cu. ft (8,000 – 10,000lbs)
Shreds up to 30,000 lb/hr, depending on the size of grinder used.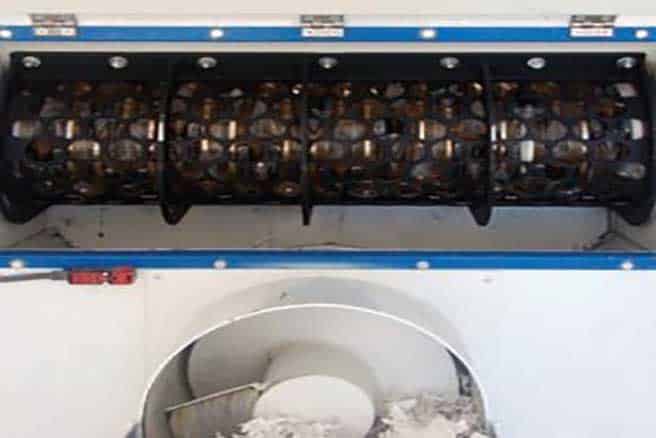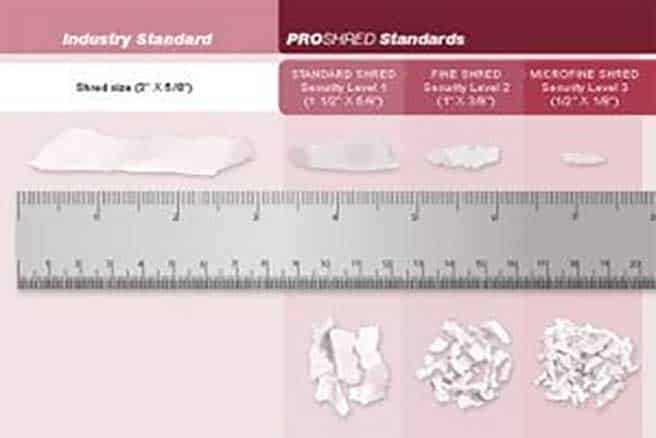 You Choose Your Paper Shred Size
PROSHRED® San Francisco Bay Area can achieve Level 1, Level 2 and Level 3 shred sizes. Level 1 is often considered very secure to most companies, while security and government agencies ask for exceptionally high security level shreds. Level 1 shredding produces shred sizes almost 3 times smaller than those from typical in-house shredders. This is why companies across the Bay Area are choosing to partner with  PROSHRED®, as we provide the most secure on-site destruction methods available.
See the table to the left to help you better understand the security levels available: