Oakland Shredding Services
If you need secure and convenient Oakland shredding services, then PROSHRED® is the right choice for you. Whether you need a one-time purge shredding or regularly scheduled shredding services, we can shred all of your documents and hard drives and destroy your expired products and old uniforms. We also have drop-off services and mobile shredding trucks, so you can choose the shredding service that works best for you. Protect your information by choosing us for all of your shredding needs.
Shred Your Confidential Documents
Every business owner understands the importance of protecting the confidential information of their customers and employees, but what should you do with old documents that you no longer need? If you throw these documents away, then a thief could take them and steal your information. When disposing of your old documents, it's essential that you hire a professional Oakland shredding company to properly protect your information. By shredding your documents, we guarantee that no one can recover them, so you never need to worry about your sensitive information coming back to hurt you.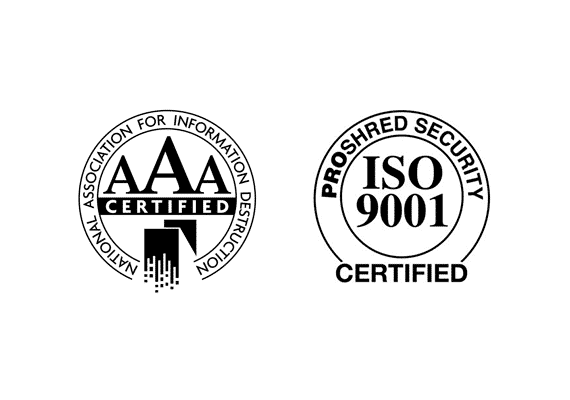 Securely Dispose of IT Assets and Confidential Data
With remote work becoming more prevalent, more and more companies are switching from paper documents to digital files. Computers can make information easier to store, but when it comes time to update a computer or clean out obsolete digital files, this information is much harder to get rid of.
While most people simply delete their files, the information is still being stored on your hard drive for thieves to steal. The only way to properly delete your information is hiring a hard drive shredding company to shred your old hard drives. With Oakland hard drive shredding services from PROSHRED®, you can rest assured that your information will be properly destroyed.
Protect Your Brand with Oakland Product Destruction
If you have old, expired, or unwanted products that contain sensitive information or branding, then you need to hire a company to properly destroy those items with a secure product destruction service. If you throw away an old product, a thief or competitor could steal that item and harm your brand's reputation. Even worse, a faulty product could end up harming someone, and you would be held responsible for improperly disposing of the item. At PROSHRED®, we use incinerators to destroy your unwanted products, so you don't need to worry about them harming your company.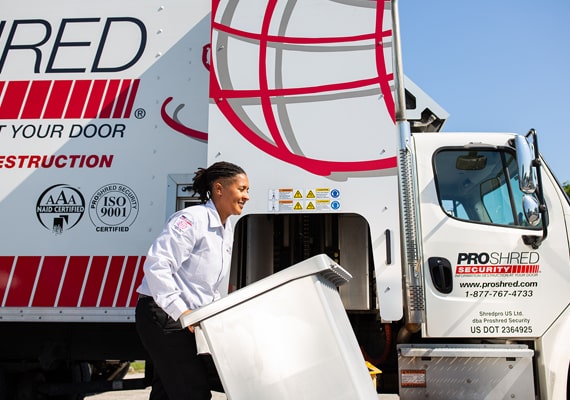 About Our Oakland Mobile Shredding Trucks
Because it is often impractical for businesses to constantly be transporting sensitive documents to a drop-off location, PROSHRED® is happy to provide mobile services. With this service, our team of trained technicians will drive to your location in one of our state-of-the-art mobile shredding trucks and shred your documents on site, so you never have to leave your office to have your documents securely shredded. For clients that choose our Oakland scheduled shredding service, we provide secure bins where you can place your documents between visits.
We complete our Oakland mobile shredding process by transferring your documents to our truck and feeding them into the industrial shredding machine inside the truck. For clients that want more peace of mind, our trucks come with closed circuit monitors, so you can watch as the truck shreds your documents in real time. Finally, we offer a Certificate of Destruction after each service, so you have legal proof that your documents were destroyed. With our mobile services, you receive the security of our drop-off locations with the convenience of our shredding trucks.
Oakland Shredding Services Keep Your Information Secure
We're dedicated to providing the best services for your business and helping you to prevent data breaches. Whether you need to shred a failed product or destroy a large quantity of documents, we offer the most secure and convenient services in the Oakland area. If your business needs shredding services, contact PROSHRED® for a free quote and get started today.
Oakland, CA Shredding Services
On-Site Shredding Oakland, CA
Scheduled Shredding Service Oakland, CA
One-Time Shredding Oakland, CA
Hard Drive Destruction Oakland, CA
Legislative Compliance
HIPAA Compliant
HITECH Compliant
GLBA Compliant
FACTA Compliant