May 4, 2021
Why Product Destruction is Crucial for Your Business
When most people think of secure shredding services, they often think about destroying important papers and confidential documents. After all, files and folders often contain sensitive data like account numbers or personal information. Chances are though, there are a number of other items lying around that put your company at risk of a data breach. From products you produce, ship, or manufacture, to staff IDs, uniforms, training manuals, and other proprietary materials, there are a number of things you should think twice about throwing away.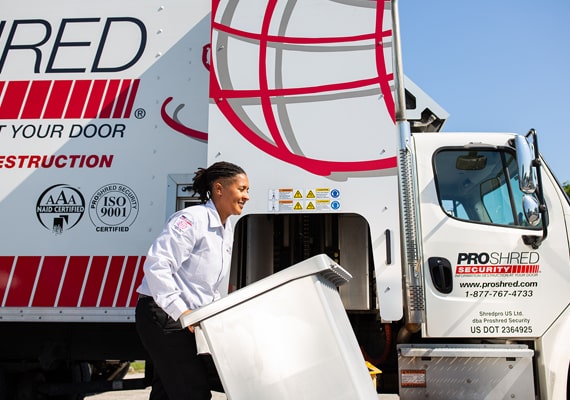 What products put your company at risk?
Your company produces a number of materials that are exclusive to your brand and your business, many of which you would not want to fall into the wrong hands. Obvious items include key cards and ID badges, which could put your physical security at risk, but there are a number of other products that could leave your business vulnerable. Items like blueprints, outdated promotional materials, official packaging, and other branded products could leave you vulnerable to corporate espionage, fraud, or misrepresentation.
Dumpster divers, thieves, and disgruntled employees can all target your business using unsecured products. Whether it's posing as an official representative of your company, or the illicit sale of recalled or damaged products, the risks posed to your business are real. Secure product destruction helps protect your customers from blackmarket resellers, reduces your liability, and offers an extra layer of physical security.
Prevent Unauthorized Access
What happens to company ID badges when employees leave? Where do old uniforms go when they're no longer needed? The dumpster is the last place you want to toss items like these, and after a while, storing things on-site really starts to take up space. Secure product destruction services are the ideal solution to product disposal, and it's the only way to guarantee your unwanted items don't end up in the wrong hands.
Protect your business, and your brand, with routinely scheduled product destruction. Make sure to include all damaged, expired, or defective products, as well as any specialized packaging. Damaged or outdated products that are not destroyed by the manufacturer often end up on the black market. For example, defective products sent to a landfill may be taken out illegally and resold. Because these goods are usually faulty or otherwise substandard, consumers may associate your brand with these low quality or dangerous products. Secure product destruction is one way to protect your brand and prevent unauthorized products from ending up on the market.
Industries that Benefit from Product Destruction Services
Chances are, every business in the San Francisco area has proprietary products that should be shredded instead of tossed. But who really needs secure product shredding?
Manufacturing and Distribution Warehouses: Any time you're producing, storing, or distributing products, you're going to end up with surplus, damaged, recalled, or outdated goods. Instead of letting them pile up, product destruction service can destroy them completely, freeing up space and eliminating the risk of anything ending up on the black market.
Medical Facilities: From medical uniforms to access badges, ID cards, x-rays, and other medical films, hospitals and medical offices produce a lot of materials that most paper shredding companies aren't equipped to handle. PROSHRED® San Francisco's industrial shredders can handle mixed material loads of any size.
Government Complexes: Federal service buildings, jails, and local municipalities produce a large number of official uniforms, badges, and access keys that could be dangerous if not disposed of properly. Product destruction service guarantees the complete destruction of these items and more.
Protect Your Brand with Product Destruction from PROSHRED
Secure product destruction is an essential service that helps protect your business and your reputation by preventing misuse and misrepresentation. Protect confidential company information, and prevent criminal activities from being carried out in your name by scheduling shredding services with a product destruction specialist. Most shredding companies do not possess the right equipment to handle product shredding because standard paper shredders are not designed to process metal, plastic, or bulk items. At PROSHRED®, our specialized equipment allows us to destroy any manner of materials. Products, uniforms, and branded items are handled with the utmost security, for dependable, confidential destruction.
If your business has damaged, recalled, or outdated products accumulating in your warehouse, call PROSHRED® San Francisco! We specialize in total product destruction services in the San Francisco Bay Area, where we are proudly meeting the growing demand for brand name protection. Call today and speak with a customer service representative to find out how we can help! 1-925-271-7566